MOSCOW MAYOR, RUSSIAN DEFENSE MINISTER QUESTION RUSSIA-UKRAINE AGREEMENTS ON SEVASTOPOL
Publication: Eurasia Daily Monitor Volume: 5 Issue: 91
By: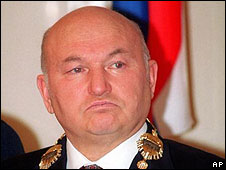 Moscow Mayor Yurii Luzhkov called for the "return" of Sevastopol to Russia during a visit to that Ukrainian territory, on the anniversary of Russia's Black Sea Fleet. The Russian Foreign Affairs Ministry implicitly backed Luzhkov in a follow-up statement; and Russian Defense Minister Anatoly Serdyukov, attending the anniversary in Sevastopol, hinted that Russia would seek to retain its naval base there beyond the 20-year time frame of the agreement, that Russia signed with Ukraine in 1997.
Luzhkov, who has made such statements "spontaneously" on some previous occasions, acted methodically this time, with seemingly planned pronouncements, amply televised by Russian channels, at each of his three stops during the visit.
At a festive concert in Sevastopol, Luzhkov blamed today's territorial status quo on former Soviet leader Nikita Khrushchev's decision to transfer Crimea to Soviet Ukraine (other Russian politicians use similar arguments attempting to de-legitimize this and other post-Soviet borders). Luzhkov, moreover, maintained that the city of Sevastopol was not covered by that decision: "This issue remains unresolved. We are going to resolve it in favor [v polzu] of Russia's truth, its state positions, and its state right regarding its naval base Sevastopol" (Interfax-Ukraine, May 11).
On board the cruiser Moskva, flagship of Russia's Black Sea Fleet, Luzhkov claimed that "Sevastopol, as a city with its boundaries [i.e., not only the naval base], has to belong to Russia, because it was never handed over to Ukraine." Irrespective of the limited duration of the basing agreement, he said, "Sevastopol is a Soviet naval base that has to be returned to the Russian Federation." While urging the Russian government to pursue this case in international courts, Luzhkov hastened to prejudge the outcome: "Based on the documents that can be submitted, an international court has no right to take any other decision" than one in Russia's favor" (Itar-Tass, Center TV, May 12).
Speaking to journalists in Sevastopol, Luzhkov declared, "I officially ask the leadership of our country, the Duma and the Federation Council, to raise the issue of Sevastopol again," this time apparently in retaliation for Ukraine's recent request to NATO for a membership action plan. "When Ukraine strives at the state level to join NATO, [it] undermines our relations as inscribed in the Friendship Treaty. If we do not react, it would be another big mistake." The treaty, which was signed by Russia and Ukraine in 1997 and recognizes the inviolability of the existing mutual border, expires in 2009, unless renewed. Luzhkov called for Russia to abandon the treaty: "By quitting it, we shall be able to reopen the question of Crimea and Sevastopol" (Interfax-Ukraine, May 11).
Ukrainian authorities have declared Luzhkov persona non grata on Ukrainian territory in the wake of these statements. Given his track record of inflammatory remarks, Luzhkov had been met on arrival at Simferopol airport by Ukrainian State Security Service officials, who gave him a written warning against infringing Ukrainian law or undermining Ukraine's territorial integrity. In front of television cameras, Luzhkov read out the warning derisively and, with his entourage, burst out laughing at the Ukrainian document (Russian Television, May 10).
Russia's Ministry of Foreign Affairs (MFA) defended Luzhkov in a special statement, seemingly inspired by Vladimir Putin's comments while president about the collapse of the USSR: "Yurii Luzhkov never made unfriendly remarks toward Ukraine…. He only expressed a view reflecting that of most Russians, who feel pained by the fall of the Soviet Union." The Russian MFA described Ukraine's decision to ban Luzhkov from further visits as an "unfriendly move" toward Russia, harmful to bilateral relations (Russian MFA statement, May 12).
No major Russian politician is known to have disavowed Luzhkov's remarks, except former Soviet leader Mikhail Gorbachev: "It concerns me, it disturbs me, it bothers me, it worries me — it worries me very much" (Ekho Moskvy, May 12). It is a fairly common view among Duma members, though not in the Russian government, that the "transfer" of the Crimea to Ukraine did not apply to Sevastopol, notwithstanding the bilateral Treaty on Friendship, Cooperation and Partnership signed in 1997 and the treaty on state borders signed in 2004, both ratified by both countries.
For his part, Defense Minister Anatoly Serdyukov seemed to cast doubt on Russia's intention to withdraw its fleet from Sevastopol on the expiry of the basing agreement. While in Sevastopol, he declared, "In order to expand the [Russian] Black Sea Fleet's basing system, much is being invested into building the naval base at Novorossiysk, which will become one more stronghold of the Fleet." This wording suggests the possibility that Novorossiysk may be envisaged as a supplement to, rather than a substitute for, the Sevastopol base. Serdyukov described the Russian naval base in Sevastopol as a factor that "unites the Russian people with the Ukrainian people in the Crimea" (RIA-Novosti, Interfax-Ukraine, May 11).