Moscow Needs Beijing in the Arctic but Worries About China's Expanding Role
Publication: Eurasia Daily Monitor Volume: 19 Issue: 11
By: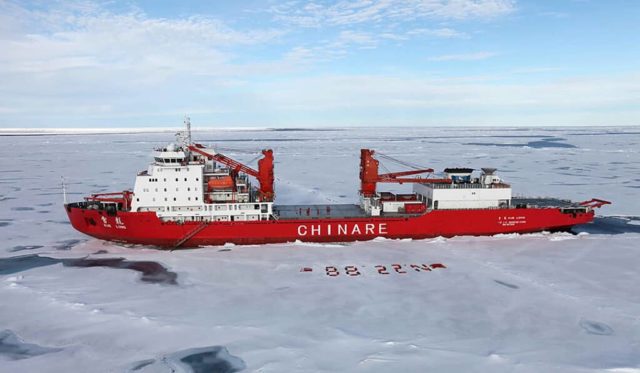 Russia has promoted the Northern Sea Route with the expectation that China will be a major user. And it is assertively advocating for the development of natural resources, such as natural gas in the Arctic, with the hope that China will be a major customer. Both of these calculations, combined with the economic pressure from the Western sanctions regime, have pushed Moscow to cooperate ever more closely with Beijing in the Arctic and Russian High North. However, concerns are growing in Moscow that the ambitious Russian goals for the region may not work out in the ways it hopes.
Some Russian observers worry that China will graduate from a junior partner in both spheres to a dominant player. One fear is that Beijing will ultimately transform Russia's Northern Sea Route—an east-west maritime corridor that follows the Russian Arctic coast—into just a constituent segment of a Chinese-dominated Polar Silk Road. Another anxiety is that Beijing could exploit cooperation in the development of Russian Arctic gas fields as a basis for further expanding China's political-economic interests at Russia's expense. As a result, worried voices in the Russian capital are now suggesting that China is helping Russia today but may push it aside later (see EDM, May 6, 2021).
Beijing's most recent moves in each of these sectors will likely stoke such fears. And this could make it more difficult for Russia to continue its current level of cooperation with China—having heretofore welcomed Chinese money, while shying away from any initiatives that might enable eventual Chinese dominance in the Arctic (see EDM, October 3, 2017, November 7, 2018, December 10, 2019).
Beijing has adopted an ambitious strategy to take advantage of the trans-Arctic sea route between Europe and Asia that continues to open up as a result of the warming climate. Recently, the Chinese transportation ministry issued a policy paper that calls for the construction of both a third heavy icebreaker and a 100,000-ton heavy-lift vehicle, akin to the Russian one, which currently transports prefabricated modules to liquefied natural gas (LNG) facilities along the Northern Sea Route. The third icebreaker, to be delivered in a year or two, and the heavy-lift vehicle will make China an Arctic waters near-peer to Russia, at least on the eastern half of the Northern Sea Route. And that shift in the balance will put new pressure on the Arctic Council to admit Beijing as a full member (it has been an observer since 2013) (The Barents Observer, December 10, 2021). Emblematic of China's expanding role across the Arctic, the well-known Scandinavian regional news portal The Barents Observer is now being issued in Chinese as well as Russian and English.
What is likely to be most worrisome in Moscow is that the aforementioned Chinese policy paper makes clear Beijing has expansive plans for the future as far as shipping in the Arctic is concerned. The document calls for standardizing Chinese icebreakers, an unmistakable sign it intends to build many more of them in the coming years, even though China has no icy territorial waters of its own. Additionally, while China's third icebreaker, like the first two, will be oil-powered, the policy paper clearly implies Beijing would also like to develop nuclear-powered icebreakers, like those Moscow already operates. If that comes to pass, China would almost certainly demand equal partner status with Moscow when it comes to managing traffic along the Northern Sea Route. Marc Lanteigne, a specialist on Arctic politics at the University of Tromsø (Norway), argued these plans "show that China still sees the Arctic as a priority and wants to continue to develop the Polar Silk Road despite the many setbacks in the North [and] despite uncertainties about the post-pandemic economy" (Highnorthnews.com , November 16, 2021).
The relationship between China and Russia when it comes to the development of natural resources in the Arctic is equally problematic. According to a new study supported by the Swedish foreign ministry and authored by two Carnegie Moscow scholars, Vita Spivak and Aleksandr Gabuyev, "The development of the Yamal LNG and Arctic LNG 2 projects indicates that China has been and will remain Russia's main foreign partner in Far North mega-projects for the foreseeable future. At the same time, Moscow is making a conscious effort to be less dependent on its partnership with Beijing" (Carnegie.ru, December 21, 2021).
After tracing the back and forth between Moscow and Beijing over liquefied natural gas development in the Arctic, Spivak and Gabuyev conclude that, at the moment, there is a balance of interests. Namely, China gains "a new source of gas and its first large sale of Arctic technologies," while Russia obtains access to "a share of China's enormous LNG market along with" what they describe as "indispensable project funding." The two further suggest that this will provide "a model for attracting China" to support other natural resource development projects in the High North.
But as Spivak and Gabuyev argue, Russian concerns about becoming "excessively dependent" on Moscow or even losing control of the situation to Beijing at some point in the future have prompted the Russian government to try to "diversity its partnerships as much as possible." This is the case even though Russia has been limited in this regard by the West's sanctions regime. To date, the two Carnegie Moscow analysts contend, the Russian side has been successful; however, China's rapidly expanding presence financially and in the number of ships and especially icebreakers raise questions as to how long it will be able to maintain "a balancing act." Sustaining such parity depends critically on "the commercial viability" of Moscow's projects in the Far North, the level of Western sanctions, and Russia's "progress in import substitution."
That combination has critical implications for the West. Western sanctions give Russia little choice but to increase its reliance on China in the Arctic and more generally; but they also create tensions between Moscow and Beijing because the Russian side does not want to see its current dominance in the High North challenged, let alone supplanted, by Beijing's rise. The growth in those tensions offers added leverage for the West in a part of the globe that seldom receives as much attention as it deserves.