Moscow Postpones South Ossetian Referendum on Joining Russia
Publication: Eurasia Daily Monitor Volume: 19 Issue: 81
By: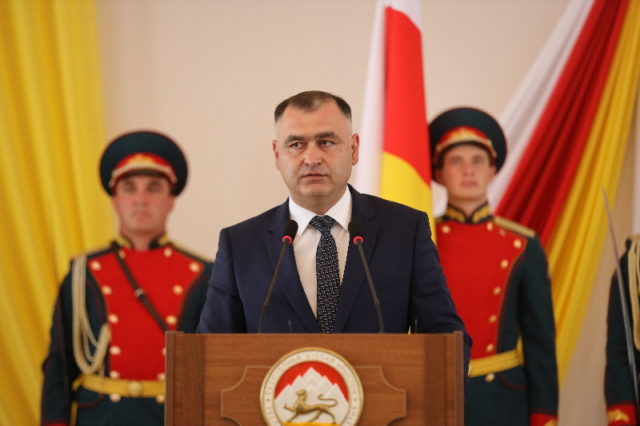 On May 20, the newly inaugurated "president" of Georgia's breakaway region of South Ossetia, Alan Gagloev (who was elected on May 8), signed a decree to suspend a planned referendum on this statelet's accession to the Russian Federation (Radio Tavisupleba, May 30; Civil.ge, May 31). The referendum was to be held on July 17, according to a decree issued by Gagloev's predecessor, Anatoly Bibilov (see EDM, April 8). Bibilov signed this decree on May 13, a week before leaving office (see EDM, May 18).
The expected outcome of the vote to join Russia was all but certain: the South Ossetians' agitation to separate from Georgia, which began in the late 1980s, was always seen as a provisional step on the path to joining North Ossetia inside Russia. But when then-"president" Bibilov unveiled the referendum earlier this month, Moscow immediately made it clear that the Russian authorities opposed the timing of this initiative. Not only was Russia preoccupied with its war against Ukraine, but the accession referendum would have disrupted the sophisticated game that the Kremlin is playing with billionaire Bidzina Ivanishvili's ruling Georgian Dream (GD) party in Tbilisi (see EDM, May 18).
Konstantin Zatulin, one of the most influential figures in the Russian State Duma (lower chamber of parliament), told reporters that a referendum in South Ossetia is not in Russia's interest right now (Kommersant May 15). Zatulin is notably considered the architect of Moscow's long-time strategy toward Georgia.
No less significant was the reaction of Russian President Vladimir Putin's administration. Kremlin press secretary Dmitry Peskov said that before holding a referendum in South Ossetia, it needs to be "legally finalized." In his opinion, the ballot incorrectly formulated a question that could give the impression of the creation of a new state—Russia plus South Ossetia. The actual wording read, "Do you support the unification of South Ossetia and Russia?" (Rossiyskaya Gazeta, May 24). Peskov separately noted that there was no initiative from Russia on holding this vote. "If we take this seriously, we need to legally finalize it. […] We need to think legally about the wording. I repeat: there have been no steps from the Russian side in this regard," Putin's spokesperson told journalists (Kommersant, May 24).
After the new leader of South Ossetia formally annulled the referendum decision of his predecessor, Russian foreign ministry representative Maria Zakharova expressed Moscow's satisfaction. "Given that this initiative of ex-president Anatoly Bibilov was not agreed with us, we assess the decision of the new head of state [sic] to suspend the decree of May 13, 2022, 'On calling a referendum of the Republic of South Ossetia' as sound, in line with the spirit of the alliance between our countries [sic] and the principle of close bilateral coordination on issues that are significant both for Russia and South Ossetia," Zakharova said. According to her, the issue of holding a referendum "requires careful analysis and discussion between the parties," and Russia is ready for consultations with South Ossetia on options for further integration (Kommersant, May 31). Moscow unilaterally recognized the "independence" of South Ossetia and Abkhazia in 2008, following the end of the five-day Russian-Georgian war.
The Georgian authorities have kept silent about the planned accession "referendum" in South Ossetia—a region where ethnic cleansing of the Georgian population took place during the Russian aggression in 2008. But experts in Tbilisi have no doubt that Moscow's position can be explained by its desire to effectively blackmail Georgia and its ruling party.
Paata Zakareishvili, who served as Georgia's state minister for reconciliation and civil equality in 2012–2016, underscored in his June 1 interview with this author that the referendum on the annexation of South Ossetia was not canceled completely. It was only indefinitely postponed. "Bibilov coordinated the holding of this referendum with those forces in Moscow who lost the South Ossetian presidential election together with him," Zakareishvili posited. He further argued, "The Kremlin won the point of view that now, while Russia is waging a big war against Ukraine, it is necessary to conserve all the resources of relations with loyal states."
One of those "loyal states," in his view, is Georgia under the leadership of GD and the government of Irakli Garibashvili (see EDM, May 23). "Our authorities refused to impose sanctions against Russia and quarreled with the leadership of Ukraine. Therefore, the Kremlin considered it more expedient and cunning to introduce the referendum question as a 'sword of Damocles' over Georgia," Zakareishvili observed. The expert contended that if Tbilisi changes its position, the referendum will take place, and South Ossetia will be annexed just like Crimea was eight years ago. "On the other hand, if Russia annexed South Ossetia, it could weaken the position of Georgian Dream, and Moscow did not want a regime change in Georgia right now," the former state minister stressed. He predicted GD will tell voters that if it does not remain in power, Georgia may lose South Ossetia forever (Author's interview, June 1).
The postponement of the referendum, however, will not solve any of Georgia's problems created by the occupation of South Ossetia. Russian troops are still deployed 35 kilometers from the Georgian capital Tbilisi and only 500 meters from the strategic Baku–Tbilisi–Istanbul highway. Ossetian and Russian border guards continue the so-called "borderization" methods along the separatist region's administrative frontier: installing barbed wire even across the middle of neighboring Georgian villages to progressively annex additional Georgian-controlled territories. They still abduct Georgian citizens under the pretext of violating the "state border." They block water for irrigating fields. And Russia is ready not only to annex South Ossetia outright, when it finds it expedient, but to continue its aggression in other territories of Georgia as well. The GD government's passivity toward Moscow may have delayed such an outcome, but it did not improve the dangerous security environment in which the country must still navigate.