Moscow Preparing for 'Asymmetrical' Arms Race
Publication: Eurasia Daily Monitor Volume: 14 Issue: 28
By: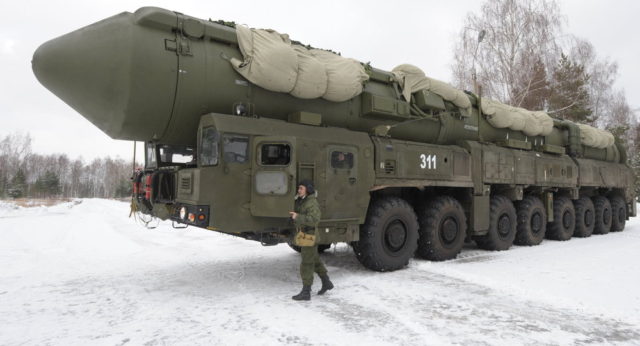 United States President Donald Trump's address to a joint session of Congress this week (February 28) did not mention the true elephant in the room—his administration's plans regarding future US relations with Russia. He also said nothing about the possible pre-election and post-election contacts members of the Trump team allegedly may have had with Russian officials. Indeed, that story is currently poised to be the hottest political issue in Washington, DC. In general, Russian officials seem somewhat disappointed with the Trump administration for "not coming through." According to Russian President Vladimir Putin's spokesperson, Dmitry Peskov, Moscow and Washington "have coinciding interests in some areas and fully disagree in others." President Trump has been making "different statements" about possible deals and rebuilding relations, continued Peskov, "We are full of patience and waiting for actions to follow." The Kremlin, according to Peskov, "is not surprised Trump did not mention Russia [during his speech before Congress]"—the US president made no specific overtures to or criticism of Moscow. "Trump is dealing with American issues, while Putin is dealing primarily with Russian issues," Peskov concluded (TASS, March 1).
At a round table conference this week in the State Duma (lower chamber of the Russian parliament), Deputy Foreign Minister Segei Ryabkov, who is in charge of US-Russian relations and arms control, assessed current relations with Washington as "the worst" in 30 years—"since the Cold War." In Ryabkov's words, a "zero-sum game" dominates US-Russian relations, and "trust has been completely lost." Ryabkov accused former President Barack Obama and "his team" of destroying "the carefully built foundation of cooperation [with Moscow]." This Obama-organized downward spiral began in 2012, according to Ryabkov, apparently after Putin officially returned to the Kremlin; and it turned into open confrontation as the Ukrainian crisis erupted in 2014 (Interfax, February 28). Ryabkov expressed optimism that an opening in relations could happen at a future Trump-Putin summit. According to the deputy foreign minister, the date and venue have not been agreed, "but practical preparations have begun, and there is an understanding on that with the Americans." The Trump White House later denied that any "practical preparation" for a future Trump-Putin summit was currently ongoing, but this is apparently a difference in linguistic definitions. Feelers have definitely been extended by both sides, and a mutual desire to reach some US-Russian deal seems to exist. As to how far this possible Trump-Putin deal could go, Ryabkov stated practically the same opinion as Peskov: "We will wait to see Washington's practical actions to evaluate the prospects of finding points of agreement" (Militarynews.ru, February 28).
Clearly, the euphoria in Moscow about Trump's victory last November has diminished (see EDM, February 21). Russian officials are not sure what the new administration is ready to deliver in terms of recognizing Moscow's purported special rights and interests in Crimea and Ukraine, in Syria and Libya, regarding the North Atlantic Treaty Organization (NATO) pulling back its forward-positioned forces from its eastern flank (Poland, the Baltics, Romania and the Black Sea region), or on providing sanction relief. Trump's announcement of a $54 billion increase in defense spending has been met in Moscow with disapproval as posing a possible threat (Militarynews.ru, February 27). Of course, military planners and the Russian military-industrial complex like threats—the more, the better—to justify their own defense spending. According to a recent survey by pollster Oshestvennoye Mnenye (OM), a vast majority of Russians (71 percent) want any additional federal budget income that may be generated by higher oil pieces to be used on civilian, not military expenditures. Russian citizens support their military and believe it is today in good shape, but only 29 percent agree defense spending should increase, while 48 percent want it to be fixed at the present level (Interfax, March 1). OM is a Kremlin-financed pollster, which seldom publishes data contradicting official policy directives. These poll results indicating the Russian public's exasperation with defense spending increases may, therefore, reflect continuing internal squabbles within the ruling Russian elite about how much money to allocate to the next phase of the rearmament program, from 2018 to 2025.
According to Deputy Prime Minister Dmitry Rogozin, who is in charge of the defense and space industries, the draft of the 2018–2025 rearmament program must be finalized by July 1, 2017, and signed into law by Putin before the next New Year. Rogozin believes Russia is ready to construct aircraft carriers, but the Kremlin has not yet ordered any. Russia is building and deploying an array of new land- and sea-based intercontinental ballistic missiles (ICBM): heavy silo-based Sarmats, land-mobile Yars and Rubez missiles, as well as the sea-based Bulava "to guarantee our security." After prolonged efforts, the Russian arms industry has finally managed to resume assembly of HK-32 jet engines (designed during the Cold War) for the Tu-160 "Blackjack" supersonic heavy strategic bomber. With the HK-32 back in production, Russia can keep its present fleet of Tu-160s operational and begin the production of a modernized Tu-160M2 version. A next-generation stealth strategic bomber is being designed for possible production after 2025. The new S-400 anti-aircraft missile system has been reinforced, according to Rogozin, with a new long-range (up to 400 kilometers) missile. Development is also in progress of the S-500 long-range system, which will form the backbone of Russia's national missile defense shield (Interfax, March 2). The commandant of the Zhukov Air-Space Academy, Lieutenant General Vladimir Lyaporov, noted, "We have begun training specialists to man the S-500," which may start arriving soon (Interfax, February 25).
According to Rogozin, Russia's military capabilities have advanced dramatically—no more old "rusty missiles." Rogozin insists no one can speak to Moscow from a position of strength: "Russia is today the only nation in the world that can stop any aggressor—the armed-to-the-teeth leader of the Western world [the US] with its allies—anywhere in the world." He further predicted that US Defense Secretary James Mattis would figure that out soon and stop making empty threats (Interfax, March 2). Of course, such posturing surely requires that Russia's rearmament program continue in full swing. Moscow apparently wants the Trump administration to make up its mind: Does it recognize Russia as an equal superpower with a designated sphere of legitimate influence, or will Washington continue to be hostile, posing a threat that may help boost more Russian defense spending and rearmament? A combination of both—recognition of superpower status and a sphere of interest as well as a continued rivalry like during the Cold War—could also work fine, boosting Russia's siege mentality and providing stability for the ruling elite at the same time.