Ukraine's Legal Cases Against Russia in International Courts
Publication: Eurasia Daily Monitor Volume: 14 Issue: 27
By: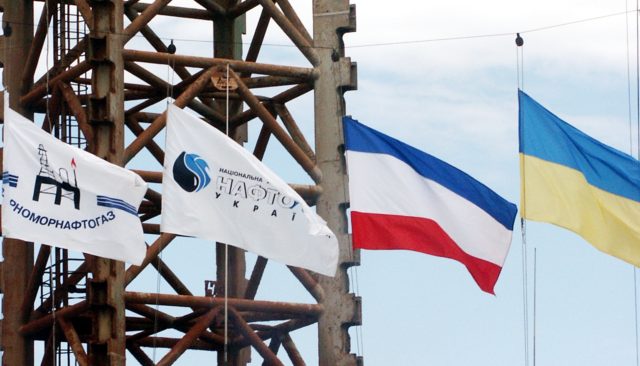 Ukraine has just concluded its month-long role as rotating president of the United Nations Security Council (UNSC) during February 2017. Kyiv has specifically pledged to use this high-level international forum to confront Moscow for its aggression and to seek reimbursement for the damages Ukraine has incurred following Russia's forced annexation of Crimea and subsequent war in Donbas (Ukraineun.org, accessed March 1). Indeed, the question of how to legally pursue damages using international law and multinational courts has been gaining momentum recently, as Ukraine prepares for its case to be heard before the UN International Court of Justice, in The Hague (see below).
In October 2016, Ukrainian energy giant Naftohaz and six of its oil and natural gas subsidiaries officially filed an arbitration against Russian authorities, who seized the companies' assets after Moscow illegally occupied Crimea in March 2014. The Ukrainian firms heretofore operating on the Crimean peninsula never received any material compensation from Moscow. The damages are estimated at $2.6 billion (Naftogaz.com, October 19, 2016). Naftogaz, in particular, lost 15 oil and gas field–connected facilities in Crimea and offshore, 3 potential oil and gas extraction areas, the underground storage facility in Glebovskoe, over 1,200 kilometers of main gas pipelines, 43 gas distribution stations, 29 extraction facilities, and several other assets (Zerkalo Nedeli, October 19, 2016; see EDM, April 24, 2014). According to the Ukrainian Ministry of Foreign Affairs, six lawsuits have been initiated against the Russian Federation regarding the energy sector (Mfa.gov.ua, accessed February 28). The lawsuits were filed based on a clause in the Ukrainian-Russian intergovernmental agreement on the encouragement and mutual protection of investments, better known as the Russian-Ukrainian Bilateral Investment Treaty (Investmentpolicyhub.unctad.org, November 27, 1998). These lawsuits were initiated by Privatbank, Ukrnafta, Belbek Airport, Stabil, Everest Estate and Oschadbank. Naftogaz and several other companies are also in the process of preparing lawsuits, and they have involved legal advisers from the start so as to avoid early mistakes in forming their legal position (Zerkalo Nedeli, January 27, 2016).
In a January 2016 interview with Zerkalo Nedeli, Ukrainian Deputy Foreign Minister Elena Zerkal explained that while her government continues to strive unrelentingly to protect Ukraine's sovereign rights and the rights of its citizens, Kyiv's actions are limited to some degree by various multilateral and bilateral agreements—including ones binding for both Ukraine and Russia (Zerkalo Nedeli, January 27, 2016). The problem is that there are not many tribunals whose jurisdiction is recognized by both Kyiv and Moscow.
One such prominent institution, however, is the International Court of Justice—the most authoritative judicial body with regard to handling cases involving the sovereign interests of states in the broadest sense. And indeed, as noted above, Ukraine will be pursuing its case against Russia in this forum. The trial will take place on March 6 to 9 (Zerkalo Nedeli, February 1). But complicating matters for Kyiv in this approach is the fact that both Ukraine and Russia have inherited the old Soviet practice of a highly selective recognition of the ICJ. In other words, the two sides are only able to use the ICJ to enforce their rights when both Ukraine and Russia decide at that instance to recognize the jurisdiction of the International Court of Justice. Therefore, when it comes to relying on the authority of this international tribunal, the options Ukraine could take advantage of are actually quite limited.
Earlier this year, Ukraine filed a lawsuit against Russia in the ICJ over the latter's annexation of Crimea and mistreatment of the local Crimean Tatar population (UAWire, January 17). Specifically, Kyiv charged Moscow with contravening several international treaties, including the Convention on the Elimination of All Forms of Racial Discrimination (pertaining, in this case to the harassed Tatar minority in Crimea) (Ukrinform, February 15), the Convention for the Suppression of the Financing of Terrorism (including considering Russia's role in the downing of Malaysian Flight 17 over occupied Donbas in mid-2017), as well as the United Nations Convention on the Law of the Sea (concerning Russian exploitation of Ukrainian fishery stocks, prevention of free navigation to Ukrainian vessels in and around Crimean waters, as well as Russia building infrastructure to which Ukraine has not given its consent). But Moscow has simply replied that everything it had done was in full compliance with international law and refused, therefore, to "legitimize" its actions by arguing its case before the ICJ (Mid.ru, January 17).
Notwithstanding its pending cases in the ICJ, the Ukrainian Ministry of Justice has repeatedly stated, in the past, that the economic losses suffered by the state following the occupation of Crimea will be reimbursed as part of the claim presented by Ukraine against Russia at the European Court of Human Rights (ECHR) (Interfax, February 2). Whether such an approach ultimately proves fruitful remains to be seen—especially considering that in the past two years, Russia has backed away from coming under the jurisdiction of several international tribunals. In December 2015, the State Duma passed a law allowing Russia to overrule decisions made in the ECHR; and last November, Moscow pulled out of the International Criminal Court (ICC) (The Moscow Times, December 15, 2015; Sputnik News, November 16, 2016).
The decision by the Russian authorities to circumvent various international law institutions highlights Moscow's approach to dealing with Ukrainian efforts to defend its sovereign and commercial interests in international tribunals. Indeed, Ukrainian investors who lost valuable assets in Crimea as a consequence of the occupation have a better chance of winning their case in arbitration under the bilateral agreement on the mutual protection of investments. Still, some mechanisms exist that could compel Russia to implement the decisions of the International Court of Justice in the event of a judgement friendly to Ukraine: A failure to comply with ICJ decisions would trigger the involvement of the UNSC. And as laid out in the United Nations Charter, Russia, as a member of the Security Council involved in a judicial litigation, would have to abstain from voting. In its role as a non-permanent UNSC member, Ukraine will almost certainly seek to utilize such legal strategies and institutional mechanisms this year.