Rustavi 2 TV Channel Fights for Its Survival as Supreme Court Decision Approaches
Publication: Eurasia Daily Monitor Volume: 14 Issue: 27
By: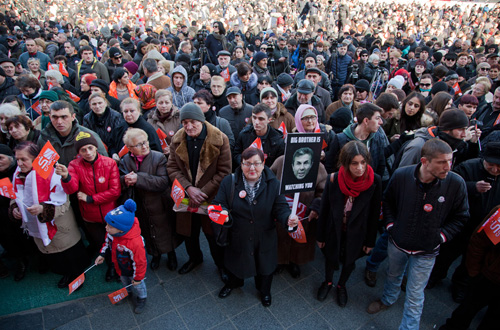 Some 78,000 Georgians, led by several opposition political parties and civic activists, marched in the streets of downtown Tbilisi, on February 19, to protest against the alleged government attempt to take over the Rustavi 2 TV station (Channel 1 TV, February 19).
Rustavi 2 has been locked in an intense ownership battle since the Georgian Dream (GD)–led coalition took power in 2012. Specifically, Rustavi 2's former owners—Kibar Khalvashi, David Dvali and Jarji Akimidze—have been trying to regain control of the channel. Rustavi 2's management, as well as the former ruling party United National Movement (UNM), see this as the government's disguised attempt to silence the opposition-friendly media outlet. The station's current owners, the Karamanashvili brothers, traditionally had close ties with former president Mikhail Saakashvili and his UNM party. Whereas Khalvashi, Dvali and Akimidze are perceived to be allies of Georgian billionaire and former prime minister Bidzina Ivanishvili—viewed by many as still the de facto ruler of Georgia despite no longer having any formal position in the government or any state institutions. The current owners of Rustavi 2 already lost their legal battle in Tbilisi City Court as well as in the Appellate Court; and so they have taken their case to the Supreme Court (Civil Georgia, February 20; see EDM, June 17, 2016, October 26, 2015).
The Supreme Court is expected to issue its ruling on this case sometime within the next several weeks, and supporters fear that the decision will not favor Rustavi 2's current owners. As an act of protest, on February 17, Rustavi 2 went off the air for two days in the run up to the February 19 march (Tabula.ge, February 17). Moreover, the station's director general, Nika Gvaramia accused the Attorney General's Office and other law enforcement agencies of pressuring Supreme Court judges. He has called on the Supreme Court to be fair and show some independence from the government (Rustavi 2, February 3).
However, the Rustavi 2 director's opponents are always quick to remind him that, back in 2007, when he served as Georgia's attorney general, Gvaramia justified the UNM government's closure of another TV station, Imedi, owned by the late billionaire Badri Patarkatsishvili—then a government opponent (Ambebi.ge, August 7, 2015; Sazogadoeba.ge, September 22, 2015). So far, Gvaramia does not seem deterred by these accusations as he continues to push Rustavi 2's case.
Overall, the February 19 protest march succeeded in bringing together several political groups from the deeply fragmented Georgian opposition. Specifically, both main factions of the once powerful and now divided ruling UNM party showed up, along with a number of other smaller political parties. All attending political factions took pains to emphasize that protecting Rustavi 2 was not about politics, but about maintaining freedom of speech in the country. They all vowed to defend the TV channel by any means available, if this became a necessity after the Supreme Court ruling. Zaza Bibilashvili, a member of UNM's Political Council, called the confrontation around Rustavi 2 "a battle between Bidzina Ivanishvili and the Georgian people… [a battle] in which Ivanishvili would definitely fail to take Rustavi 2 and, subsequently, [he] would lose Georgia…" Another opposition politician, Giga Bokeria, one of the highest ranking former UNM members and now a leader of its splinter faction Movement for Freedom–European Georgia, warned Ivanishvili "not to touch Rustavi 2 […] as it would definitely lead to his eventual downfall [as Georgia's shadow ruler]" (Rustavi 2, February 19).
The political battle around Rustavi 2 thus appears to be approaching its climax. This confrontation may result in one of two possible scenarios. First, if the Georgian Supreme Court rules against its current owners, Rustavi 2's supporters will be left with no other option than to take to the streets. But the TV channel and its backer political parties could fail to garner enough public support to force the government to retreat. After all, Rustavi 2 was for years seen by many as merely a propaganda tool in the hands of the formerly ruling UNM party. Consequently, a sizeable part of Georgian society perceives Rustavi 2's appeals to the notion of freedom of speech as hypocritical (Exclusivenews.ge, February 20).
On the other hand, the government may really be playing with fire regarding Rustavi 2. Against the background of general public dissatisfaction over ongoing socioeconomic hardship (Geostat.ge, accessed February 28), the opposition's appeal might truly catch fire and encourage people to take to the streets. Hence, the Rustavi 2 case—currently framed as a freedom of speech issue—could quickly become a focal point of a more general mass public backlash against the sitting government.
In a democracy as fragile as Georgia's, the survival of multiple points of view in the local media environment is crucial to preserving freedom of speech. At present, the future fate of Rustavi 2 remains up in the air. And it remains to be seen how the Georgian government will navigate the political minefield that always accompanies a showdown with a big media outlet. The coming weeks and months may shed a little more light on the government's ability to manage media conflicts without upsetting the country's fragile political stability or damaging its still feeble democratic institutions.