Moscow Pressing Azerbaijani Diaspora to Send a Loud Signal to Baku
Publication: Eurasia Daily Monitor Volume: 14 Issue: 69
By: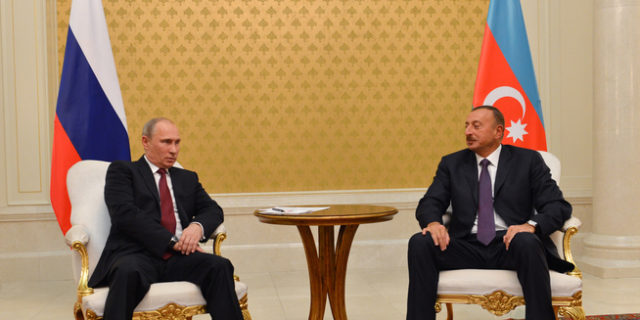 The Russian Supreme Court ruled, on May 15, to revoke the registration of the All-Russia Azerbaijanis Congress (ARAC), the largest and most influential Azerbaijani Diaspora organization in Russia. The initial decision came on March 9, at the request of the Russian Ministry of Justice, which alleged the ARAC was not in compliance with legal requirements (APA; TASS, May 15; Abc.az, May 16). Russian President Vladimir Putin and the Patriarch of Moscow and All Russia Alexy II sent welcoming messages to the Congress when it was founded back in 2001. President Putin also attended the II Convention of the ARAC in 2004 (Kremlin.ru [1], [2], [3] January 19, 2004; October 19, 2004; Vakrf.ru, accessed May 22, 2017).
The liquidation of the ARAC's registration foreshadows the possibility of further acts to follow concerning Azerbaijanis living in Russia, particularly the hundreds of thousands of labor migrants who send remittances back to Azerbaijan. This scenario must be viewed in light of Moscow's push to expand the Eurasian Economic Union (EEU)—Russia's political project to institutionalize its grip on post-Soviet countries under an economic guise (see EDM, October 4, 2013; May 9, 2014; March 2, 2015; March 2, 2016; Kennan-russiafile.org, April 13, 2017).
Moscow has a long track record of using labor migrants as leverage against its post-Soviet neighbors, including Azerbaijan. Remittance flows provide Moscow with political influence over these countries, which the Kremlin routinely uses as a bargaining chip on various issues (see EDM, November 10, 2011; July 6, 2015; September 15, 2015; EurasiaNet, March 27, 2017). National governments are forced to take this factor into account for fear of a mass return of labor migrants from Russia, which could heighten the unemployment rate and social tensions at home. And now, Azerbaijani labor migrants may become useful to Moscow as it seeks to draw Baku into the EEU.
Indeed, back in 2013–2014 Russia specifically used the threat of expelling guest workers as an instrument of leverage against Azerbaijan (APA, November 22, 2013; Interfax, October 22, 2013; Unikal.org, January 16, 2014). Then, Azerbaijan was preparing to hold presidential elections and simultaneously negotiating an association agreement with the European Union. Ultimately, Baku refused to sign the association agreement with the EU in 2015. Now again, the Kremlin is apparently boosting its efforts to expand the EEU ahead of the 2018 presidential elections in Azerbaijan and just as Baku has started negotiations to upgrade its relations with the EU. However, Azerbaijani President Ilham Aliyev has made it clear that Baku is not interested in joining any union, at least for now (see EDM, March 24).
The sudden mass return of labor migrants from abroad would be a serious burden and social inconvenience for Azerbaijan, particularly at this time of economic constraints and low oil prices. No exact statistics exist as to the actual number of Azerbaijanis living and working in Russia (Caucasus Analytical Digest, December 3, 2013; BBC—Azerbaijani service, November 1, 2013). Various sources put the figure at between 600,000 and one million, while a few estimates even point to two million Azerbaijanis working in Russia. Many of those are not Russian citizens and work there temporarily as guest workers. Remittances from Russia to Azerbaijan totaled $739 million in 2016, which actually represents a drop from previous years (Azadinform, April 7, 2017). Sources of Russian pressure on the Azerbaijani expatriate community comes in a variety of forms. On February 13, for example, hundreds of Azerbaijani migrants were detained by the police in the Russian city of Derbend (Mia.az, February 13). This incident was followed by dozens of trucks carrying agricultural produce from Azerbaijan being held up at the Russian border in March (Xezer TV, Medianews.az, March 24).
Moscow's toolbox for coercing Baku includes not only instruments for controlling labor migrants and blockades of food imports (see above) but also the Armenian-Azerbaijani conflict over Karabakh. Of those, the Karabakh conflict is the most serious since another large-scale breakout of armed violence could have significant consequences for Russia itself, particularly in the North Caucasus. Hence, at this stage, the other options are still more convenient and safer to employ for Moscow as it seeks to push Baku into the Russia-centric Eurasian Economic Union.
Russian political analyst Evgeny Mikhailov attributed this month's decision to de-register the ARAC to efforts of the Armenian lobby in Russia (Trend May 15, 2017). However, according to many Azerbaijani experts, the decision was also driven by the Russian government's discontent over Azerbaijan's independent policies—including its large, multinational infrastructure and transportation projects such as the Trans-Anatolian Natural Gas Pipeline (TANAP) the Trans-Adriatic Pipeline (TAP) and the Baku–Tbilisi–Kars (BTK) railroad, all of which bypass Russia (Strateq.az, May 15; Azpolitika.info, Musavat, May 16; A24.az, April 4; Amerikanin Sesi, April 13).
The tensions along the Moscow-Baku axis are developing while Azerbaijan's relations with Europe are far from perfect. And it is difficult to predict whether the Donald Trump White House will pursue a more active policy toward the South Caucasus than his predecessor. All these factors make Baku more vulnerable in the face of Moscow's assertive pressure. Despite its constraints and internal weaknesses, however, Azerbaijan continues to sound quite defiant; it will, therefore, likely not be an easy task for Russia to pull Azerbaijan into a much closer orbit despite the mounting pressure on the Azerbaijani diaspora.
The spokesperson for the Azerbaijani foreign ministry, Hikmet Hajiyev, declared that the de-registration of the ARAC will negatively impact Azerbaijani-Russian relations (Azertag, May 16). But that said, Moscow also will have to consider that, over the past few years, the Azerbaijani government has become more mature in dealing with external pressure and threats that have a domestic dimension. The recent detection and arrest of a group of Azerbaijani servicemen and civilians collaborating with and passing classified information to Armenian intelligence is a case in point (Azernews, May 7).
The All-Russia Azerbaijanis Congress is now appealing the decision of its de-registration, and the appellate court may overrule the Supreme Court's decision. But even in that case, the incident nevertheless represents a Russian shot across Azerbaijan's bow.