How to Spend on Defense: Romania's 2 Percent Conundrum
Publication: Eurasia Daily Monitor Volume: 14 Issue: 69
By: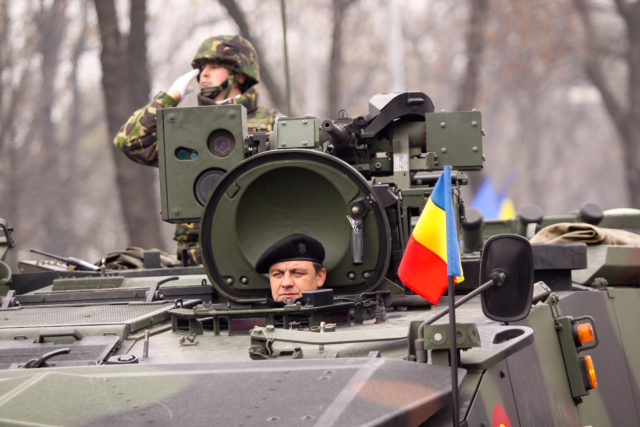 In January 2015, in the aftermath of Russia's aggression in Ukraine and calls by the North Atlantic Treaty Organization (NATO) and the United States for Allies to increase their defense budgets, Romania decided to allocate 2 percent of its GDP for its Armed Forces. President Klaus Iohannis negotiated a cross-party agreement to reach the 2 percent threshold starting in 2017, and to maintain it for the next ten years (Presidency.ro, January 2015).
On May 11, 2017, the Romanian parliament approved a spending program valued at €9.3 billion ($10.5 billion) for the next decade, 2017–2026, which includes eight major programs: long- and short-range air-defense systems, coastal defense systems, multirole corvettes, command-and-control systems, infantry fighting vehicles, wheeled armored personnel carriers, and long-range multiple-launch rocket systems (Curs de Guvernare, May 11). Further programs will likely be approved in the near future, such as the acquisition of attack and transport helicopters (RRA, September 16, 2016).
For Romania, spending 2 percent of its GDP is both a strategic target and a diplomatic tool. Being part of the "2 percent club" within NATO gives Bucharest a certain diplomatic clout within the organization at the next summit in Brussels. Increased defense spending is a bargaining chip that the Romanian government will use to argue for a larger NATO presence along its Eastern Flank. Furthermore, it is an insurance policy against US President Donald Trump's accusations that the European Allies are not paying a fair share for their own defense.
Romania chose a measured path, gradually increasing its defense spending in 2015–2017 in order to reduce budget deficits and maintain economic growth. Between 2015 and 2017, there was a steady increase in defense expenditures and the structure of the defense budget was changed so that, in 2016, 29 percent of the budget was used to buy new equipment (Agerpres, April 4, 2016). According to Defense Minister Gabriel Leș, under the current budget around 45 percent will be allocated to investments and acquisitions (Agerpres, March 16), although that may prove rather optimistic.
However, there are certain caveats that may have a negative impact on Romania's re-armament drive. First, given the mounting Russian threat in the Black Sea and Turkey's internal instability, Romanian military spending could still be insufficient. Romania has to surmount almost a decade of defense underinvestment, which translates into a need for across-the-board military modernization. Almost every piece of equipment, from assault rifles and armored personal carriers to anti-aircraft missiles, will need to be replaced.
Second, the government's economic policy is ill adapted to support a sustained defense drive as envisioned by the 2015 cross-party agreement, despite assurances from Prime Minister Sorin Grindeanu that defense is a top priority for his cabinet (Ziarul Financiar, January 29). The Social-Democrat-led government has slashed taxes and increased social benefits as well as pledged to increase public servants' salaries starting in 2017. Fiscally, it is challenging to allocate the large sums of money required for re-armament over a decade as Romania lacks a multiyear budgeting processes; moreover, it will be hard for the country to remain within the 3 percent deficit limit required by its membership in the European Union (Wall-Street.ro, August 1, 2016). However, the current government hopes the economy will benefit from increased defense spending through lucrative offsets for the local defense industry. A good example of this approach are the current plans to co-produce an armored personnel carrier with the German defense manufacturer Rheinmettal (Romania Insider, November 25, 2016).
Third, the ability of the Romanian Ministry of Defense to manage an increased acquisition budget is doubtful. The ministry has a record of mismanaging both major and minor defense programs. For example, a tender for acquiring anti-submarine torpedoes was canceled three times over the past three years (Hotnews, April 5), and the modernization of a mechanized infantry battalion with Piranha IIIC vehicles has taken almost ten years (Revista Forțelor Terestre, April 12). To make matters worse, Romania's public acquisition rules are needlessly complicated and ill adapted for defense programs. The government plans to rectify some of these problems by reforming public acquisition laws (Hotnews, March 18), but this approach is raising corruption and integrity concerns.
Since 2015, a number of important defense programs have had to be delayed or re-evaluated due to bureaucratic errors or political wrangling. Ironically, the Romanian Navy, the service that requires the most attention, has been the most affected by these developments. The tender to modernize the Navy's British-built Type 22 frigates came to a halt in 2017, after a promising start in 2016 (Adevărul, May 8), likely due to insufficient funding. At the same time, a program to acquire four multipurpose corvettes worth €1.6 billion ($1.8 billion) is being re-evaluated after political controversies (Curs de Guvernare, February 2).
In the face of great regional and global challenges, 2017 will be a crucial year for Romania's defense as it holds the potential to increase the country's military power and consolidate its security over the long term. However, without a firm commitment to the goals Romania itself has set to build a robust defense, all of the projects and programs envisioned for its defense and security will remain on paper. Serious internal barriers threaten the drive toward investing 2 percent of GDP in defense. If these are not addressed, the whole process will falter. Both Romania's credibility as an ally within NATO and its defense are at stake.