Russian Amphibious Capabilities—Kontraktniki and Rust Buckets (Part Two)
Publication: Eurasia Daily Monitor Volume: 14 Issue: 69
By: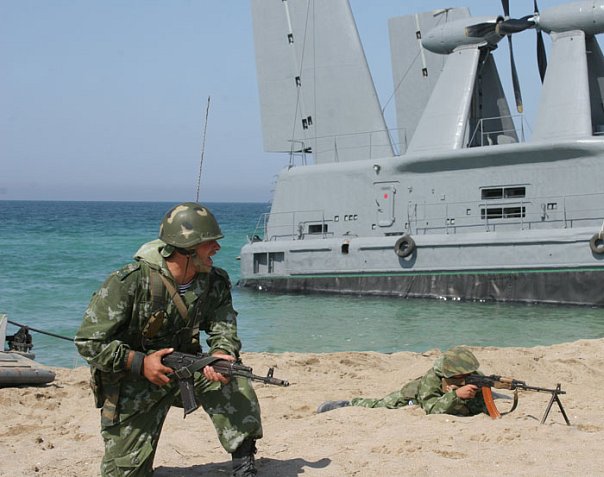 With the new landing ship Ivan Gren expected to be handed over to the Russian Navy later this year, the country is clearly trying to preserve its amphibious assault capabilities (see Part One in EDM, May 17). After the fall of the Soviet Union, the Naval Infantry remained the only branch of the Russian Armed Forces organized, equipped and trained for amphibious operations. In addition, it was has been used in various conflicts in and outside of Russia. Since 1991, the Naval Infantry has taken part in both Chechen wars and in the Syrian conflict; and as of 2014, it has been active in eastern Ukraine (Novosti24, January 21, 2015; Lenta, June 16, 2016).
According to the Russian Ministry of Defense, all Naval Infantry units were to be manned entirely by contract soldiers (kontraktniki) by 2014 (Mil.ru, accessed May 22). But an article in Rossiyskaya Gazeta from early 2017 suggests that this goal had not yet been fully met (Rossiyskaya Gazeta, February 14). Reportedly, during 2016, the contract soldiers in the Naval Infantry, by theater, numbered (Prizyvnik Soldat, December 11, 2016):
Northern Fleet: 1,500
Baltic Fleet: 2,500
Black Sea Fleet: 3,000
Caspian Flotilla: 1,000
Pacific Fleet: 4,000
With officers and warrant officers added to these tallies, the Naval Infantry's total strength more or less tracks with unofficial Russian figures suggesting a force of 12,500 (Mediarepost.ru, November 27, 2016).
In recent years, Russian exercises that involved practicing for amphibious landings have mainly comprised of company- or battalion-sized forces; larger landing exercises, like those carried out during the Soviet era (see Part One), seem to be a thing of the past. An interesting case was the joint amphibious exercise executed during Zapad 2013, when a Belarusian battalion participated in a landing in Kaliningrad oblast (Ctv.by, September 26, 2013). The Belarusians' involvement more or less could be regarded as an act of courtesy by Russia toward the Belarusian Armed Forces.
In 2013, the military industrial commission held a conference in Kaliningrad, and the Naval Infantry was specifically part of the agenda (Voenno-Promyshlennyi Kurier, June 11, 2013). According to reports, the impression emerged that the status and capability of the Naval Infantry at that time still left a lot to be desired (Pravda, October 19, 2013). Since then, however, this branch has received new equipment, including the BTR-82A. A new combat vehicle, the BMPP, is currently under development and is especially designed to meet the needs of the Naval Infantry (Politekspert, April 3, 2017).
When it comes to landing ships, the four Russian naval fleets possess a total of 19 large vessels (Northern Fleet—4; Baltic Fleet—4; Black Sea Fleet—7; Pacific Fleet—4). In addition, the Baltic Fleet operates two air cushion landing craft. Finally, the Russian fleets and the Caspian Flotilla have 29 minor landing ships or boats among them (Northern Fleet—4; Baltic Fleet—9; Black Sea Fleet—5; Caspian Flotilla—7; Pacific Fleet—4) (Russianships.info, April 28).
| | | | | | | |
| --- | --- | --- | --- | --- | --- | --- |
| Type of ship | Northern Fleet | Baltic Fleet | Black Sea Fleet | Caspian Flotilla | Pacific Fleet | Total |
| Larger landing ships | 4 | 4 | 7 | – | 4 | 19 |
| Landing Craft Air Cushion | – | 2 | – | – | – | 2 |
| Minor landing ships/boats | 4 | 9 | 5 | 7 | 4 | 29 |
The larger landing ships are of the Ropucha- or Alligator-class, built between 1966 and 1991. Ropucha-class ships can load one tank company or a Naval Infantry company, while the Alligator-class vessels can carry a battalion. Russia's two air cushion landing craft, found only in the Baltic Fleet, were built in 1990 and 1991. They can transport a tank platoon or a Naval Infantry company. The Russian Navy's minor landing ships/boats—which can carry a Naval Infantry or tank platoon or smaller loads—are of different types, with the most modern being three Dyugon-class vessels, added to the Baltic Fleet in 2014. Thus, if all vessels are used and available, this gives Russia an overall landing capability, by theater, of approximately:
Northern Fleet: a reduced Naval Infantry battalion
Baltic Fleet: a Naval Infantry battalion
Black Sea Fleet: a reduced Naval Infantry brigade
Caspian Flotilla: 1–2 Naval Infantry companies
Pacific Fleet: a reduced Naval Infantry brigade
At the moment, not all larger landing ships are available: three are presently undergoing repair at Baltiysk. And considering the age of most ships, their future availability is in question (Voennoe Obrozrenie, May 6).
For the foreseeable future, a renewal of Russia's fleet of landing ships is limited to the Ivan Gren and Petr Morgunov. These twin vessels are supposed to replace the aging Ropucha-class. Originally, Russia intended to build six such ships. But in 2015, those plans were scaled back to just two Ivan Gren–class vessels (Lenta, June 8, 2015). The Ivan Gren was laid down in 2004 and will probably enter service this year; whereas, the Petr Morgunov will be launched this summer, and officials say it will enter service in 2018 (TASS, Voennoe Obrozrenie, May 2, 2017; Mil.ru, April 22, 2016).
Undoubtedly, the fact that the advanced Mistral-class amphibious assault ships that Moscow had ordered from France were never delivered after Paris canceled the deal in 2015 (see EDM, May 4, 2015) was a setback for the Russian Navy. The Russian defense industry has announced its own replacements, including the projects Priboi ("Our answer to the Mistral"), the Lavina and the Kasyalot (Defendingrussia.ru, June 19, 2015). So far, it is not known if a decision has been made regarding what type of ship will ultimately be built for the Navy. And it remains to be seen if new landing ships are included in the 2018–2025 state armament program. Yet, the former commander-in-chief of the Russian Navy, Viktor Chirkov, has assured that the country's fleet of landing ships will be completely renewed before 2050 (RIA Novosti, June 19, 2015)
Russia's capabilities for amphibious landings can be expected to degrade over time due to the aging fleet of landing vessels. Nonetheless, this remains a capability the Russian Armed Forces obviously see a need for and are working to sustain—as highlighted by recurring exercises and the purchase of two new landing ships. Russia's available amphibious ship assets suggest that the capability is limited to tactical landings in support of the ground forces within the framework of a joint offensive or defensive operation. Such an operation could, for example, be the seizure of one of the three strategically important islands in the Baltic Sea: Åland, Gotland or Bornholm. Presently, however, and most likely even in a long-term perspective, a strategic landing designed to open up a new front or theater of war presumably surpasses Russian military capabilities.