Moscow 'Privatizing' Azov Sea by Declaring Exclusion Zones for Military Exercises, Kyiv Says
Publication: Eurasia Daily Monitor Volume: 17 Issue: 8
By: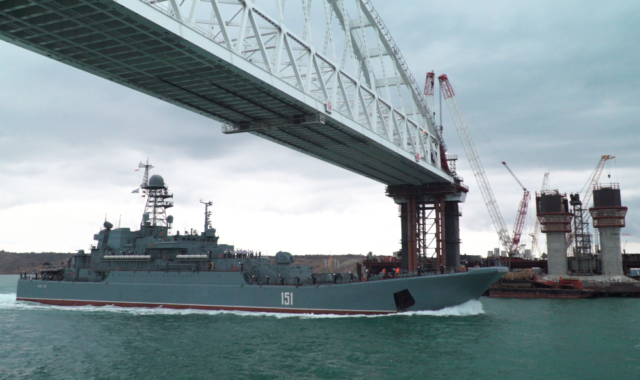 Following its forcible annexation of Ukraine's Crimean Peninsula, Russia has taken a variety of steps to project its power over the adjacent Kerch Strait and the Sea of Azov, upsetting the legal balance that had been in place as a result of a 2003 agreement between Moscow and Kyiv that declared these waters to be jointly supervised (see EDM, December 10, 2018 and February 12, 2019). Over the last five years, Russia has sometimes taken highly aggressive actions in this region that have drawn international censure (see EDM, November 26, 2018). But now it is using a new tactic, one less likely to attract attention but of doubtful legality: the declaration of exclusion zones in these waters meant, supposedly, to prevent accidents during Russian naval exercises. Kyiv has declared these actions to be a violation of Ukrainian sovereignty and an obvious Russian effort via "hybrid" means to "privatize" the Azov and even Black seas into Russian hands (Rosbalt, December 24, 2019).
The Ukrainian military has called attention to and denounced the fact that in each recent month, Russia has "reserved" shifting and ever larger areas in the Azov and Black seas. Purportedly, these temporary no-go areas are meant to allow Moscow to conduct safe and unrestricted military exercises there. According to Kyiv authorities, however, this practice represents "the de facto privatization" of these seas, not only complicating the free passage of ships engaged in trade but also allowing Russia to position its naval vessels for a possible further invasion that the Ukrainian navy would be unable to respond to quickly enough. But because the Russian exclusion zone declarations do not necessarily involve the seizures of ships or sailors, these actions—and Ukrainian complaints about them—have thus far not attracted the kind of international support Kyiv hopes for.
The reason behind Moscow's new lower-profile approach in the region appears to be Ukraine's victory at a United Nations arbitration court last May that ordered Russia to release the 28 Ukrainian sailors it had illegally seized in late November 2018. Moscow finally complied, but Kyiv has now been invoking that decision to seek worldwide recognition that the Kerch Strait and, more generally, the Sea of Azov are international waterways and not Russia's internal sea, as the Russian government has insisted since 2014.
As part of this Ukrainian effort, Deputy Foreign Minister Yelena Zerkal has argued that such a step would eliminate the legal uncertainties arising from Russia's illegal annexation of Crimea, in 2014. She added that her government will be pursuing international recognition of the Kerch Strait and Azov Sea's "international waterway" status even though Russian officials have already indicated that they will oppose any change. Meanwhile, Katerina Zelenko, a spokesperson for the Ukrainian foreign minister, declared, "Ukraine has always insisted [on such a status] while Russia […] has sometimes acted as if the straits were an international waterway and sometimes not. This creates confusion, and Ukraine wants to do what it can to end it" (Krymr.com, May 28, 2019).
Zelenko added that, in the view of her ministry, the "international status of the Kerch Strait does not contradict the 2003 agreement between Russia and Ukraine on cooperation in the use of the Sea of Azov but rather reinforces it because it is the kind of action anticipated by the UN Law of the Sea Convention. That agreement, she continued, specifies that "the Sea of Azov and the Kerch Strait are the internal waters of the two states," using the definitions established by the Law of the Sea (UNCLOS). But subsequent events, along with Russian declarations and actions, have changed the conditions on the ground (Krymr.com, May 28, 2019).
Not all Ukrainians agree with the foreign ministry's position, arguing that it gives Moscow more than it deserves. Bogdan Yeremenko, who heads the Foreign Affairs Maidan Foundation, has openly opposed making this proposal. "The Kerch Strait is the territorial waters of Ukraine [sic]. If we seek to return Crimea to within Ukrainian control, why should we change that status?" He added that there is no possibility of discussing the status of the sea and the strait because that would require raising the issue of the status of Crimea—something Moscow has consistently refused to do. Issuing a call for change when there is little or no possibility for forward movement does not help the Ukrainian cause, Yeremenko suggested (Krymr.com, May 28, 2019).
The Russian government has decided to use exclusion zones as a way of acting under the radar of international monitors and achieving its goal of making Russia the exclusive power in these waters. But there are serious legal problems with what Moscow is doing. Exclusion zones are recognized under international law for various purposes, including to protect others from the dangers arising from military conflict. However, no international agreement exists regarding the right of any state to announce exclusion zones for military exercises. It remains the subject of serious debate (Christopher Michaelsen, "Maritime Exclusion Zones in Times of Armed Conflict at Sea: Legal Controversies Still Unresolved," Journal of Conflict & Security Law 8:2 (2003): 363–390).
Obviously, this is a matter of concern to Ukraine. But it should also be a focus of attention by the international community. If Russia is able to make use of such exclusion zones in the Kerch Strait and the Sea of Azov, not to mention the Black Sea, Moscow will have established what diplomats call "facts on the ground," which it and perhaps others will seek to invoke as precedents elsewhere. If that happens, free maritime traffic, the basis of the international economic order, could be undermined. The United States, which has signed but never ratified UNCLOS, consequently will not have as strong a voice in the outcome of this debate that many might hope for.