Moscow Set to Establish Second Military Base in Kyrgyzstan
Publication: Eurasia Daily Monitor Volume: 15 Issue: 80
By: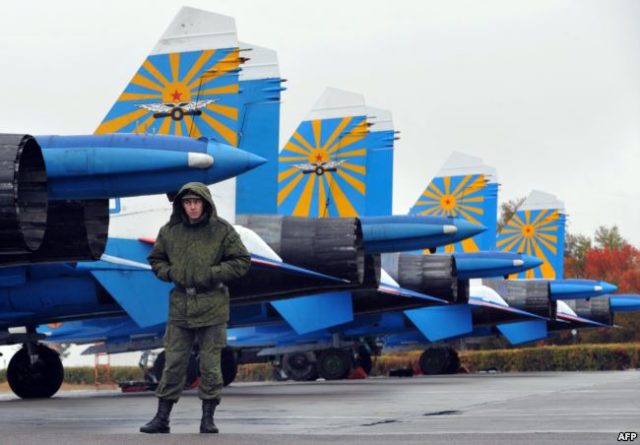 After almost five years of fits and starts on the question, Moscow is set to open a second military base in Kyrgyzstan. With this strengthened military presence, Russia will be in a better position to respond to any militant or terrorist threats potentially spilling over from Afghanistan, to shore up its influence with a Bishkek fearful of terrorism and instability, to send a message to other Central Asian states that Russia remains the pre-eminent power in the region, to both please Beijing and counter the growing Chinese presence across Central Asia, as well as to regionally challenge the United States, which is still actively involved in Afghanistan. The actual level of manpower and equipment likely to be deployed to the new base remains an open question, however. Moscow is held back by both budgetary stringency and because of just how stretched Russian forces now are given Vladimir Putin's aggressive foreign policy.
The ostensible reason Russian experts give for this step is Moscow's concern about the terrorist threat from Afghanistan. Conditions in the northern part of that country are deteriorating, with the Taliban occupying ever more villages and towns and raising the specter that the war there will spill over into Central Asia and possibly, in cascade-like fashion, affect parts of the Russian Federation (Azathabar.com, May 18). At present, Russia has only three bases in the region—a radar site in Kazakhstan, a regular army base in Tajikistan, and its other base (an airfield) in northern Kyrgyzstan. This is a far cry from Soviet times and it limits Moscow's ability to counter any military threat from the south or to categorically assure Central Asian countries that it can do so.
Kyrgyzstan has been pressing for such a base for some time, not only because of this external threat but also because of its problems with the Uzbek ethnic minority and Islamist groups in the southern part of the country (see Commentaries, August 3, 2017). Such calls from Bishkek put it at odds with other Central Asian capitals but make it easier for Moscow to move forward with the establishment of a new base. And even if Russian calculations are focused beyond the borders of Kyrgyzstan—as they almost certainly are—Bishkek will be pleased to have such a base and will thus likely prove to be an even more reliable ally for Moscow than it has been in the past.
Moscow-based military analyst Igor Shestakov, in fact, sees the Kyrgyzstani dimension of this decision as far smaller than Russia's broader geopolitical concerns—and not just about Afghanistan. Instead, he argues that a second Russian base in the Kyrgyz Republic is actually about Russia's position in Central Asia as a whole and about Moscow's need to please Beijing by fighting terrorism there lest it spread into China's restive Muslim-majority region of Xinjiang, all while limiting Chinese influence in the former Soviet republics of Central Asia (StanRadar.com, May 18, 2018).
Russian influence in Central Asia has been declining since 1991, with the region's five republics increasingly turning away from Moscow in search of economic and political ties with China and/or the West. With the exception of Kyrgyzstan, all have moved away from Russia in linguistic (see EDM, October 12, 2017) and cultural terms as well as political ones. The major nexus that still remains between Moscow and these states is their need to send hundreds of thousands of migrant workers to Russia to earn money. Establishing a Russian base in Kyrgyzstan now, Shestakov argued, is a way to send a message not just to Bishkek but to the other Central Asian capitals that Russia is back and far more important to them than China or the United States can or will ever be.
China poses a particular challenge for Russia in Central Asia, and a new base may help Moscow resolve it. On the one hand, China has dramatically expanded its economic and political positions in the region over the last decade, something Moscow and an increasing number of Central Asians would like to counter. Opening a new military base is a traditional way of laying down a marker that China's influence will only be allowed to increase so far. But on the other hand, China may in fact be pleased by the opening of this Russian base if, as advertised, it is involved with counter-terrorism. Beijing faces a rising tide of Islamist activism in Xinjiang and will likely view such a base as providing it with assistance (Golosislama.com, May 23).
But it may be the last element in Moscow's calculation—countering the United States and enhancing Russia's position as the lead arbiter in Afghanistan—that could be the most important factor. Last weekend, as was widely reported in the Moscow media, Russian diplomats discussed with their counterparts in the Shanghai Cooperation Organization (SCO) the possibility of resolving the Afghanistan conflict without the involvement of the US (Tsargrad.tv, May 22). Setting up a new base in the coming weeks will underscore Russia's role and aspirations there, especially at a time when Washington appears to be looking in other directions and may welcome any development that allows it to withdraw its forces.
Indeed, a new Russian base will call attention to what Moscow views as Washington's retreat from this part of the world. From 2001 to 2014, the US had a base in Kyrgyzstan, but it closed it down in response to demands from Bishkek, with the support of Moscow (RIA Novosti, February 3, 2009). Opening a new Russian base there will only underline what Moscow views as a genuine shift in the regional balance of power.