Moscow Set to Re-Activate Cuban Base It Closed in 2002 and Perhaps Open New Ones
Publication: Eurasia Daily Monitor Volume: 15 Issue: 160
By: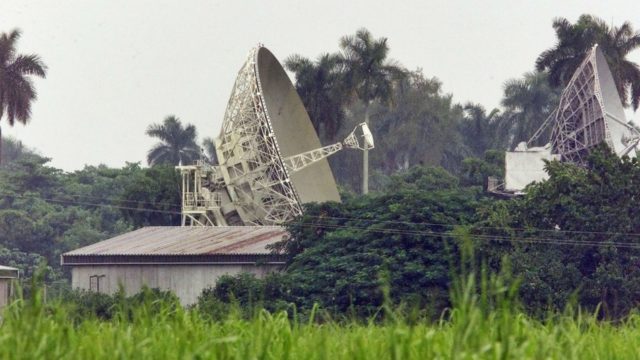 Vladimir Putin appears to be readying to reactivate a Soviet-era signals intelligence (SIGINT) base in Cuba that he closed back in 2002. This prospect is already attracting concerned attention in the West but may be more of a negotiating ploy in response to the United States' announcement that it was pulling out of the bilateral Intermediate-Range Nuclear Forces (INF) Treaty. In fact, the basing site in question, which Cuba has since converted into a university, is relatively small and would duplicate rather than significantly add to Russian abilities to monitor US activities in the Caribbean. Nonetheless, if the Kremlin leader should decide to establish additional bases in Cuba, as some Russian commentators are now suggesting, that would be a different matter altogether—particularly if he succeeds in this goal.
Last week, the new Cuban president, Miguel Díaz-Canel, met with Putin in Moscow and said he wanted to give "a new impulse" to bilateral relations between Havana and the Russian capital. He explicitly mentioned health care and tourism. Yet, Russian observers stressed that the two leaders focused on military cooperation as well, an emphasis that led to an explosion of suggestions in the media—both in Russia and the West—that this meant Moscow was about to reopen the Lourdes monitoring site that it closed 16 years ago, and possibly open additional bases on the island as well (Nezavisimaya Gazeta, November 1).
That Moscow is in fact thinking along these lines was suggested by the simultaneous visit to Cuba of Deputy Prime Minister Yuri Borisov, who oversees Russia's military-industrial complex and military-technical relations with foreign countries. At a meeting in Havana, Vladimir Mukhin, a Nezavisimaya Gazeta commentator, writes that the two sides agreed on contracts worth more than $265 million in the military sphere alone. That represents a dramatic expansion in ties, the observer notes, and reflects the commitment of the new Cuban head of state to try to attract more Russian investment and more Russian attention to his country as a means of countering US sanctions (Nezavisimaya Gazeta, November 1).
Lieutenant Colonel Aleksandr Ovchinnikov, a Russian military expert who served in Cuba in the 1980s, said that "the deepening of cooperation between Moscow and Havana was entirely expected," especially given Washington's threat to leave the agreement banning ground-launched intermediate-range missiles. But he stressed that, in his view, Moscow lacks the resources to develop any "major military bases in Cuba." The Kremlin may want to do that, he continued, but such plans "will not be realized very quickly" given resource limitations. Thus, the sanctions that make such a development attractive may effectively make it less likely—at least in the near term. Other Moscow military analysts, like Colonel Shamil Gareyev, in contrast, said that Putin "will find the means" to pursue this broader agenda. At the very least, Gareyev told Mukhin, the Russian side will develop intelligence and communications facilities on the island by reopening the old Lourdes site and possibly developing some new ones (Nezavisimaya Gazeta, November 1).
Not surprisingly, this diplomatic activity in Moscow and Havana produced some alarmist predictions in the West, with certain media outlets suggesting Putin wants to reopen the former Russian base in Havana in order to show US President Donald Trump that the Kremlin can and will respond to anything the White House does (The Sun, November 6).
But fears of such a threat are driven more by US memories of the past than by evidence of any real new Russian capabilities. The Lourdes SIGINT station opened in 1962, just before the outbreak of the Cuban missile crisis, and was at the time one of the largest such Soviet listening posts in the world. However, enormous advances in technology over the last half century mean that even if Moscow did reopen the base today, it would not gain the kind of overwhelming intelligence advantage that many might fear on the basis of memories of the clash between John F. Kennedy and Nikita Khrushchev in October 1962. Moscow, of course, could install some new equipment, but even that would not fundamentally change its posture in the region, except perhaps symbolically.
More serious would be the establishment of new Russian military bases in Cuba, which Moscow could use to project power throughout Latin America (see EDM, October 30, 2015). That said, there are at least three reasons why, despite some apocalyptic language coming out of Moscow, the opening of such facilities is unlikely to happen anytime soon. First, establishing such bases far from Russia would be enormously expensive and strain Russia's already stretched logistics. It currently lacks the shipping and air capacity to build and supply them (Voyenno-Promyshlenny Kuryer, October 9). Second, Moscow would achieve little beyond a propaganda victory. To be sure, Putin could point to these new military facilities in Cuba as evidence that Russia can project power anywhere it wants, including 90 miles off the shores of the United States; but there are few other benefits he and Russia would gain. And third, and perhaps most importantly, if Moscow makes a move in this direction, it is highly likely that Washington would respond with new sanctions on both Cuba and Russia—a prospect surely on the minds of both the Cuban and Russian leaders.
Moscow's apparent threat to reopen the Lourdes SIGINT base is quite likely a response to Washington's pullout from the INF. Yet, any concrete Russian moves to this effect would almost certainly generate a Western response that would add to the costs for both Russia and Cuba—but without the payoff for either that some believe (and others fear) it would entail.