Uzbekistan Steps up Railway Diplomacy
Publication: Eurasia Daily Monitor Volume: 15 Issue: 160
By: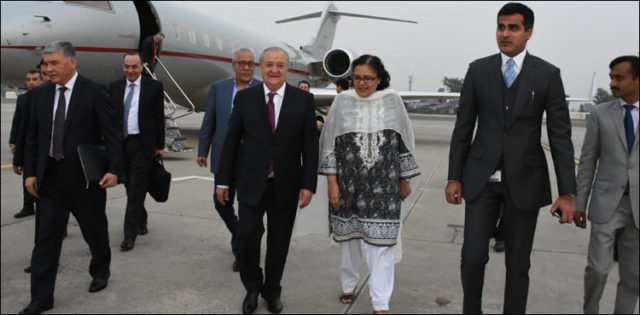 An official delegation from Uzbekistan, led by Foreign Minister Abdulaziz Kamilov, visited Pakistan on November 1–2. Kamilov and his retinue were received by Pakistan's Prime Minister Imran Khan and held meetings with Foreign Minister Mahmood Qureshi as well as the host country's top military brass. In the discussions with Pakistani officials, the Uzbekistani foreign minister proposed several ground-breaking initiatives, including a railroad connection between the two countries that would pass through Afghanistan (The New Indian Express, November 2).
The proposal to build a rail link to Pakistan came one month after Uzbekistan's President Shavkat Mirziyoyev traveled to India, on October 1. In Delhi, the Uzbekistani head of state invited his hosts to partner in implementing another trans-Afghan railway project, connecting the Afghan cities of Mazar-I-Sharif and Herat. Uzbekistan's government pledged $500 million from its own funds for this important railway line, which, if realized, will become the shortest transit route to the Iranian port of Chabahar. The Indian government did not immediately agree, however, and is taking its time to consider the Uzbekistani proposal (The Hindu, September 28; Review.uz, October 30).
Trans-Afghan railway plans have existed for many years and currently are part of the Uzbekistani government's new strategy of developing all-round cooperation with Afghanistan (see EDM, June 27, 2017; December 13, 2017). To facilitate trade, Uzbekistan's authorities halved transit fees for Afghan railway coaches and trucks in addition to signing a landmark transit agreement with this country, allowing greater access for Afghan goods to Uzbekistan and other Commonwealth of Independent States (CIS) markets (Eadaily.com, January 24, 2018). Bilateral discussions on creating a free trade zone between the two countries have also begun (Podrobno.uz July 12).
Moreover, Uzbekistan has been encouraging other fellow CIS countries to use its railway connections with Afghanistan. During Russian President Vladimir Putin's recent visit to Uzbekistan, on October 19–20 (see EDM, October 22), President Mirziyoyev invited Russian companies to open their manufacturing and processing units in Uzbekistan to penetrate the Afghan market (YouTube, October 19).
This invitation could be considered an encouraging new development, showing that the Uzbekistani-Russian strategic dialogue over the situation in Afghanistan might be slowly moving beyond solely security matters. Putin also praised Uzbekistan's moves to help achieve peace and stability in Afghanistan through direct talks between the Taliban and Afghan government, which could be hosted in Tashkent (YouTube, October 19).
As a result of the Uzbek-Russian Business Forum, held during Putin's visit to Uzbekistan, one of the largest Russian wheat exporting companies, TH Siberian Giant, announced plans to set up a processing center in southern Surhandarya province, Uzbekistan, with an eye toward the Afghan market (Sputniknews-uz.com, October 22). In a similar fashion, Belarus's President Alyaksandr Lukashenka, during his visit to Tashkent last September, expressed interest in partnering with Uzbekistan to export Belarusian agricultural equipment to Afghanistan (Podrobno.uz, September 13).
Uzbekistan already implemented a number of vital infrastructure and energy projects in Afghanistan in the past and is arguably Afghanistan's only neighbor with which the government in Kabul does not currently have any irritants in bilateral relations. Having said that, however, in the broader geopolitical context that involves outside powers vying for influence in Afghanistan, Uzbekistan does not presently wield much strategic influence over developments in this strategically important neighboring country. Perhaps as a result, Zalmay Khalilzad, the United States' Special Representative to Afghanistan Reconciliation, did not include Uzbekistan in his first regional tour, which recently took him to Afghanistan, Pakistan, the United Arab Emirates, Qatar and Saudi Arabia—traditionally considered influential power-brokers vis-à-vis Kabul (State.gov, October 3).
The importance of linkages to world markets cannot be overestimated for double-landlocked Uzbekistan. Various studies have repeatedly concluded that insufficient development of physical interregional infrastructure is among the main reasons for the high cost of trade between Central Asia and other regions. The magnitude of the high cost faced by the economies of Central Asia in global trade is comparable only with landlocked countries in Africa (Forbes.kz, October 27).
Trans-Afghan railway lines connecting to Pakistan and Iran are not the only direction Uzbekistan's newly reinvigorated railway diplomacy is working on these days. The long-elusive China–Kyrgyzstan–Uzbekistan railway is another important and actively pursued linkage (Uza.uz, August 11). Currently, China, Kyrgyzstan and Uzbekistan are working on its implementation, and the recent warming in relations between Tashkent and Bishkek (see EDM, September 18, 2017; October 17, 2017) has injected some cautious optimism that the three countries will finally be able to reach an agreement. Nevertheless, this cautious optimism has to reckon with a set of challenges that still lie ahead for this railway line's implementation.
Last month, the Ministry of Finance of Kyrgyzstan issued a warning to the government not to borrow any more funds from China due to the Kyrgyz Republic's already-high debt burden, presently standing at over 70 percent of GDP. Until that warning was issued, the plan was to borrow Chinese money to construct the Kyrgyzstani section of this railway (24.kg, October 4; Regnum.ru, October 8). On top of that, incriminating evidence suggests that recent Chinese-government-financed projects in Kyrgyzstan, such as the renovation of the Bishkek Power Plant in 2017, were marred by blatant corruption involving Kyrgyzstani officials and Chinese companies. These revelations have further complicated matters and were another strong blow against support for Chinese-linked projects in Kyrgyzstan (Kloop.kg, March 19). All this, of course, raises serious questions about the future of the China–Kyrgyzstan–Uzbekistan railroad.
The recent uptick in railway diplomacy is part of Tashkent's renewed efforts to implement long-harbored but never realized plans to diversify external linkages and to enhance Uzbekistan's potential for becoming a regional transport hub. However, besides unveiling the grand vision (The Diplomat, April 12), so far the government seems to lack practical solutions to address the various geopolitical and financial challenges that still lie ahead for these multi-million dollar projects in neighboring Afghanistan and Kyrgyzstan (Centralasia.news, September 26).
Shuttle diplomacy by top Uzbekistani officials and declarations signed during meetings with Afghan, Indian or Pakistani leaders can continue eternally without much change on the ground, as illustrated by the lack of progress in the last two decades with the implementation of other important trans-Afghan projects, such as the Turkmenistan–Afghanistan–Pakistan–India (TAPI) natural gas pipeline. Therefore, Uzbekistan will need to patiently and studiously develop significant economic and political footholds in neighboring Afghanistan and Kyrgyzstan that can be translated into critical leverage capable of making the desired impact. Otherwise, Uzbekistan's efforts in these two directions will be saddled with double failures in the foreseeable future.