MOSCOW SHOWING BELARUS THE ENERGY WHIP
Publication: Eurasia Daily Monitor Volume: 3 Issue: 203
By: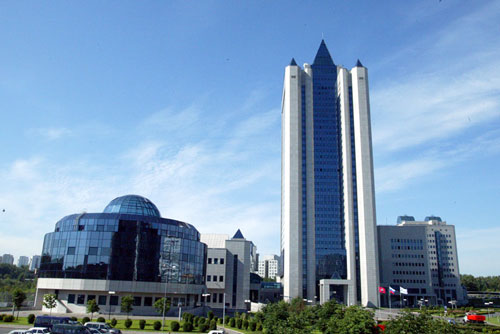 Gazprom's threat to quadruple the price of gas to Belarus after December 31 to $200 per 1,000 cubic meters was meant to force Minsk into ceding 50% ownership of the state gas transport company Beltransgas to Gazprom. However, the threat seems to have the opposite effect thus far. President Alexander Lukashenka is publicly expressing an anger bordering on defiance, and the Economics Ministry is ruling out selling any share in Beltransgas to Gazprom unless the price of Russian gas is what Minsk officials describe as a "normal price" (Interfax, October 31).
The current year is the last one in which Moscow charges a "fraternal" price to Belarus of only $46.68 per 1,000 cubic meters. Thus, Moscow has plenty of room to hike the price after December 31 still below the market level (even by the Gazprom monopoly's definition of the market price). For its part, Minsk feels encouraged by the agreement that Gazprom just signed with Ukraine, setting the price in 2007 at $130 per 1,000 cubic meters — below the Gazprom-defined market level as well.
Furthermore, in the event of a steep price hike (from the exceptionally low present level) by Gazprom, Belarus officials will insist on some form of compensation from the Russian government, such as a preferential credit to support the Belarus currency. Presenting the draft 2007 budget in parliament, Deputy Prime Minister Viktar Burya declared that it assumes on a gas price below $100 per 1,000 cubic meters and that the government would rule out any change to that premise (Interfax, October 27, 30).
Moscow and Minsk differ widely regarding the valuation of Beltransgas. Both sides have agreed to select the Netherlands-based ABN Amro Bank — reputedly a Gazprom-friendly institution — to appraise of Beltransgas prior to the possible 50% sale. To increase the pressure on Minsk, Gazprom wants to complete the sale and purchase of Beltransgas before December 31, thus linking it to the signing of the gas supply agreement for 2007. Minsk, however, prefers to postpone any decision into next year, so as to relieve the pressure in the end game for 2006 and retain counter leverage in negotiations that would continue next year. The 50% sale of Beltransgas to Gazprom was initially envisaged by an intergovernmental agreement in 2003, but Belarus has managed to resist and delay the process while still enjoying a preferential price from Russia thus far.
Russian gas deliveries to Belarus have fully covered the country's requirements and corresponding annual increments all along. The volume of deliveries was 21.5 billion cubic meters in 2006 and is envisaged at 21.7 billion in 2007 (Interfax, October 30). This increment is unusually small, reflecting bilateral tensions as well as the overstretch on Gazprom's available supplies for export.
Crude oil deliveries have also become a matter of dispute between Moscow and Minsk. Belarus is scheduled to import 19.75 million tons of Russian crude oil in 2006 — approximately half of all Russian crude oil deliveries within the CIS — and is requesting an increment for 2007 (Interfax, October 25, 30), all for refining in Belarus. Russian deliveries substantially exceed year after year the levels required to meet the internal demand in Belarus for refined products.
Belarus exports a large share of those refined products to third countries, earning high profits through the differences in export taxes applied in Russia and Belarus, respectively. Moscow is now pressing to eliminate those differences and those profits in Belarus.
Thanks to Russia's taxation method, Belarus is importing Russian crude oil at a substantial net discount compared to world prices. At the same time, the export of light refined products is taxed at $134 per ton in Russia (as of November 1) but only at $57 in Belarus. As a cumulative result, Russia now claims to be losing some $4 billion annually in terms of commercial and customs income. The Russian government recently asked Belarus to raise the export tax on light products to the same level as Russia and to hand over 85% of the proceeds thus obtained to Russia, and the Russian ambassador in Minsk, Alexander Surikov, publicly called for "resolving this issue this year, not later" (Interfax, October 25-26, 30, November 1). Such changes would hit the Belarus state budget severely.
Russian President Vladimir Putin warned on live television during his recent phone-in dialogue with Russian citizens: "There are several issues that worry us. We look at the volume of our crude oil that is delivered to Belarus' oil processing plants, we look at Belarus' actual requirements, and we see how much is being sold abroad as oil products. We need to improve things in normal dialogue with our Belarus colleagues. And if we are not able to reach agreement, then we would be forced to impose some restrictions" (Kremlin.ru, October 25).
Russia's state monopoly Transneft has already cut the volume of crude oil deliveries to Belarus by pipeline to 3 million tons, from the 4 million tons that were scheduled for the fourth quarter of 2006 (Interfax, October 30). Meanwhile, Russian oil companies are eyeing the refineries in Belarus for possible acquisition in shared ownership.
These Russian measures are not only economically motivated, but also designed to goad Belarus into yielding sovereignty and forming a "union state" with Russia under the threat of losing control over national assets. This is how Lukashenka and some of his closest confidants, such as Mikalay Charhinets, chairman of a parliamentary committee on foreign affairs and national security, interpret Moscow's latest moves regarding oil and gas. According to Charhinets, these moves "amount in practice to a Russian economic war on Belarus….The Russian side is being inconsistent in its approach to forming a union state. Previously they were asking us to resolve the political issues [regarding the union state], but now we hear from the Russian president's mouth that economic integration has priority….The Russian leadership's position means that Belarus must consider other options to preserve its sovereignty and economic security." Charhinets went so far as to warn that Belarus could question the continuing presence of Russian military installations in Belarus (Interfax, October 25).
In a similar vein, an irate Lukashenka told a visiting Russian regional governor that Minsk "categorically opposes the tearing up of union relations and union agreements" — that is, the switch of Moscow's priorities toward economic integration of Belarus with Russia. "Well, we don't want to sell certain state assets," he confirmed, alluding to the oil refineries. And, "Why is Russia building up a [customs] border with Belarus? In that case we can also start building up a customs border" (Interfax, October 31).
Lukashenka was responding to Putin's October 25 remark that "economic integration" must become the first stage toward creating a union state (Kremlin.ru, October 25). At present, the Kremlin's idea of "economic integration" implies a gradual takeover of the Belarus economy. Political "integration," in contrast, comes cost-free to Belarus and Lukashenka because it has been confined to public speech-making and unenforceable documents. However, Kremlin succession plans for 2008 may well envisage creating some real state structures for the Russia-Belarus Union as a possible job option for Putin after the expiry of his final constitutional term as president of Russia.
To create that option, the Kremlin brandishes an economic whip on Belarus. Lukashenka will counter in the accustomed way of "giving them rhetoric" for a nonexistent union state, but also in the novel way for him of making overtures to the West, which he now seems to start doing however cautiously.