RUSSIA CEMENTS CONTROL OF ARMENIA'S ENERGY SYSTEM
Publication: Eurasia Daily Monitor Volume: 3 Issue: 204
By: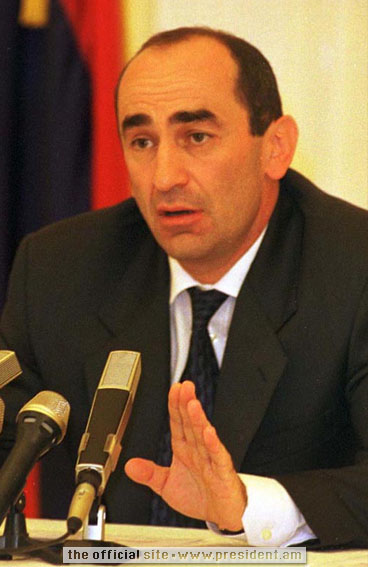 President Robert Kocharian's October 30-November 1 working visit to the Kremlin sealed arrangements to deepen Russian control of Armenia's gas and electricity supply systems.
Under these arrangements, Gazprom is de facto taking over the Iran-Armenia gas pipeline, even as Tehran and Yerevan are about to complete the pipeline's construction under an earlier bilateral agreement. Moreover, Gazprom has now raised its stake in the Russian-Armenian company ArmRosGazprom from 45% to 58% by approving an additional issue of shares worth $119 million. That amount is to cover the acquisition of the Iran-Armenia gas pipeline and of the Hrazdan electricity generating plant's fifth power bloc (Hrazdan-5), the leading unit in the country, by ArmRosGazprom.
The Armenian government's stake in ArmRosGazprom, hitherto 45%, is said to decline correspondingly to Gazprom's increase, thus apparently leaving Armenia with 32%. Gazprom's old offshoot Itera owns the remaining 10%.
The basis for these Armenian handovers had been laid in March-April of this year as part of a deal for low-priced Russian gas. Under the supply agreement signed in April, Gazprom raised the price of gas to Armenia from the traditional, "fraternal" $54 to a still preferential $110 per 1,000 cubic meters, which is to remain in force until January 1, 2009. In return for this short-term relief, official Yerevan seems content to accept the long-term monopolization of Armenia's energy systems by Russian interests.
Armenia had earlier attempted to diversify energy supply sources and infrastructure away from full Russian control. The Iran-Armenia agreement, signed in May 2004, envisaged the construction of a gas pipeline from the joint border to Yerevan and potentially to the Armenia-Georgia border, as well as the completion of the Hrazdan-5 power bloc, with mainly Iranian funding. Armenia was to consume most of the electricity generated with Iranian gas at Hrazdan and also to use part of that electricity to repay Iran during the first years of the 20-year project. Hrazdan-5 is due to be completed in mid-2008 at a cost of $180 million.
From the start of the project, official Yerevan accepted Moscow's demand to limit the Iran-Armenia pipeline's diameter to 700 millimeters, instead of the 1,420 millimeters in the original design. Thus, Moscow and its allies in Yerevan precluded the possibility of this pipeline being used for transit of Iranian gas via Armenia to Georgia and potentially to Ukraine via the Black Sea. Last year, the Ukrainian government of Yulia Tymoshenko showed keen interest in an Armenian transit route for Iranian gas. However, this pipeline, with an initial capacity 300 to 400 million cubic meters per year, can only meet the needs of a part of Armenia's internal market. The Iranian-Armenian project had envisaged 1.1 billion cubic meters annually in the first stage
The pipeline's 40 kilometer first section, from Kajaran on the Iran-Armenia border to Meghri, is set to be commissioned on schedule at the end of December. The second section is planned to reach Armenia's Ararat district, there to connect with the existing gas supply system under ArmRosGazprom. Thus, instead of a jointly owned Iranian-Armenian pipeline dedicated to Iranian gas, the new line becomes a Gazprom-controlled link from Iran to the Gazprom-controlled pipeline system within Armenia. As one Yerevan commentator noted when the outline of the deal emerged, "The pipeline goes to ArmRosGaz in appearance only. In reality, the pipeline is packaged in ArmRosGaz and given to Gazprom" (Lragir, October 27).
Attempting to rationalize this decision, Prime Minister Andranik Markarian argues that separate ownership of the Iran-Armenia supply pipeline would be "illogical," since Gazprom already controls Armenia's gas transport and distribution systems, thereby controlling also the access of Iranian gas to Armenian consumers. European countries consenting to monopolistic long-term contracts with Gazprom might look at the situation described by Markarian as a harbinger for their own countries, if that trend persists.
Armenia's gas market is small and not lucrative for Russia. ArmRosGazprom expects only $3.75 million in profits in 2006, partly because tariffs to household consumers in Armenia are state-controlled. However, Moscow wants to control for Armenia's gas market for geopolitical reasons. Such control enables it to foreclose a possible route for Iranian or Turkmen gas via Armenia to Georgia, Ukraine, and potentially European Union territory, where such gas could compete with and indeed out compete Gazprom's.
With Iran supplying part of Armenia's needs, Russia can redirect corresponding volumes of Russian gas to Europe at more than double the price it charges to Armenia. At the same time, Gazprom retains discretionary control of the Armenian gas market through control of the distribution system in the country.
(Noyan Tapan, Mediamax, Armenpress, October 29-November 2; RFE/RL Armenia Report, October 31)