Moscow Spins Overextended Intrigues in the Middle East
Publication: Eurasia Daily Monitor Volume: 14 Issue: 33
By: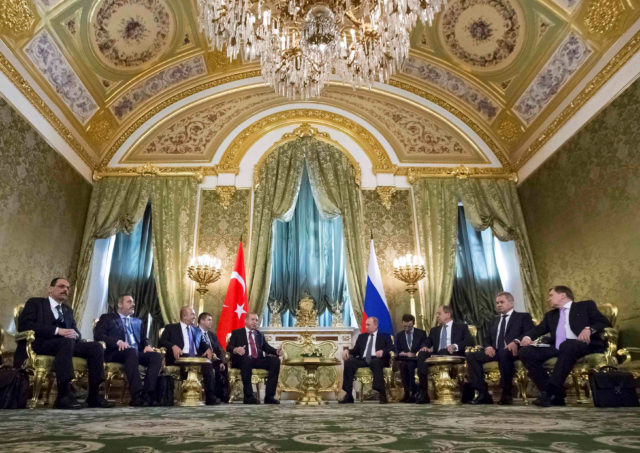 The whirlwind of Russian scandals continues to spread across government offices in Washington, DC; but in Moscow the impression is gradually forming that those scandals will soon blow over, so it is time to prepare Russia's diplomatic moves and pile up the bargaining chips. The most urgent issue is perhaps the North Koreans' nuclear misbehavior. But Russian diplomacy has little to say on the matter except to engage in inconsequential protestations against both Pyongyang's missile tests and the United States' deployments of the THAAD anti-missile system in South Korea (RBC, March 7). The traditionally useful arms control avenue is presently blocked by the US refusal to tolerate Russia's serial violations of the 1988 Intermediate Nuclear Forces (INF) Treaty, which causes "disappointment" in the Russian foreign ministry (RIA Novosti, March 10). The Middle East is the only area where Moscow might be able to suggest meaningful cooperative measures, as defeating the Islamic State and exterminating international terrorist networks is a high-priority goal for Washington. Therefore, in the last couple of weeks, Russia has mobilized every diplomatic and military asset to try to boost its profile in the region (see EDM, March 8).
The intervention in Syria remains the key tool for Russian policy, and in addition to air strikes, it now features "boots on the ground"—from the Chechen para-military battalion to a de-mining unit (RBC, March 10). The Russian chief of the General Staff, Army General Valery Gerasimov, sought last Wednesday (March 8) to sort out the practical details of combat cooperation with the US. Gerasimov spoke with US Chairman of the Joint Chiefs of Staff, General Joseph Dunford, in Antalya, at a meeting hosted by Turkish General Hulusi Akar (Vedomosti, March 9). Moreover, Moscow has mediated a transfer of several towns, held by Kurdish forces, under the control of the Syrian army. This answers just fine the US's key aim of pushing the Islamic State out of Raqqa—but it does not sit well with Turkey (Nezavisimaya Gazeta, March 6). Turkish President Recep Tayyip Erdoğan traveled to Moscow last Friday. The visit was described by the Russian side as "long-awaited" and celebrated by the lifting of the ban on imports of broccoli and onions from Turkey (Newsru.com, March 10). Erdogan, however, wanted more—first of all, reassurances that Russia would treat the Kurdish Protection Units (YPG) as a "terrorist organization"—but Putin was not ready to go that far (Kommersant, March 11).
Another important visitor to Moscow last week was Israeli Prime Minister Benjamin Netanyahu, and his message was primarily about the unacceptable risk of Iran's military presence in Syria (RBC, March 8). Putin is eager to cultivate friendly rapport with Netanyahu, particularly considering the latter's personal relationship with Trump, but the Russian president cannot afford to compromise his uneasy partnership with Iran. In the battle for Aleppo, the Iranian forces as well as Hezbollah bore the brunt of the heavy fighting, and they are crucial for ensuring the safety of Russian bases in Syria, which are due to be expanded (Newsru.com, March 11). Executing operations and arms deals has been somewhat problematic, but the planned visit of Iran's President Hassan Rouhani to Moscow is on schedule (Kommersant, February 14).
Russia's big plan is to gain the role of mediator in the conflict between Iran and Saudi Arabia, even though neither antagonist has much trust in Russia's motives—or indeed allows for a possibility of reconciliation (Carnegie.ru, March 9). Little opportunity also exists for Moscow to exploit its old ties in Yemen in order to negotiate a de-escalation of this conflict, long one of the foci of Saudi-Iranian tensions (Russiancouncil.ru, March 9). Instead, Russia has tried to demonstrate its capacity for peace-making in the wider region by engaging in talks with the warring factions in Libya; Prime Minister Fayez al-Sarraj was yet another recent guest in Moscow (RIA Novosti, March 3). The main hope was placed on Marshal Khalifa Haftar in Benghazi, but Russia was unable to provide him any tangible support when his forces came under attack from armed groupings affiliated with al-Qaeda (Nezavisimaya Gazeta, March 10).
The problem with Russian diplomacy is the lack of material resources or aid to support it. Even in Syria, Russia cannot deliver a meaningful contribution to post-conflict reconstruction in the areas now controlled by President Bashar al-Assad's forces (RBC, March 2). A readiness to talk with just about every party in a conflict can help Russian mediators only so far. Indeed, Netanyahu was clearly not interested in Russian connections with the Palestinians (Politcom.ru, March 10).
An even deeper problem is that no amount of diplomatic maneuvering can ensure even a small step toward Russia's fundamental interest—the increase in the global oil price (Forbes.ru, March 6). For many months, Russian officials have been involved in delicate conversations with the Organization of the Petroleum Exporting Countries (OPEC) about carefully calculated cuts in oil production—only to observe another drop in prices last week (Gazeta.ru, March 9). Cartel-type deals fail in a saturated global market, for which China's economic slowdown is a major long-term factor, and the increase of US capacity to develop new reserves has a major short-term impact (Moskovsky Komsomolets, March 9).
Focusing on the Middle East, Moscow is trying both to increase its political assets for potential cooperation with the United States as well as to exploit the weakness of US leadership in the region. The limits of its capacity for force projection have been clearly demonstrated by the Syrian intervention. Meanwhile, the recent offensives by al-Assad's forces cannot ensure the durability of this brutal regime, which is entirely dependent upon military support from Russia and Iran—and neither is guaranteed. Russia is trying hard to repair its partnership with Turkey; but even if Putin and Erdoğan can forget their recent personal invectives, the Kurdish issue remains a stumbling block. Russia is also trying its best to upgrade its ties with Israel—but the "brotherhood" in arms with Iran is not helpful at all.
These multiple and overlapping confusions in Russia's opportunistic foreign policy make it a dubious partner for every regional stake-holder, including Iran, and diminish its value as a possible cooperative competitor for the US. Washington and Moscow arguably understand the importance of securing Russia's recognition that US special forces will be expanding their operations in Syria and of preventing misguided Russian airstrikes on the "footprints" of US allies. Yet, it is simultaneously important to remember that Russia excels as troublemaker in the Middle East and stands to lose from successful peace-building.