Moscow Still Calling on West to Join 'Broad' Anti-IS Coalition, but Patience Is Running Thin
Publication: Eurasia Daily Monitor Volume: 12 Issue: 196
By: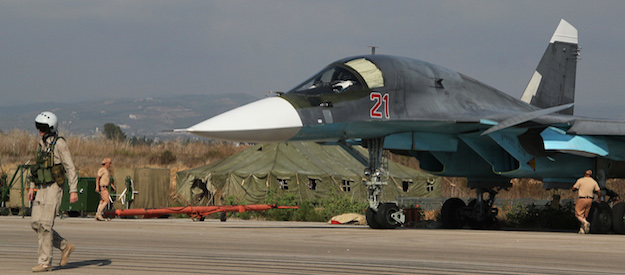 The Russian military has intensified the bombing campaign in Syria to its limit. Ministry of Defense (MoD) officials told journalists that, on October 27, Russian bombers flew 71 sorties and hit 118 targets in the northwestern Syrian provinces of Idilb, Hama, Homs and Aleppo as well as Damascus in the south (Interfax, October 28). According to MoD sources, Russian military aircraft deployed at the Hymeymim airbase in Latakia include a squadron of 12 modernized Su-25SM attack jets, a squadron of 12 modernized Su-24M bombers, a subsquadron of 6 new multipurpose Su-34 bombers, a subsquadron of 4 Su-30CM fighter-bombers, a squadron of 12 Mi-8MTV multipurpose helicopters and a squadron of 12 Mi-24 helicopter gunships. The Russian force in Syria reportedly also has a number of drones and one An-20 spy plane. Only the Su-25, Su-24 and Su-34 jets are reportedly involved in bombing sorties. The Su-30s are deployed exclusively as fighters, and the helicopters, including the Mi-24, are only going out on support missions to guard the Hymeymim airbase and act as flying decoys to deflect possible ground-to-air missile attacks by Syrian rebels when the jets are landing or taking off (Rbc.ru, October 28). It is practically impossible that all 30 jets directly involved in bombing are 100 percent battle ready every day of a prolonged air campaign (war jets need regular maintenance). With 71 reported daily sorties, it would seem Russian jets are flying two, or possibly more, combat sorties a day.
The Russian attack jets in Syria are flying, bombing, returning to refuel, rearming and taking off again on combat missions in an attempt to rout the Syrian opposition and help forces loyal to President Bashar al-Assad reclaim major cities, including Aleppo. This week (October 28), the Kremlin's spokesman Dmitry Peskov quoted President Vladimir Putin, who reportedly told visiting German Vice Chancellor Sigmar Gabriel: "Only after the defeat of extremist and terrorist forces in Syria is it possible to begin the process of political reconciliation. To do the opposite [to begin political reconciliation in Syria before defeating the armed opposition] is absolutely senseless and illogical" (RIA Novosti, October 28). The Russian military began their air campaign in Syria on September 30; al-Assad's forces and allies from Hezbollah, Iran and Iraq began a land offensive to flush out the opposition on October 7. The Russian military command is telling journalists their air campaign is highly successful: The opposition fighters have lost most of their heavy weapons and ordinance and are "on the run" (RIA Novosti, October 28).
In fact, al-Assad's forces have achieved only limited success. No major rebel-held strong points have been reported captured, and the advance of the embattled Syrian regime's forces has been painstakingly slow. The rebels are resisting and sometimes reportedly counterattacking. The mass-circulation pro-Kremlin daily Komsomolskaya Pravda is reporting from Syria that al-Assad's forces are short of manpower, their armor and heavy equipment is mothballed and their fighting spirit is not at its best; while the rebels (labeled "terrorists" by Russia) are well entrenched and not easy to dislodge with airstrikes. The overall conclusion: "No blitzkrieg in Syria—the rebels are rattled by Russian airstrikes, the ground offensive is developing, but it will go slow" (Komsomolskaya Pravda, October 22).
The Kremlin's main strategic objective in Syria is not so much control of the Middle Eastern country itself or the fate of President al-Assad, though maintaining a friendly regime in Damascus is important. Rather, Putin seeks a new world order, based on an anti–Islamic State (anti-terrorist) "broad coalition" that would include the United States and other Western countries. For Putin, an overall understanding founded on facing a common enemy must include the termination of sanctions imposed by Western countries on Russia for the annexation of Crimea and engagement in fighting in eastern Ukraine (see EDM, September 17).
Meanwhile, some influential forces in the West seek to restore business as usual with Moscow. This week, in the Kremlin, Vice Chancellor Gabriel expressed a strong desire to move past the unfortunate Ukrainian issue and resume excellent Russo-German relations. Gabriel announced he sees a convergence of views with Russia on Syria and expressed strong support for Putin's grand plan to double the capacity of the gas pipeline under the Baltic Sea, known as Nord Stream Two (see EDM, September 15), which would bring Gazprom's natural gas to Germany, bypassing Ukraine. According to Gabriel, the Ukrainian gas transport system is mothballed and "Germany is very much interested in Nord Stream Two," which may be swiftly built "if politicians and the [European] Commission do not interfere—it must be a purely German decision" (Kremlin.ru, October 28).
Gabriel and Putin's other influential foreign friends are keeping alive the hope that a "broad coalition" and a new Putin-friendly world order is achievable. But the progress in building this coalition and a world order that would allow Moscow to dominate Ukraine and other neighbors seems frustratingly slow, as is the advance of al-Assad's forces. At present, the Russian force deployed in Latakia cannot do much more—it is already fighting at full capacity.
Russia's uncertainty on what to do next in Syria is causing anxiety and triggering bouts of traditional anti-Western paranoia. On October 27, Deputy Defense Minister Anatoly Antonov—a top career diplomat who, in 2011, was attached to the MoD to oversee international relations—gathered in Moscow the military attachés from Saudi Arabia and leading NATO countries, including Turkey. The purpose of this meeting was for Antonov to complain on behalf of the Russian government about "outrageous publications in English-language media" that purportedly have been falsely accusing the Russian air force of bombing the moderate Syrian opposition and of killing civilians in Syria. According to the deputy defense minister, Moscow demands that Western governments ether come up with indisputable facts to corroborate the accusations or officially disavow these claims. If, in a couple of days, Western governments fail to censure and condemn the alleged falsehoods published by the English-language media, Moscow will consider "all this to be part of an anti-Russian information war" (Mil.ru, October 27).
In addition, Antonov once again called on Western and leading Middle Eastern states to "adhere to Putin's timely proposal to join the broad coalition" to fight the Islamic State with Russia, al-Assad, Iran, Iraq and Hezbollah and "jointly choose bombing targets." But Russian officials and the Kremlin are clearly frustrated and running out of patience with the lack of real progress in anything connected to Syria.