Ukraine's Local Polls, Marred by Irregularities in Big Cities, Show East-West Split Remains
Publication: Eurasia Daily Monitor Volume: 12 Issue: 195
By: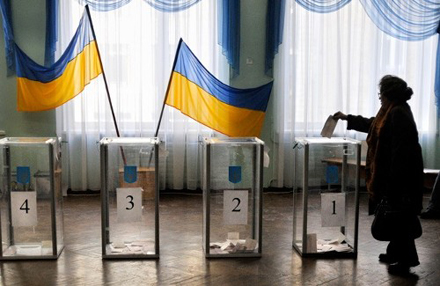 The ruling coalition won most local elections across Ukraine on October 25, according to preliminary figures. Results from the Central Electoral Commission (CEC) are expected next week, but it is already clear that compared to the 2010 local elections, the kleptocratic elites who used to support former President Viktor Yanukovych lost dominant positions in most local councils. However, the popularity of the pro-Western coalition, which has been ruling Ukraine since last year, declined compared to last year's presidential and parliamentary elections. Millions of Ukrainians were disenfranchised because of war, and the elections were marred by irregularities in the key cities of Mariupol and Odesa.
The ruling coalition, which comprises President Petro Poroshenko's Solidarity party, Lviv Mayor Andry Sadovy's Self-Help and former prime minister Yulia Tymoshenko's Fatherland, performed strongly, especially in the western and central areas. The far-right party Freedom won several constituencies in its western Ukrainian strongholds. Government opponents—many of whom are linked to the former ruling Party of Regions (PoR), such as Opposition Bloc (OB)—performed strongly in the mainly Russian-speaking east and south (Obozrevatel.com, October 28). The Ukrainian Association of Patriots (UKROP), the party of the rebel oligarch Ihor Kolomoysky, ran neck and neck with OP in Kolomoysky's home city of Dnipropetrovsk (Rbc.ua, October 27).
The defeat of the ruling coalition in the east and south, especially in the areas freed from Moscow-backed rebels, came as no surprise. The coalition government has largely failed to come up with a national re-unification project or to sufficiently counteract Russian propaganda in those regions. Courts and law enforcement agencies remain notoriously corrupt, and many officials continue to live beyond their means. The economy has deteriorated considerably in 2014–2015, especially in the industrial eastern and southern areas, which lost their traditional Russian markets due to war and the sanctions introduced by Russia in 2013–2015. Many locals blame their hardships on the Maidan revolution and the government's pro-Western course, rather than on Moscow-supported thugs and corrupt local elites. The opposition parties such as OB have capitalized on this.
Slovyansk and Mariupol (Mariupil), the cities in the Donbas region that were among the first to be freed from Moscow-backed rebels in the summer of 2014, are good cases in point. OB candidates easily won both mayoral and local council polls in Slovyansk, although a turnout of just 28 percent, compared to the national average of 47 percent, showed indifference among locals, if not despair (Vesti-ukr.com, October 26). Authorities did not organize elections in Mariupol, the biggest city in Donbas not controlled by forces imposed by Russia. Polls did not open in Mariupol, because the local electoral commission refused to use ballot papers printed by a firm linked to oligarch Rinat Akhmetov, who is behind OB. The authorities and OB accused each other of deliberately disrupting elections in Mariupol (Lb.ua, October 25).
CEC chairman Mykhaylo Okhendovsky told Western ambassadors that there were no irregularities with ballot papers in Mariupol, and he blamed the local election authorities for the election fiasco. It is now up to the national parliament to decide when repeat elections will be held in Mariupol and Krasnoarmiysk, the other Kyiv-controlled Donbas town where elections did not take place (Zn.ua, October 26).
Run-off mayoral elections will be held on November 15, in the towns and cities where no candidate won more than 50 percent of the votes on October 25. According to preliminary figures, run-offs will be needed in several big cities, including Kyiv, Dnipropetrovsk and Lviv. The situation is complicated in Odesa, the site of deadly fights between Ukrainian nationalists and pro-Moscow activists last year. The governor of Odesa province, Mikheil Saakashvili, the reformist former president of Georgia, claimed that mayoral election ballot papers had been tampered with. He called on Poroshenko to interfere. The local electoral commission said that incumbent mayor Hennady Trukhanov won the election with 53 percent of the popular vote, while the Saakashvili-backed, liberal, pro-Western candidate—Sasha Borovik—came in second with 26 percent (Lb.ua, October 27). Borovik has demanded a run-off election and threatened to lead mass protests (Liga.net, October 27). Borovik and Saakashvili represent Solidarity, while Trukhanov used to be in the PoR. Saakashvili, on his Facebook page, compared Trukhanov's supporters to the Russian "little green men" who annexed Crimea last year, and called for setting up a "committee of action" to rid Odesa of "oligarchs and clans."
The elections were not held in Russian-annexed Crimea or the areas held by Russia-backed militants in Donbas. Ukrainian local elections in Crimea are out of the question for obvious reasons. As for the Donbas region, Kyiv, Moscow and the rebels are yet to agree on when local elections will take places there and according to what rules. Moreover, about 1.2 million internally displaced persons were disenfranchised across Ukraine by the imperfect electoral legislation (Oporaua.org, October 26).
Despite all the inadequacies, the West pronounced the elections generally free and fair. Moscow has not voiced open disapproval either. The US Department of State said in a statement, citing international observers, that the elections largely reflected the will of the people and generally respected the democratic process (State.gov, October 26). Poroshenko promised sweeping reforms after the elections (Interfax, October 21). Now is the time to deliver, but election irregularities will also have to be addressed urgently if the government does not want to lose more ground to the likes of OB.