MOSCOW STUNG BY GEORGIAN RESOLUTION ON SOUTH OSSETIA
Publication: Eurasia Daily Monitor Volume: 3 Issue: 38
By: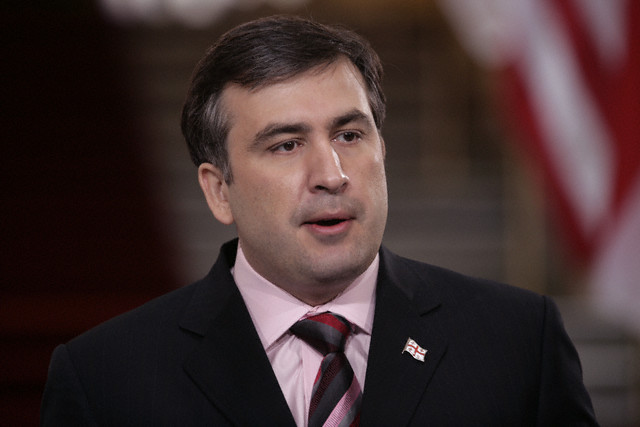 Predictably, Moscow has unleashed a psychological warfare offensive in response to the Georgian Parliament's February 15 resolution on replacing Russia's "peacekeeping" operation in South Ossetia with an international peacekeeping operation (see EDM, February 15).
In that resolution's aftermath, Kremlin consultant Gleb Pavlovsky — speaking on Gazprom-owned television — implied that Georgian President Mikheil Saakashvili ought to be assassinated: "The cost of a single bullet being lower than the cost of war" (NTV, February 18). Other Russian state-controlled media aired provocative statements by Igor Giorgadze, the Moscow-based former Georgian state security chief suspected organizer of the 1995 assassination attempt that wounded then-president Eduard Shevardnadze.
Russia's embassy in Tbilisi has suspended the issuance of Russian visas for Georgian citizens (Russia had singled out Georgia from among all CIS member countries in 2001 to impose visa requirements on Georgia's citizens, even as residents of Abkhazia and South Ossetia may enter Russia visa-free). Minister of Foreign Affairs Sergei Lavrov has inaccurately claimed that Russia's peacekeeping operation in South Ossetia is internationally authorized and, on this fictional basis, accused Georgia of violating international law. Russian state-controlled television networks are broadcasting inflammatory, abuse-filled comments on Georgia. The Duma adopted a resolution charging that Georgia potentially threatens Russia's national security. Planes and helicopters of the North Caucasus Group of Forces have violated Georgian air space several times in recent days. Yesterday [February 23], "Abkhaz forces" begin an "air force and air defense exercise" — i.e., a demonstration by Russian pilots assigned to Abkhazia.
Furthermore, Moscow has enlisted Abkhaz leaders to threaten to intervene militarily in South Ossetia in the event of an outbreak of hostilities, and Transnistrian leaders to warn that they would withdraw from political settlement negotiations with Moldova if tensions escalate in South Ossetia. Inasmuch as it is clearly against Georgia's interest to escalate tensions there, those warnings appear designed to imply that Russian forces are prepared to stage some incidents if necessary to intimidate Georgia into renouncing its demand for replacing Russia's "peacekeeping" operation in South Ossetia.
While the anti-Georgian propaganda campaign is a deja vu spectacle, Moscow is resorting to some unprecedented steps on the diplomatic front. It has cancelled ("postponed" with no future date mentioned) a scheduled visit to Moscow by Georgian Prime Minister Zurab Nogaideli who was to have explained Georgia's intentions to the Russian government with a view to defusing misunderstandings.
Furthermore, Moscow scuttled a session of the Joint Controlled Control Commission (JCC) that was scheduled to be held on February 19 at OSCE headquarters in Vienna and had been prepared in detail. The session's agenda included, for the first time, specific discussion of post-conflict reconstruction assistance to South Ossetia, with the participation of donor countries and international relief agencies. An enlarged follow-up to the Vienna discussion was already planned for next month. However, Russia gave the other parties 48 hours to change the venue of the Vienna session to Moscow, on the basis that "JCC members should be as close as possible to the center where decisions are made. That center is Moscow" (Interfax, February 19). This move and this wording by Russia's Ministry of Foreign Affairs is a calculated reminder that Moscow will only go along with the JCC "process" if the other participants — specifically, the OSCE — continue bowing to Russia's primacy in that body.
In the event, only the Russian, South Ossetian, and North Ossetian representatives convened in Moscow on February 20 for what they billed as a JCC session. Georgia and the OSCE declined to attend. Compounding the affront to the OSCE, Russia's envoy Valery Kanyakin accused the organization of having "forgotten the elementary standards of diplomatic etiquette" and "excluded themselves from the negotiating process" (this latter phrase a reflexive carryover from Soviet jargon about deviationists who excluded themselves from the Party) (Interfax, February 20)
Georgia is responding calmly, immunized by recurrent Russian campaigns of this type. Concluding a National Security Council session, Saakashvili noted, "All these developments have only one purpose — to play on our nerves and scare or intimidate us somehow. However, we have the means to prevent incidents or any escalation. They will not be able to drag us into this game. Our main task is to ensure our development. Our reaction should be calm, ignoring all sorts of rhetoric, threats, and provocations. They won't be able to do anything to us. Let's just take care of our work" (Imedi Television, February 21).
As this statement suggests, Moscow has practically exhausted its leverage on Georgia. The Georgian government has, through its policies in the last two years, succeeded in creating fair leeway for acting on the parliamentary resolution on replacing the Russian "peacekeeping" operation.
(Interfax, Itar-Tass, Russian Television Channel One, RTR Russia TV, Kavkasia-Press, February 16-22)