Moscow Tilts Toward POLISARIO, Against Morocco and Europe
Publication: Eurasia Daily Monitor Volume: 15 Issue: 58
By: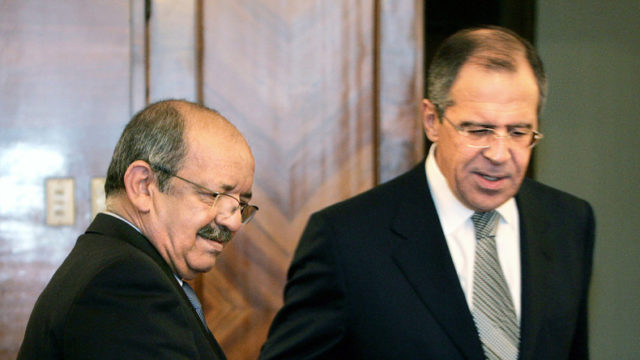 Russia is continuing to shift away from its earlier support of the government of Morocco toward the Polisario Front (Frente Popular de Liberación de Saguía el Hamra y Río de Oro—POLISARIO), which is challenging Rabat for control of a large portion of the Western Sahara. That shift began at least two years ago, when Russia failed to back Morocco on a United Nations Security Council vote (The Arab Weekly, May 8, 2016). And it has continued since then, with expressions of support for POLISARIO's position by Foreign Minister Sergei Lavrov and efforts to provide arms to the group via Algeria. To date, problems in Algeria have limited Moscow's ability to do so; but they may in fact open the way to more direct Russian involvement. This is yet another indication that the Kremlin hopes to exacerbate problems in Africa in order to weaken the influence of European powers on the continent and expand its own, especially in mineral-rich areas.
Earlier this year (February 19), Lavrov called for direct talks between Morocco and POLISARIO during a visit to Moscow by Algeria's Foreign Minister Abdelkader Messahel and pointed to "a convergence of views" between Algeria and Russia on that question. While the Russian official said the two agreed that conflict must be resolved "without any interference" or use of force, in fact Moscow was pressing Algiers to purchase a large supply of weapons. At least some of this cache would have been sent on to the POLISARIO forces, which could be counted on to use them against Morocco (Spsrasd.info, February 19).
But since that time, three developments have intervened so that Russia may no longer be able to rely on Algeria as a proxy supporter of the POLISARIO movement and thus could be forced to either become more directly involved or retreat—and few in Moscow appear prepared to pull back, given their efforts to establish a Russian base in Algeria and expand Russia's role on the continent. First, French President Emmanuel Macron made it clear to Algerian leaders that Paris does not want to see any increase in violence in the Western Sahara (Morocco World News, February 19). Second, in a serious recent plane crash in Algeria involving a Russian jet, among the 256 dead were 26 POLISARIO fighters, a revelation that called attention to Algeria's role with the Front (Ukrinform.ru, April 11). And third, Algiers announced it was canceling its arms deal with Moscow because falling oil prices meant it could no longer afford it, although many analysts have concluded that French pressure and even the air crash played a more significant role (Morocco World News, February 19).
That background might seem to undercut Russian efforts to exploit the POLISARIO-Moroccan conflict, but there are three reasons why such a conclusion almost certainly is incorrect. First of all, there has been a fundamental shift in Moscow's thinking since the Cold War. The Soviet government backed Morocco in its military efforts to suppress the POLISARIO movement in the hopes of gaining access to minerals in regions under Rabat's control and to weaken the European presence there. Now, the Russian Federation has adopted what it suggests is a more even-handed position but one that many analysts in the region say is in fact a tilt against Morocco and toward POLISARIO. One aspect of that tilt, Abdelkrim Bena­tiq, of the Paris-based Center for Diplomatic and Strategic Studies, noted, is that Moscow now wants the African Union (AU) involved in any discussions between the two sides. "We all know that the African Union is a door used by Algeria, South Africa and the Polisario Front. It is difficult for us to see the AU as a player [supporting] Morocco's territorial integrity" (The Arab Weekly, May 8, 2016).
Second, as Russian commentators have pointed out, Moscow continues to press for the establishment of a Russian base at Mers el-Kebir, in Algeria, even though Algerian officials have rejected that idea in the past. If Algiers is really experiencing a shortage of funds for arms purchases from Moscow, Russia could provide such arms to Algeria and thus to POLISARIO as part of its rent. Indeed, that appears to be Russia's implicit message (Vesti-kaliningrad.ru, February 4, 2017).
And third, as Moscow television commentator Sergei Bridlyov said last year, even Russian feints in this direction are frightening the French and thus serve as a useful tool in Russia's diplomatic arsenal as relations with the West deteriorate. In his remarks, Bridlyov argued the West is overreacting to what Moscow is doing; but by making that kind of statement, the Russian commentator is promoting that reaction, an indication of what Moscow's real as opposed to nominal intentions are (Vesti.ru, February 4, 2017).
Meanwhile, the visit by a delegation of senior Polisario Front officials to the Russian capital this week should dispel any lingering doubts that Moscow hopes to use its support of POLISARIO against the Europeans, if not necessarily directly against Morocco. Emhamed Hadlad, a leader of the Front's National Secretariat, told Russian officials that "our problem is the French regime." Clearly, Russia views moves on the African chessboard as an important component of its strategy in Europe, even if Europeans for the most part do not view Moscow's actions there as directed against them (Regnum, April 11, 2018). This suggests that, in the coming months, the POLISARIO struggle against Morocco will continue and Moscow will likely play a larger role, less to achieve anything in the Sahara region than to use that fight to put additional pressure on Europe.