Moscow Turns Residents of the Regions Into 'Cannon Fodder'
Publication: Eurasia Daily Monitor Volume: 19 Issue: 57
By: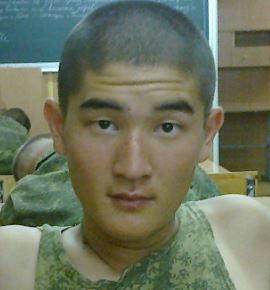 By the time news of the Russian re-invasion of Ukraine became known in Moscow in the early morning of February 24, 2022, it was already afternoon in Siberia and the Urals. Residents of cities such as Irkutsk, Omsk and Yekaterinburg were the first to take part in protest pickets and marches against the war, breaking common stereotypes that the Russian opposition is concentrated only in the capital, while the "deep people" from the regions unquestionably support the Kremlin (Region.expert, February 24).
At first, anti-war demonstrations were quite massive and covered almost all major Russian urban centers. Quickly, however, the authorities turned to the usual repressive mechanisms of harsh police crackdowns and arrests. In various cities, police officers arrested people and wrote out large fines for placards declaring "We demand peace" and "No war," or simply for appearing on the street in yellow-blue clothes (the colors of the Ukrainian flag).
On March 4, a law on "discrediting the armed forces,"  which enacts severe punishments of up to 15 years in prison, was hastily adopted by the State Duma (Deutsche Welle—Russian service, March 4). The authorities have yet to execute these most draconian measures, although the total number of people detained for anti-war actions has already exceeded 15,000 (Ovdinfo.org, accessed April 19). Arguably, martial law has already been introduced in Russia, even though it has not been officially announced.
By invading Ukraine without cause, the Russian authorities have grossly violated the Criminal Code of their own state: Article 353, which forbids individuals from "Planning, preparing, initiating or waging an aggressive war." However, the authorities profess a simple logic—only aggression against Russia itself can be called a "war"; when Russia attacks someone else, the euphemism "special military operation" is required. Such an approach is reminiscent of how the Soviet invasion of Afghanistan in 1979 was officially declared "the fulfillment of international duty."
State-run opinion polls show that more than 70 percent of Russians support the "special military operation" in Ukraine (Interfax, March 28). Yet in reality, no objective sociological studies are possible since any participant in these polls can be brought to justice for criticizing this war. Still, signs of dissatisfaction can be observed across the Russian Federation, outside Moscow.
Lawyer Viktor Vorobyov, a member of the regional legislature of the Republic of Komi, who spoke out against the war when it began, was detained for 15 days, in violation of all laws on parliamentary immunity (Region.expert, March 1; Bnkomi.ru, March 7). The termination of the war and the withdrawal of troops from Ukraine was also demanded by the Federative Party, an unregistered political faction created in 2020 by public figures from ten Russian regions (Federativ.ru, March 1). The Buryat Democratic Movement, which is banned in Russia, appealed to soldiers originally from the Buryat Republic to refuse to carry out the criminal orders of their commanders (Region.expert, February 28). And independent Bashkir publicist Shamil Valiyev posed a dramatic question in a piece published three weeks into the conflict, "Do we, the peoples of the Volga region, need this war if, today, we ourselves do not have normal democratic self-government in our republics?" (Region.expert, March 14).
Such examples illustrate the significance of Moscow authorities sending disproportionately large numbers of soldiers from national republics and far-off Russian regions to the Ukrainian front (see EDM, March 1, April 19). Namely, the Kremlin is provoking inter-ethnic conflicts and destroying the image of "peaceful Eurasia" that Russian propaganda had carefully cultivated for years.
According to Ukrainian President Volodymyr Zelenskyy, the Russian military has lost more soldiers—purportedly over 20,000—in the first 48 days of its war against Ukraine than the Soviet Union lost in 10 years of war in Afghanistan or that Russia lost in the two Chechen wars (TSN, April 13). Thus, it is no longer possible to hide such mortality figures. A page has appeared on the Russian social network Vkontakte that reports on Russian service members who died in Ukraine (Vk.com, accessed April 18). It also provides data on where they were called up from—places such as Khabarovsk, Omsk and Tatarstan. But conspicuously, there are practically no Muscovites on this list, even though this is the largest metropolis in Russia (Tjournal.ru, April 13; BBC News—Russian service, April 6).
All this seems to imply the emergence of what can be termed "imperial racism": First, Moscow, the metropolitan center, monopolizes the function of proclaiming aggressive militaristic propaganda, broadcast throughout the country from the Ostankino TV tower. Second, Vladimir Putin wants to loudly celebrate his "victory" in the Ukrainian "special operation" on Moscow's Red Square on May 9, the date commemorating the Soviet Union's victory over Nazi Germany. And third, the inhabitants of the Russian regions, including the national republics, have notably become "cannon fodder" in this war, forced to die for the Kremlin myth of the "Russian World" ("Russkiy Mir").
However, not all Russian soldiers are complying. They may be ready to defend their country, but many do not want to participate in aggression against their neighbors. So far, dozens of military personnel from Pskov, Khakassia and more than ten other regions refused to go to Ukraine. For this they were fired and threatened with criminal charges (BBC News—Russian service, April 7; Current Time TV, April 9).
Thus, the spring draft to the Russian Armed Forces, which began in April, is taking place in crisis conditions, with many conscripts fearing being sent straight into combat; even the Russian defense ministry has acknowledged these facts (Meduza, March 31; see EDM, March 31). Apparently, this lack of soldiers has forced the Russian military to start a covert mobilization, because declaring an open mobilization would be tantamount to admitting defeat. According to the Ukrainian General Staff, this secretive call-up is especially active in the Krasnodar and Perm regions and the republics of Dagestan, Kalmykia and Ingushetia (Facebook.com/GeneralStaff.ua, April 4). Enlisted soldiers from there are forced to sign military contracts, while those with combat experience are lured with promises of higher pay. In addition, they are permitted to take "trophies," hence the widespread looting by the Russian army in Ukraine (see EDM, April 13).
All the sitting governors in Russia, emulating the Kremlin, have undergone a militaristic frenzy. However, in the context of the growing economic crisis, their popularity is sharply declining. The well-known Russian geographer and economist Natalya Zubarevich believes that the war and ever-tightening international sanctions have sharply undermined the economies of especially those regions reliant on foreign cooperation, such as Sakha, Khabarovsk and Sakhalin (Sibir.Realii, April 8). Therefore, the Kremlin is now considering canceling gubernatorial elections, which were already mostly a formality, and returning to the direct appointment of governors by the president (Kommersant, March 21). But the fissures now splitting the Russian Federation will not be so easily sewn up.