Shifting Maps of Euro-Asian Economic Relations: The Untouched Potential of the South Caucasus and Central Asia
Publication: Eurasia Daily Monitor Volume: 19 Issue: 57
By: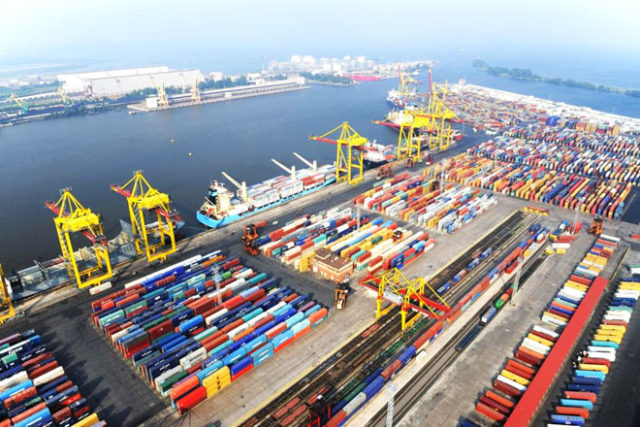 The roles of the Central Asian and the South Caucasus regions in facilitating economic relations between the European Union and East Asia—particularly in the fields of energy, trade, and transportation—have been growing in importance over the last few months (Report.az, April 6). Amidst the current large-scale Russian war against Ukraine, most international transport carriers are more reluctant to implement economic operations via Russia due to the new risks associated with security, reputation and sanctions-associated bank settlements (Haqqin.az, April 9). And as a result of this and ongoing hostilities, transportation through Ukraine has become impossible as well (Azerforum), April 6). With these northerly trans-Eurasian land routes increasingly out of service, shippers between the European and Asia-Pacific markets have, thus, been looking more and more at southern transit options (see EDM, April 19).
All major stakeholders are preparing for significant disruptions to Chinese-EU trade routes due to the war between Russia and Ukraine, and they are considering alternatives (Cips.org, March 23). At the moment, the situation remains highly uncertain and liable to quickly shifting conditions, depending on the continued course or ultimate outcome of the war. For example, Poland, Latvia, Lithuania, Estonia and Finland have shut their border to road traffic to and from Russia and Belarus, in line with the EU's fifth package of sanctions, adopted on April 8 (Ukranews.com, April 4, Yle.fi, April 8). Trans-border rail crossings remain legal, although Lithuania has asked the European Commission to look into the security implications of train links with the Russian exclave of Kaliningrad (Nowy Dziennik, April 13; Wnp.pl, April 8). And earlier European sanctions on state-owned Russian Railways have encouraged border countries like Finland to block its trains' passage into EU territory as well as resulted in the firm's bankruptcy (Trans.info, March 29; Rynek Kolejowy, April 13).
This geopolitical and economic tumult has significantly increased the perceived strategic importance of the Middle Corridor, which traverses South Caucasus and Central Asian countries, while bypassing Russian territory. Some analysts are already forecasting that about 10 percent of the cargo heretofore transported from Central Asia to Europe via Russia will, from now on, pass through Azerbaijan, Kazakhstan and Georgia (Report.az, April 6). However, sharp increases in east-west freight volumes last year—which reached 1.5 million twenty-foot equivalent units (TEU) by rail across Russia alone (RailFreight.com, March 18)—makes it necessary to use not only alternative routes but also various alternative means of transport. Container traffic across the Middle Corridor increased by 2.8 times between 2017 and 2021, reaching 25,000 TEU (Middlecorridor.com, accessed April 10). Of course, these figures comprise only a small portion of the overall China-EU trade.  Indeed, in 2021, 1.46 million containers carrying $75 billion worth of goods moved by train between China and Europe (Cips.org, March 23). It is, thus, no coincidence that the Eurasian countries participating in the related Transport Corridor Europe–Caucasus–Asia (TRACECA) are currently discussing infrastructure expansion (Azerforum, April 6). Turkey is also preparing to take concrete steps with Kazakhstan to develop the Middle Corridor in order to permit this route to handle up to $600 billion in trade annually (Star.com, April 6).
The intensification of the use of Middle Corridor routes inter alia promises to boost the utilization of the Baku–Tbilisi–Kars (BTK) Railway, which was realized several years ago by Azerbaijan, Georgia and Turkey (Azertag.az, October 30, 2021). The existence of Caspian and Black Sea ports with modern infrastructure, such as Baku, Aktau, Turkmenbashi, Samsun, Poti and Batumi (Worldportsource.com, April 10), is one of the vital elements that make it possible to increase international cargo transportation in this direction. Meanwhile, concrete projects are being implemented to augment the infrastructure and capacity of border checkpoints between Azerbaijan and Georgia (APA, March 10).
The liberation of Karabakh by Azerbaijani forces in the fall of 2020, the subsequent growing possibilities for long-term peace between Azerbaijan and Armenia (see EDM, April 14) and, relatedly, the gradual normalization of Turkish-Armenian relations (see EDM, April 5), have lifted confidence in the region that long-dormant economic links and transit corridors across the South Caucasus will be reopened (Oxu.az, April 7). According to the tripartite (Azerbaijani-Armenian-Russian) agreement that ended the 2020 Second Karabakh War (President.az, November 10, 2020), the opening of the Zangezur corridor across southern Armenia (physically connecting mainland Azerbaijan with its Nakhchivan exclave) will create new conditions enabling the linking of the strategically located South Caucasus region with the Gulf, Southeast and Central Asia, China and Europe.
Similar considerations encouraged Azerbaijan and Iran to sign a memorandum of understanding on establishing new communication links between the East Zangezur economic region and Azerbaijan's Nakhchivan, via Iranian territory. To achieve this goal, the two sides plan to build road and railway bridges over the Araz River as well as communication and energy supply infrastructure (Report.az, March 11). Taking into account the current political, economic and security limitations on the northern segments of east-west transport across Eurasia, such newly developing transit links via Azerbaijan, Iran and Turkey will look increasingly promising for international shippers.
Finally, Kazakhstan, Azerbaijan and Georgia are interested in developing the Trans-Caspian International Transport Route (TITR), which will form a crucial segment of the broader Middle Corridor. In particular, the three partners want to establish uniform tariffs for domestic shippers in the region (see EDM, April 19). Generally, the load carrying potential of this route is estimated at 10 million tones or 200,000 containers (Marja.az, March 11). Moreover, against the backdrop of the unstable geopolitical and economic situation in the post-Soviet space, Kazakhstan officially declared it would be working on expanding alternative routes across its territory and implement additional measures to improve the country's transit and transport potential (Primeminister.kz, March 29).
Despite current bottlenecks and capacity limitations, east-west cargo traffic is expected to expand significantly across the South Caucasus and Central Asia over the coming years. However, major stakeholders, including the EU, China and Japan, will need to contribute to the strengthening of both the physical and intangible (legal, regulatory, etc.) infrastructure in these transit countries to encourage this growth in transport potential. Such support can be of vital significance not only for bolstering east-west trade but also to help cultivate intra-regional economic relations in the heart of Eurasia.