Moscow's Reinforced Team in Donetsk Picks Local Figurehead Leader
Publication: Eurasia Daily Monitor Volume: 11 Issue: 148
By: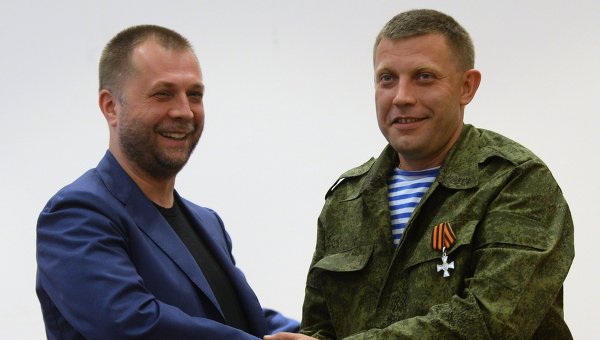 The titular "prime minister of the Donetsk people's republic," Aleksandr Boroday, returned from a week-long Moscow visit to usher in another reorganization of "DPR's" hierarchy. This time, the reshuffle has to do with "DPR's" preparations for a possible siege of the city of Donetsk by Ukrainian forces (see below).
On August 7, Boroday resigned as "prime minister," averring that it was inappropriate for a "genuine Muscovite" such as himself to hold the top post in Donetsk. An indigenous "prime minister" could more credibly represent the "DPR" in negotiations with Kyiv and internationally, "when Kyiv will be pressed into such negotiations," Boroday explained, handing over his post to Aleksandr Zakharchenko on August 8 (DPR press center, August 7, 8; Planeta.ru, August 8).
Boroday stopped short of adding that only an indigenous leader could conceivably request a Russian "peacekeeping" or "humanitarian" mission on DNR's behalf. Flanking Zakharchenko, however, the "DPR's" three most powerful figures are those delegated from Moscow. These are: Boroday, who stage-managed Zakharchenko's appointment and stays on as "general counsellor to DPR's prime minister and government, with the status of first "deputy prime minister"; Lieutenant-General Vladimir Antyufeyev, also a "first deputy prime minister," installed similarly by Boroday on July 10 as "state security" chief; and the top military commander Colonel Igor Girkin/Strelkov. One step below that level, the new "deputy prime minister" for social affairs, Aleksandr Karaman, is a former "vice president" of Transnistria who arrived in Donetsk last month with Antyufeyev. All in all, Zakharchenko's elevation to the number one post looks rather symbolic, as Boroday did intimate (Novosti Donbassa, August 8, 9).
Zakharchenko, born in Donetsk in 1976, and awarded a fictitious rank of major two weeks ago (see below), is the most junior, least educated and least experienced in that group.
Trained in a vocational school as an electrician, Zakharchenko worked in the coal mines for some time, but moved out and upward in a semi-criminal world as chief of the "Oplot Fight Club." Founded in 2010, and headquartered in Kharkiv, with a branch in Donetsk, the "Oplot" ("Bulwark") began as an association to support families of former police and military officers, cultivate Soviet military traditions, and combat "Ukrainian fascism." Soon the club started training hundreds of lower-class young men to become street fighters. During the Kyiv Maidan (December 2013–February 2014), Oplot criticized then-president Viktor Yanukovych for not cracking down sooner harder.
In April 2014, Zakharchenko and his Oplot fighters (still unarmed at that juncture) participated in the seizure of the Donetsk province administration (governor's building) and Donetsk city hall. (The Kharkiv Oplot failed just barely.) Zakharchenko became military commandant of the city of Donetsk in May and "deputy internal affairs minister" of DPR in June, commanding an Oplot unit reputedly 1,000-strong. On July 24, Girkin/Strelkov made Zakharchenko a "major" from scratch (Svodki ot Strelkova, July 24; OstroV, August 7; Russkaya Vesna, August 9). On his first day as "prime minister," Zakharchenko greeted South Ossetia on the sixth anniversary of Russia's 2008 intervention there (DPR press center, August 8).
According to "DPR's parliament chairman" Boris Litvinov, a veteran Communist, "Zakharchenko holds correct leftist views" (Russkaya Planeta, August 8). Both Zakharchenko and Boroday are unelected; but Boroday was nevertheless elevated by Moscow, Berlin, Paris, and the OSCE to the status of Kyiv's interlocutor in a "Contact Group" (see EDM, July 18). Hence Boroday's expectations (see above) that Kyiv might again be pressured to dialogue with the new leader, Zakharchenko, who at least is a local; whereas, Boroday is not even that.
Zakharchenko's initial statements emphasize preparations for the expected siege of Donetsk by Ukrainian forces. He speaks about measures to keep the supply lines from Russia open, merge the heterogeneous paramilitary units into a "regular army" under a single command, and curb the rampant marauding in the "DPR." Occasionally he lashes out at the Ukrainian government as "bloodthirsty," a "fascist junta," and "occupiers" of most of the Donetsk province, which the shrinking "DPR" claims for itself (DPR press center, August 9).
On August 9, nevertheless, Zakharchenko declared that Donetsk is ready to discuss a ceasefire with Kyiv in order to avoid a "humanitarian catastrophe." On the following day, he attached conditions, however. A ceasefire must be mutual (i.e., not requiring Donetsk to lay down arms); it must lead to negotiations on a political settlement between Donetsk and the Ukrainian government (i.e., legitimizing the "DPR"); and any political solution must involve a "complete withdrawal of the Ukrainian troops from 'DPR's' territory" (i.e., Ukrainian acceptance of secession de facto) (DPR press center, August 9, 10; Interfax-Ukraine, August 10).
However extreme, these demands omit the "Novorossiya" project. They also, in effect, de-couple the "DPR's" fate from that of the Luhansk "people's republic" ("LPR"). The two territories had joined together in a "federated" Novorossiya—itself the nucleus of a more ambitious expansion design—in the wake of the May 11 "referendum." At that juncture, Boroday and the other leaders were airing scenarios of outright secession from Ukraine and unification via Novorossiya with Russia. That rhetoric has subsided in recent weeks, as the Ukrainian forces steadily retake territory from the secessionists.