The Contact Group in Ukraine Weighted Toward Russia
Publication: Eurasia Daily Monitor Volume: 11 Issue: 131
By: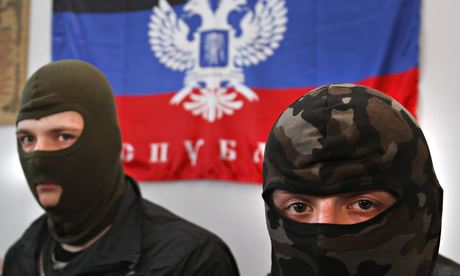 The Trilateral Contact Group is the latest of several international forums that have emerged in response to Russia's war against Ukraine (see accompanying article). Established in June, the Contact Group brings together representatives of Ukraine, Russia, the Organization for Security and Cooperation in Europe (OSCE), the Donetsk and Luhansk "people's republics," as well as the Ukrainian pro-Kremlin politician Viktor Medvedchuk in an unclarified capacity.
Ukraine is alone in this format while Russia can orchestrate a polyphony of voices, directly and indirectly: Russia's own, the Donetsk and Luhansk "republics,'" Medvedchuk's (a personal friend of Russian President Vladimir Putin), as well as Russia's statutory veto right within the OSCE. Such a lopsided forum resembles another one from the OSCE's track record: the armistice control commission (from 1992 to 2008) comprised of Georgia, Russia, South Ossetia, Russia's North Ossetia, and the OSCE mission. In Georgia then and in Ukraine now, this model compounds the aggressor country's leverage against the targeted country. And it excludes the West altogether.
The Trilateral Contact Group was ceremonially inaugurated on June 8 in Kyiv (OSCE press release, June 9). The process is officially described as "consultations" preparatory to full-fledged negotiations on an armistice and political settlement.
The Contact Group held its first business meeting on June 23 in Donetsk. The OSCE Swiss presidency's special representative Heidi Tagliavini, Ukrainian former president Leonid Kuchma, Russian ambassador Mikhail Zurabov, "Donetsk people's republic prime minister" Aleksandr Boroday, "Luhansk people's republic" representatives (not publicly identified by the OSCE), and Ukrainian pro-Eurasia politician Viktor Medvedchuk, participated in this first business meeting. Such a format is stacked overwhelmingly against Ukraine.
That meeting fell short of its immediate goal to prolong Ukraine's unilateral ceasefire indefinitely. Pro-Russia forces were clearly sensing defeat at that juncture. Russia, Germany and France were pressuring Kyiv to continue its ceasefire and allow secessionist forces to preserve their gains on the ground. At the Donetsk meeting, Boroday offered to reciprocate the Ukrainian ceasefire, turning it into a bilateral, open-ended arrangement. Back in Kyiv, President Petro Poroshenko's government withstood those pressures, discontinued the ceasefire on June 30/July 1, and liberated five districts of Donetsk province by July 6 (see EDM, July 11).
In a longer perspective, however, the June 23 meeting started a risky process for Ukraine. It marked a first step toward recognition of the secessionists' political leaders as parties in their own right to the conflict and to negotiations. The meeting was held in the secessionist-occupied Donetsk government building, in a room adorned with the "people's republic" banner. This meeting supported the fiction that Russia is not involved in a conflict against Ukraine, but is rather a mediator to an internal conflict in Ukraine. In that vein, the meeting's participants agreed to launch a process of consultations between the Ukrainian government and the "people's republics," under Russian and OSCE mediation or facilitation. Calling for a ceasefire, the participants requested the OSCE and Russia to monitor it (Ukrinform, Ukraiynska Pravda, June 23, 24), notwithstanding that Russia is the source of this conflict and any OSCE action requires a mandate negotiated with Russia in all details.
Moscow used German Chancellor Angela Merkel to insert Medvedchuk into this process. On their own, the Ukrainians would hardly have accepted Putin's personal friend to join this process; but they accepted him at Merkel's recommendation (president.gov.ua, kremlin.ru, June 25).
Putin declared that he was "very pleased with the first direct contact between the Kyiv authorities and the representatives of south-eastern Ukraine from Donetsk and Luhansk." He wanted the dialogue to advance to "substantative negotiations […] about their rights, including the future structure of Ukraine itself" (Interfax, June 24).
The Contact Group met again in Donetsk on June 27, in the same format, with Foreign Affairs Minister Pavlo Klymkyn now joining Kuchma on the Ukrainian side. The Ukrainians were better prepared this time. They wanted the secessionists to vacate three sectors on the Ukrainian side of the Russia-Ukraine border, and hand those sectors back to Ukrainian border guards. Russian weapons and fighters were flowing into Ukraine across that border. The Russian side (acting as one) declined the Ukrainian request in the Contact Group meeting, demanding for its part an open-ended ceasefire. Thus, the June 27 meeting inadvertently helped convince the Ukrainians to reject a ceasefire that would reinforce the existing lines on the ground, favoring the secessionists (osce.org, June 27; Interfax, June 27, July 1).
On July 5, as Ukrainian forces were liberating parts of the eastern region of Donbas, Russia's Foreign Affairs Minister Sergei Lavrov urgently asked his German and French counterparts, Frank-Walter Steinmeier and Laurent Fabius, respectively, to help convene a Contact Group meeting. The meeting was held on July 6 in Kyiv, while the secessionist leaders were confined to Donetsk, unable to attend. Moscow was hoping for this meeting to stop the Ukrainian advance by reinstating the ceasefire. The Russian side, however, again declined to "exert its influence" on its own proxies to return the three Ukrainian border sectors to Ukrainian control (Interfax, July 5; OSCE press release, July 6; Interfax, July 8; Ukraiynska Pravda, July 10).
Russia's position on this matter is two-fold: first, a durable ceasefire must be negotiated and established, as pre-condition to border-monitoring arrangements; next, Russia would negotiate inside the OSCE and bilaterally with Ukraine about specific border-monitoring procedures (mid.ru, July 15).
The Trilateral Group was to have convened in the form of a video-conference between Kyiv and Donetsk on July 16, but Donetsk and Luhansk participants failed to contact the Kyiv site, for reasons unstated (OSCE press release, July 15). Instead, the OSCE Mission is trying to commit the secessionists to cooperating with the investigation into the Malaysian Airlines plane crash, which killed approximately 300 passengers on July 17 (OSCE press release, July 17). The airliner crashed in a secessionist-controlled area, having been hit by a missile launched apparently from that area.
Ukraine's Security Service (SBU) has released intercepts of telephone calls made between secessionist field commanders in that area and their handlers, apparently at the GRU military intelligence service in Moscow. Those telephone calls seem to identify a specific general at Moscow headquarters, and a specific field unit that hit that plane.