Ukraine Determined to Avoid the "Frozen-Conflict" Paradigm
Publication: Eurasia Daily Monitor Volume: 11 Issue: 126
By: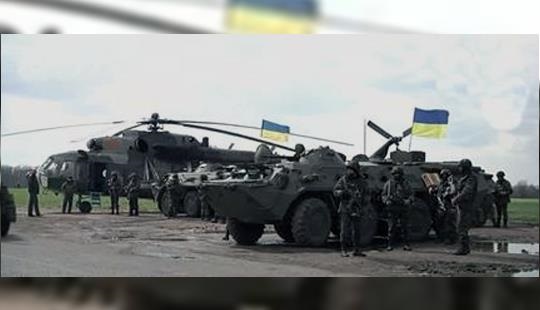 Ukraine has stepped back from the brink of the quadripartite declaration signed on July 2 in Berlin (see EDM, July 3). On July 5 and 6, Ukrainian forces ousted pro-Russia troops from four districts of Donetsk province, including the secessionists' military stronghold Slovyansk. It is the first clear turning point in Ukraine's favor in this armed conflict.
The turning point came shortly after the expiry of Ukraine's unilateral ceasefire (June 20–June 30) and despite the Berlin declaration, which bound Ukraine to an unconditional armistice and negotiations with the secessionist leaders in a Russia-dominated "Contact Group." The terms of the Berlin declaration, if implemented, would have stopped the Ukrainian forces, conserving the secessionists' territorial base intact and equalizing the secessionist leaders with Kyiv in follow-up negotiations.
Continuation of the armistice would have saved the Slovyansk-based secessionists from defeat. The Russian commander in that area, Igor Girkin/Strelkov, had seen defeat coming by mid-June already. In his messages from Slovyansk through Vkontakte on June 16 and 17, he anticipated a "crushing defeat" of his forces and those in nearby Luhansk province, unless they received "urgent, mass-scale military assistance" from Russia (on top of what they had already received) (Slon.ru, June 17). However, German-led pressures on Kyiv to introduce a unilateral ceasefire gave Russia's proxies a respite.
On July 4, Girkin/Strelkov issued a desperate appeal from Slovyansk through the ultranationalist Life News TV in Moscow. His forces were facing "destruction within maximum two weeks" by superior Ukrainian forces. He called on Russia's authorities, either to introduce conventional armed forces in the conflict theater or, alternatively, to help arrange an "immediate ceasefire and a negotiated armistice [peremirie]". He concluded his interview tearfully (Ukrainska Pravda, July 4; video Lifenews.ru).
The "Donetsk people's republic's prime minister," Aleksandr Borodai, and the nearby "Luhansk people's republic's president," Valery Bolotov, have also called for a negotiated armistice in the wake of the defeat in Slovyansk (Unian, liga.net, July 7; Lifenews.ru, July 8).
Pro-Russia troops withdrawing from the four liberated districts have joined their comrades already stationed in the city of Donetsk. On July 8, Girkin/Strelkov announced that he had taken over command in the city and ordered preparations for a protracted defense. However, the pro-Russia forces control only some parts of the city. Another armistice would help them extend their control and dig in. Negotiating with their leaders for an armistice would discourage the large pro-Ukraine element in the local elite and sway the fence-sitters in the wrong direction.
The Ukrainian army is only beginning to restore its combat capacity and still relies significantly on civilian volunteers forming paramilitary units. But even in this situation, the army's artillery and aviation support can destroy the pro-Russia forces in open combat (although urban warfare would pose different problems) or run them out of any contested area (as on July 5–6).
The Kremlin's options to save its proxies through direct military involvement carry a high risk. One option would be to deliver more artillery and armored vehicles to Russia's proxy forces, on top of the materiel already delivered. However, Russia would forfeit any plausible deniability in that case. Another option would be to intervene with Russian conventional forces (hypothetically as unilateral "peacekeepers"). This, however, would inevitably be deemed an inter-state aggression in Europe, which would be no longer possible to mischaracterize as a conflict "in Ukraine." Using either option, Russia would compel Western Europe to respond with meaningful economic sanctions, instead of the symbolic ones introduced thus far.
Lacking effective military options, Russia needs a political operation to salvage its proxies from defeat and sustain them as military-political actors in Ukraine's east. Moscow has initiated this operation already, joined by Germany (with France as a bit player in Germany's tow) and the OSCE. The salvage operation on the secessionists' behalf requires negotiating a permanent ceasefire, followed by negotiations toward a political settlement between Kyiv and Russia's proxies, within a Russia-dominated but international-looking framework (thus, the Contact Group includes the OSCE, Russia, and the secessionist Donetsk and Luhansk "people's republics," all versus Kyiv or "rump Ukraine" as it were).
Germany's foreign minister, Frank-Walter Steinmeier, had initiated the Berlin declaration and coordinated it with his Russian counterpart Sergei Lavrov. They sought to re-commit Ukraine to an armistice and negotiations in that Contact Group. Responding to the liberation of Slovyansk and four nearby districts, Steinmeier bristled: "All sides would be well advised to stick to the Berlin declaration, continue talks in the Contact Group, include the separatists' representatives, and focus on the main goal—a negotiated armistice…before giving any thought to political solutions" (Auswaertiges-amt.de, July 7).
Admittedly, the success of the Ukrainian forces negated Steinmeier's work on the Berlin document and his selective pacifism. However, the Berlin declaration had itself negated President Petro Poroshenko's peace plan (see EDM, June 26). The Ukrainian president and government have now reaffirmed their commitment to this plan (Ukrinform, July 6–8).
The Berlin scenario would have preserved the secessionists' organization and territorial base, with military immunity and political legitimacy awarded to them de facto. This basically reverts to the model of earlier post-Soviet conflicts. Moscow has evidently decided to move from the initial, "hot stage" of conflict to a long-term "frozen stage." Moscow would thereby try to gain political influence over Ukraine by manipulating the conflict-resolution process for an indefinitely long period of time.
To set the stage for this process, Russia would need to orchestrate a ceasefire and negotiations now, before the reconstituted Ukrainian forces manage to rout the secessionists definitively. The question of border control becomes a decisive one in this context, because in order to sustain the secessionists, Moscow would need to prevent Ukraine from establishing full control on the Ukrainian side of the border (see EDM, July 10).