Mosques and Islamic Education Under Increasing Scrutiny in Tajikistan
Publication: Eurasia Daily Monitor Volume: 8 Issue: 41
By: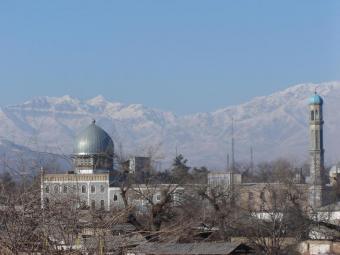 The Tajik government has recently taken steps to put the country's mosques, imams (prayer-leaders) and madrasahs (Islamic schools) under greater centralized control. Speaking at the country's Security Council meeting on February 10, President Emomali Rahmon urged more decisive measures against the unchecked proliferation of mosques. According to official estimates, 3,700 mosques have been registered with the government to date, while another 1,250 mosques continue to operate without a license (www.avesta.tj, February 10). The authorities believe that 5,000 mosques is too large a number for the country, compared, for instance, with only 3,800 schools.
Tajik officials view unregistered mosques with suspicion because they have no control over what is preached there. According to Rahmon, some mosques are used for fomenting religious radicalism and "recruiting young people to the ranks of extremists." The Tajik president also asserted that such mosques had served as a starting point for the "events in Rasht," referring to the recent conflict in the Rasht valley. The conflict claimed the lives of at least 80 government troops, becoming the most serious episode of violence in the country since the late 1990's (www.news.tj, February 11). The government closed and demolished dozens of unregistered mosques in recent years. In 2011, only 10 mosques have so far been shut down in the country (www.regnum.ru, January 10).
In addition to tightening control over mosques, the authorities have taken measures to subject imams and their preaching to greater scrutiny. In January, the Committee of Religious Affairs (CRA) announced that it compiled a list of 52 topics recommended for Friday sermons and would soon distribute the list to imams across Tajikistan. The list of topics focuses mainly on moral values (www.avesta.tj, January 10). In addition, the CRA announced that sermons following Friday prayers will be limited to 15 minutes, reportedly in a bid to prevent imams from going "off-topic" (Central Asia Online, January 31). According to the CRA, the innovations are intended to help promote "conventional" Islamic values, while at the same time preventing the politicization of sermons and preaching of intolerance.
While enacting the new guidelines for preachers, the government has also increased pressure on those imams who frequently criticize state policies. On January 28, one of the country's leading clerics, Nuriddin Turajonzoda (aka Eshoni Nuriddin), resigned as imam-hatib of Muhammadiya mosque in Vahdat district near the Tajik capital. Although the cleric has not commented on his resignation, many analysts believe that he was pressured to quit by the authorities. In recent years, Eshoni Nuriddin's sermons grew increasingly popular, bringing thousands of Muslims each week to his mosque for Friday prayer. The authorities watched him cautiously as he often criticized repressive state policies against everything Islamic. In 2009, he announced his intention to leave the country if the governmental security agencies did not leave him alone. Another 10 imams in Dushanbe resigned on the same day as Eshoni Nuriddin, leaving little doubt that they had done so under government pressure (ASIA-Plus, January 31).
The efforts to close unsanctioned mosques and control preachers have been matched by policies aimed at limiting religious education opportunities outside of state control for children and young people. In 2010, Tajik police shut down dozens of unregistered madrasahs that had operated in private homes and mosques. The authorities claimed the purpose of the heavy-handed approach towards unapproved madrasahs was to prevent religious leaders with an extremist agenda from promoting intolerance and the hatred towards the secular state among Tajik children (EDM, August 10, 2010). In addition, the country's religious authorities and police have regularly raided mosques to discourage children from attending prayers. A draft law on parental responsibilities, which is now widely discussed in Tajikistan, is expected to ban children under 18 from attending mosques and churches (www.ozodi.org, February 18).
In an effort to improve children's knowledge of a liberal, Hanafi version of Islam, practiced by the majority of Tajiks, in September 2009, the Ministry of Education (MoE) introduced a mandatory class on Islam called "Knowledge of Islam" (Ma'rifati Islom). The new course was fiercely criticized by some prominent Islamic scholars because it allegedly "distorted historical facts." In February 2011, however, the MoE announced that the course on Islam was removed from the school curriculum to make room for more classes on Tajik history (www.news.tj, February 4).
At the same time, the authorities have launched a massive campaign to bring back hundreds of Tajik students from madrasahs abroad. The campaign was ordered by President Rahmon who, in August 2010, announced that foreign Islamic schools were turning young students into terrorists and extremists, and that all Tajiks should be brought back from such schools before becoming "traitors" (www.avesta.tj, August 25, 2010). According to Rahmon, more than 1,500 students have already returned to the country, while over 2,100 Tajiks continue studying in foreign madrasahs (www.news.tj, February 11).
These developments appear to demonstrate the Tajik officials' strong belief that Islam represents a growing threat to the regime and that this needs to be addressed. However, the authorities fail to understand that their heavy-handed, top-down approach to dealing with everything Islamic alienates the country's Muslims and provides an ideal breeding ground for radical ideas.