Replacement of Karachaevo-Cherkessia's President Highlights Kremlin Crisis in Appointment System
Publication: Eurasia Daily Monitor Volume: 8 Issue: 42
By: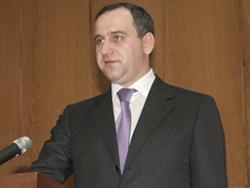 On February 28, President Dmitry Medvedev appointed two heads of North Caucasian republics, Karachaevo-Cherkessia and Chechnya. Ramzan Kadyrov was reappointed to rule Chechnya since his first term as head of the republic was about to expire. Karachaevo-Cherkessia received a new leader, 34-year-old Rashid Temrezov, while the previous governor of the territory, Boris Ebzeyev was dismissed from his post before completing his first term, which should have lasted until 2013 (RIA Novosti, February 28).
President Medvedev signed a decree accepting Ebzeyev's resignation on February 26. The decree cited "his own request" as the reason for Ebzeyev's dismissal (www.kremlin.ru, February 26). An anonymous source in the Kremlin added that the Russian leadership was unhappy about the slow socio-economic development of Karachaevo-Cherkessia (RIA Novosti, February 26).
However, an expert from Karachaevo-Cherkesia, Murat Gukemukhov, told the Voice of America that Boris Ebzeyev simply could not control the republic. Reportedly as late as February 24, the then president of Karachaevo-Cherkesia tried to rally the local parliament to support him to avert his removal from the office. Fewer than 30 of 73 deputies of the republican parliament turned up. Gukemukhov asserted that President Ebzeyev lacked influence in Moscow, local connections and the necessary management skills to be in charge of this complex republic. Ebzeyev's key ally in the parliament, Islam Krymshamkhalov, was assassinated in January 2009, which undercut the president's ability to control the local elites (www.voanews.com, February 26).
The newly confirmed head of Karachaevo-Cherkessia, Rashid Temrezov, stated on March 1 that his main goal would be improving the socio-economic situation in the republic and reducing its dependency on Moscow's financial aid (www.kavkaz-uzel.ru, March 1). It must be noted, however, that during Ebzeyev's presidency, Karachaevo-Cherkessia's reliance on centralized budgetary funds was in fact reduced from 71 percent in 2008 to less than 66 percent in 2010 (https://openbudget.karelia.ru/budnord/russian/north-caucasian/karachi-cherkess-republic/resp_cherkesia.htm). So the trend appeared to be positive under the previous leader; indeed, Karachaevo-Cherkessia has been one of the least dependent territories in the North Caucasus on Moscow's financial handouts. Russia's ministry for regional development also indicates average development benchmarks for Karachaevo-Cherkessia. The republic was behind other North Caucasian republics in the housing sphere, which is probably a significant indicator revealing the poverty level in the republic (https://www.minregion.ru/north_caucasian/Karachaevo_cherkess).
Karachaevo-Cherkessia is a small but ethnically complex republic in the northwestern Caucasus, with a population of 400,000. Ethnic Karachays, a Turkic-speaking people who are closely related to the Balkars in neighboring Kabardino-Balkaria, make up 39 percent of the residents. Ethnic Russians comprise 34 percent of the total population, but they are politically inert and declining in numbers because of low birthrates and outmigration. The Cherkess and related Abaza people altogether make up about 19 percent of the population. Turkic-speaking ethnic Nogais, who also live in large numbers in Stavropol region and Dagestan, make up 3 percent of Karachaevo-Cherkessia's population (www.perepis2002.ru, March 1, 2011).
The worst clashes in Karachaevo-Cherkessia occurred in 1999 during the local presidential campaign and in its immediate aftermath. Ethnic Karachays and Cherkess (aka Circassians) rallied each behind their own kin to win the elections. Being a minority, the Cherkess regularly raise the issue of separating from Karachaevo-Cherkessia and have called for the formation of a Circassian republic within Russia. In 2004, the office of the then president, Mustafa Batdyev, was ransacked by crowds of protesters after Batdyev's son-in-law was implicated in killing of several businessmen.
Despite its recent violent past, Karachaevo-Cherkessia last year had the least number of victims of insurgent attacks among government forces in the North Caucasus: just one serviceman was killed (www.memo.ru, February 17). Keeping the republic quiet is one of the main demands and expectations of the republic's population after its leadership was so suddenly changed (www.kavkaz-uzel.ru, March 1). This is going to be a daunting task for the new president of Karachaevo-Cherkessia, who is the youngest appointed leader in the North Caucasus to date and has no experience of running a territory. On February 15, five insurgents were killed by Russian security forces in the border area between Karachaevo-Cherkessia and Stavropol region. Earlier, on February 4, the same group of insurgents attacked a police escort in Karachaevo-Cherkessia and freed one of their comrades-in-arms (www.kavkaz-uzel.ru, February 15).
Boris Ebzeyev's dismissal was evidence of one of the most spectacular failures of the new model for appointing regional governors in the North Caucasus, given that he was the first among Medvedev's regional appointees and was unable to survive even for one full term. The former president of Karachaevo-Cherkessia had an extensive legal background as a professor of law. Ebzeyev was one of the writers of the Russian constitution and served as a judge on Russia's constitutional court from 1991 to 2008. Yet, with all his splendid academic and legal background, he was apparently ill prepared to face challenges on the ground in Karachaevo-Cherkessia.
Ebzeyev's successor Temrezov is said to be close to the previous president of Karachaevo-Cherkessia, Mustafa Batdyev, who was not reappointed by Moscow for a second term in 2008 and was also disliked by many in the republic (www.voanews.com, February 26). Temrezov's most recent post was head of the road maintenance and construction federal agency, Rosavtodor, in Karachaevo-Cherkessia. The agency is notorious for its corrupt practices (www.echo.msk.ru, February 26).
Moscow's attempts at social engineering through the appointment of regional governors in the North Caucasus have proven ill fated so far. Ramzan Kadyrov's ability to control Chechnya is often cited as a success story for Moscow. But, as many observers note, Medvedev's inability to safely remove Kadyrov from office actually attests to Russia's barely disguised profound weakness in the North Caucasus. As Moscow feverishly tries to create complex bureaucratic constructions in place of popular elections for regional governors, the appointment system in the North Caucasus precludes further deterioration of the situation and loss of control over the regional processes.