Muhojir Tactical: A Profile of the Newest Uzbek Jihadist-Linked Tactical Group in Syria
Publication: Terrorism Monitor Volume: 20 Issue: 23
By: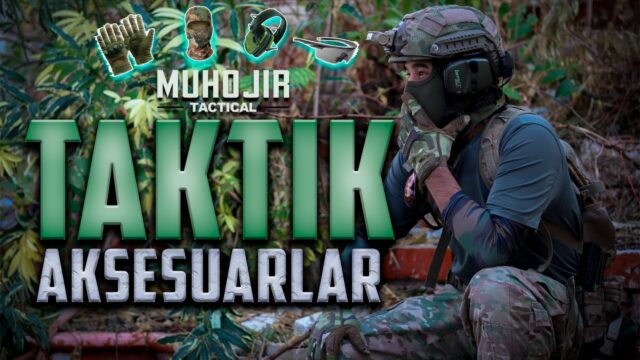 On November 16, a new tactical group and militant contractor in Idlib governorate, Syria was announced on various social networks and messaging platforms through a video called "Tactical Accessories" (Muhojir UZ, November 16). The propaganda of this new group, Muhojir Tactical, is managed by two media channels. The first media channel, Muhojir UZ, previously disseminated propaganda for the Uzbek jihadist group in Syria, Katibat Tavhid vo Jihod (KTJ) [1] and more generally the propaganda of the Abu Obaida bin Al-Jarrah Brigade of Hay'at Tahrir al-Sham (HTS) to which the KTJ is aligned [2]; and the second media channel, UZ Tactical, also disseminated KTJ and HTS material (Enab Baladi, March 8). Already in the days leading up to the announcement of Muhojir Tactical's birth and the release of its first video, all media and private channels of non-Arab fighters on various social media platforms had relaunched the online manifesto advertising the launch of Muhojir Tactical's new media product.
Muhojir Tactical's rise takes place in the complex Syrian context and witnesses the collaboration between several jihadist groups comprised of non-Syrian fighters with a very strong presence on social media networks. The group not only trains new fighters, but also acts as an important glue linking the independent jihadist groups in northwestern Syria and HTS brigades. Unlike the other tactical and contractor groups, Muhojir Tactical appears less aligned with a single jihadist group, which contributes to its inter-factional versatility.
An Overview of Jihadist Tactical Groups
Militant tactical and contractor groups in Syria are hardly new. A precursor to Muhojir Tactical formed in 2016 and was called Malhama Tactical. It was comprised of immigrants from various Central Asian countries (Al-Jazeera, December 27, 2018). Consequently, Malhama Tactical collaborated with HTS as well as with other jihadist groups operating in Syria, such as Ajnad al-Kavkaz (Soldiers of the Caucasus) and the Syrian branch of the Uighur-led Turkistan Islamic Party (TIP) [3]. Subsequently, Albanian Tactical, which was comprised of Albanians, Kosovars, and Macedonians from the jihadist group Xhemati Alban in northern Syria emerged around 2019, with one of its wings aligned with HTS. (al-Akhbar, September 25, 2019) [4]. Since 2021, Yurtugh Tactical, which is associated with the TIP, whose Syrian branch is aligned with HTS, has also operated in Syria (Middle East Online, March 3, 2020).
It is important to point out that all the mentioned tactical groups as well as the new Muhojir Tactical are referred to as "contractors" and provide in-person and online combat training, weaponry building, and special mission's lessons. However, they are not paid for this because they are highly ideological groups that train and support fellow jihadist groups, including those close to them and others not operating in Syria. Funding, however, is provided to them through donations and the sale of weapons and other military materials.
Muhojir Tactical's Mission
Propaganda concerning Muhojir Tactical started several weeks before the November 16 announcement. This propaganda was seen on various platforms, such as Instagram, Tiktok and Telegram. Already on November 9, for example, a 10-minute video was released in which the formation of Muhojir Tactical was announced and the speaker, Abu Valid al-Shami, explained what its mission would be: "In this project there will be introductions on how to use weapons, we will explain mistakes not to make in battle and actions that should be done, what uniforms and tactical material to use, and how it should be worn". The video also introduced the Muhojir Tactical instructor who would be giving the first tactical lessons.
From the propaganda, Muhojir Tactical seems to be linked to KTJ because some fighters on social media networks who filmed and promoted the group, such as Abu Valid al-Shami, Abdulloh Muhojir, and Abdul Saloh, are KTJ members involved in the production and dissemination of videos published by Tavhid Media, which is KTJ's official media channel. However, there is likely collaboration with the jihadist group Liwa al-Muhajireen wal-Ansar as well because the instructor featured in the video, Ayyub Hawk, who displayed different types of military clothing and tactical accessories, belongs to LMA. [5] He is a member of the group's Special Forces and featured in a recent LMA video entitled "Men at Work" (As-Sabiqun Media, October 29).
Conclusion
The emergence of Muhojir Tactical reveals two notable elements. The first element is the definitive establishment and evolution of tactical and contractor groups within the "jihadist galaxy." Albanian Tactical and Yurtugh Tactical, meanwhile, continue to produce weekly video and photographic material of the highest quality, and Muhojir Tactical will likely follow the same propaganda line. The second element is that although the tactical groups appear to be divided according to nationality and connection to a particular jihadist group, they actually often collaborate with each other [6].
It is also necessary to pay close attention to Muhojir Tactical and its propaganda, which reveal three important elements. The first is that the Syrian jihadist theatre is becoming increasingly complex. The second is that jihadist groups, including the smaller or independent ones, have achieved a very high military and training capacity. And third, and perhaps most important, the Syrian theatre is for Muhojir Tactical as well as for other tactical groups only the bridgehead from which they can take the jihadist fight to other theatres of operation, including KTJ's native Central Asia region.
Notes:
[1] The group also includes Tajik and Kyrgyz elements.
[2] Alignment with HTS was sealed by an oath of allegiance in September 2015. The group is also allied with Katibat al-Imam al-Bukhari (KIB), an Uzbek jihadist group operating in Syria, and with LMA.
[3] Although it has not produced propaganda material since January 2022, the group is active in several training camps in northern Syria, as reported by a local source in a recent interview with the author (danielegarofolo.substack.com, August 2).
[4] Xhemati Alban has two wings: one led by Abu Qatada al-Albani, who is loyal to and collaborates with HTS; and another opposed to HTS led by Musa Al-Albani.
[5] Founded in the summer of 2012, Liwa al-Muhajireen wal-Ansar is made up of Syrian and Arab fighters more generally, as well as a high number of foreign fighters from Chechnya, Dagestan, Azerbaijan, Kazakhstan and Ukraine.  In 2015, Liwa al-Muhajireen wal-Ansar pledged allegiance to Jabhat al-Nusra and in 2017 the group was integrated into HTS and now fights alongside it in various military campaigns.
[6] This was seen in a recent Yurtugh Tactical video published on September 18, which was conducted in coordination with Albanian Tactical (Yurtugh Media, September 18).