Sindhi and Baluch Separatists Team Up to Target Chinese Interests in Pakistan
Publication: Terrorism Monitor Volume: 20 Issue: 23
By: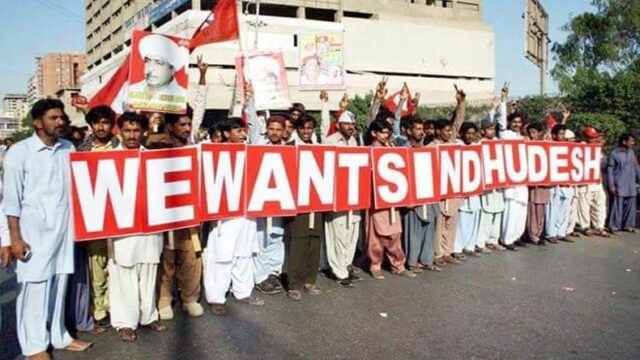 On September 28, a Chinese national was killed and two others were injured when an unidentified assailant opened fire at a dental clinic in Pakistan's largest city of Karachi, the capital of Sindh province. Chinese-origin Pakistani dentists, Dr. Richard Hu and his wife Phen Teyin, sustained bullet injuries (Dawn, September 29). Ronald Raymond Chou, their Chinese employee, however, died on the spot (Dawn, September 29). All three victims held Chinese and Pakistani dual nationality, but were targeted because of their "Chinese" appearance, if not also lack of accompanying security. The Sindhudesh People's Army (SPA), a new Sindhi separatist group, claimed responsibility for the attack (Samaa TV, September 29).
The Chinese foreign ministry spokesperson Wang Wenbin expressed condolences to the victims but asserted that the individual killed in the attack at Karachi dental clinic, Ronald Raymond Chou, was not a Chinese citizen, but a Pakistani citizen by way of his being a dual national (China does not recognize dual nationality and assumes anyone with a Chinese passport and the passport of another nation is a citizen of the other nation) (Friday Times, September 30). Pakistani investigative authorities, meanwhile, claimed that India was funding the SPA and, therefore, that India was responsible for the attack (Daily Times, September 30).
This was the second attack in five months on Chinese (or perceived Chinese) nationals in Karachi. On April 26, four other people, including three Chinese professors, were killed at Karachi University as a result of a suicide attack by a female suicide bomber. The Baluch Liberation Army (BLA), which is a banned separatist group fighting for an independent Baluchistan, claimed responsibility for that suicide attack carried out by the group's first ever woman suicide bomber, Shari Baloch (Dawn, April 26). These two attacks in Karachi indicate that Sindhi and Baluch separatists are joining forces to target Chinese interests in Pakistan.
The Sindhi-Baluch Separatist Nexus
In 2020, Baluch separatist groups, including the Baluch Liberation Army (BLA), Baluchistan Liberation Front (BLF), Baluch Republican Army (BRA) and the Baluch Republican Guards (BRG), joined hands with the banned Sindhudesh Revolutionary Army (SRA) to form the Baluch Raji Ajoi Sangar (BRAS) with an aim to target Chinese interests in Pakistan (India Narrative, August 7, 2020). At that time, BRAS stated that "Sindh and Baluchistan are equally affected by the expansionist and oppressive China. Through the China Pakistan Economic Corridor (CPEC), China aims to subjugate Sindh and Baluchistan and occupy the coasts and resources from Badin to Gwadar (The Commune Mag, August 2020)." This showed the consensus between Baluch and Sindhi separatists regarding China's exploitative role in both provinces and their desire to resist China by targeting Chinese interests and nationals.
Baluch insurgent groups have reportedly provided training to Sindhi separatist groups in order to enhance the latter's operational capacities. In return, Sindhi separatists provide logistical support to Baluch separatists for their operations in Karachi and other areas of Sindh (Dawn, October 16). The Sindhi militants' support has allowed the Baluch separatists to expand their operational area to Karachi, where they carried out several attacks on Chinese targets before the most recent ones. For instance, in 2018, Baluch separatists mounted an attack on the Chinese consulate in Karachi itself (Dawn, November 23, 2018). Two years later, in 2020, the Baluch separatists also attempted to storm the Pakistan Stock Exchange compound in Karachi, but all four attackers were killed by security forces stationed there (Dawn, June 29, 2020). The attack on the stock exchange was reportedly directly facilitated by Sindhi separatists (The Commune Mag, August 2020). In 2020, Sindhi separatists claimed 10 attacks across their home province, including in Karachi. The last attack took place in Karachi in December 2020 and targeted Chinese nationals in a shooting, but missed them (The News, January 4, 2021).
Most recently, on November 3, a suspected SRA member was arrested by Pakistani counter-terrorism authorities after they uncovered the member's plot to murder another Chinese dentist in Hyderabad, Sindh. The investigation revealed that the suspect was in direct contact with SRA's exiled leader Zulfiqar Khaskheli, who sent money to the suspect to buy the pistol and motorcycle. A handgun and motorbike were also recovered from the suspect (Geo.TV, November 3).
Comparing Sindhi and Baluch Separatists 
Unlike Baluch insurgents, Sindhi separatists lack extensive support among the public. Sindh province's growing middle class and educated youth does not provide fertile grounds for the growth of separatist groups and recruitment. For Sindhi separatists, the political landscape is also not favorable in Sindh, as compared to Baluch separatists. The Pakistan People Party (PPP), which is a federal political party and Sindh's most popular party, has governed the province for the last three decades (Dawn, October 16). Although PPP has not been able to fully resolve the issues plaguing the Sindhi people, its progressive and liberal ideology has attracted the majority of Sindhi people. As a result, Sindhi nationalists have thus far been unsuccessful in challenging its electoral dominance.
Unlike Baluch separatists, Sindhi separatists are also unorganized and lack the capability to carry out mass attacks. As a result, they usually choose soft targets simply to make their presence known. The Pakistani Counter-Terrorism Department's (CTD) Transnational Terrorists Intelligence Group (TTIG) head, Raja Umar Khattab, said as much when he stated, "If you have reviewed the attacks carried out by the Sindhi separatist groups, then you would know that they always choose soft targets (Minute Mirror, September 29)."
In contrast to Sindhi separatists, the Baluch separatists are well trained and armed with modern weapons. Therefore, they have been carrying out deadlier and more sophisticated attacks on Pakistani security forces, Chinese nationals and interests in Baluchistan. One of the most notable Baluch militant attacks on a hard target, for example, was the killing of five foreign tourists, including Chinese nationals, at a five-star hotel in the port city of Gwadar in 2019 (al-Jazeera, May 12, 2019).
Conclusion 
Chinese nationals who are not engaged in development projects related to CPEC projects are usually the types of soft targets to attack in Pakistan. However, the Chinese engineers and workers associated with CPEC have been provided strong security by Pakistani authorities. With limited operational capacity, Sindhi separatists have been choosing the softest of targets, such as dentists, as opposed to Chinese nationals associated with the all-important CPEC. At the least, the attack on the dental clinic is making the Sindhi separatists known in the province.
At present, Pakistani counter-terrorism authorities do not view Sindhi militancy a major threat to security in the province. The Baluch-Sindhi nexus however, could make both contingents more lethal and aggravate the threat to the Chinese nationals and projects in Sindh. The anti-China agenda of this separatist alliance will continue to upset Pakistani authorities, which will face immense pressure from Beijing over the increasing attacks on Chinese nationals.
Another catalyst for Sindhi and Baluch separatists is the potential breakdown of law and order in Pakistan, which would give a boost to both separatist groups. Pakistan witnessed chaos, violent protests, and destruction in December 2007 following the assassination of the country's popular leader and former Prime Minister Benazir Bhutto in a suicide attack in Rawalpindi, Punjab province. In the aftermath of the Bhutto assassination, emotionally charged protestors set dozens of trains, thousands of vehicles, and public properties on fire across the country. This resulted in a civil war-like situation, and particularly in Sindh, which was the slain Bhutto home province (Asia News, December 28, 2007).
The Bhutto tragedy would have revisited Pakistan on November 3 if the assassination attempt on former Prime Minister Imran Khan in Wazirabad, Punjab had not failed (Dawn, November 3). Khan's party workers had already declared that Khan himself was their "red line." Had Khan been killed, therefore, the country could have plunged into a civil war, which would have provided the separatists a favorable environment to strengthen their relationships and expand their areas of operation.