Nabucco Project Support Agreements Meet Interests Of Caspian Gas Producers
Publication: Eurasia Daily Monitor Volume: 8 Issue: 113
By: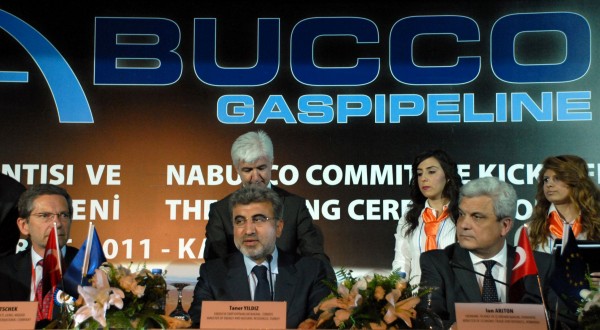 On June 8 in Kayseri (Turkey), Nabucco project companies from the five transit countries –Turkey, Bulgaria, Romania, Hungary, and Austria– signed with those countries' corresponding ministries the Project Support Agreements (PSAs) for the construction of the Nabucco pipeline.
The five companies plus RWE of Germany (where the pipeline is not planned to run) hold, each, 16.67 percent of the shares in the Nabucco consortium. The ministers underscored their countries' commitment to the Nabucco project for its strategic significance (an implicit reflection on the competing pipeline projects, ITGI and TAP, lacking strategic significance in Europe).
The PSAs establish an advantageous, long-term regulatory transit regime under European Union and Turkish energy laws; protect the planned Nabucco pipeline from any potential disadvantageous changes to the legal and regulatory regime; ensure favorable treatment in the host countries regarding land acquisitions, taxation, and imports of construction material; and commit each government to supporting legal and administrative actions for implementation of the project.
The national Nabucco companies are the consortium's subsidiaries in each of the transit countries. The signing occasioned the inaugural meeting of the Nabucco Political Committee, mandated to coordinate the project's implementation in the five transit countries. The PSAs's signing fulfills a key prerequisite to financing of the project by international lending institutions (Nabucco Gas Pipeline International Company press release, June 8).
The signing event in Turkey overlapped with the annual Caspian Oil & Gas conference and exhibition in Azerbaijan. The EU's Energy Commissioner, Guenther Oettinger, and the US special envoy for energy affairs, Richard Morningstar, delivered endorsements of the Nabucco project and a connecting trans-Caspian pipeline from Turkmenistan to Azerbaijan. In a message delivered through Morningstar, US President Barack Obama's spoke of a "strong relationship" between the US and Azerbaijan, "working closely" on energy issues. For his part, Oettinger characterized Azerbaijan as "the EU's key partner" on regional energy projects (www.news.az, Trend Capital, June 6 – 9).
The timetable for implementing the Nabucco project has recently been extended yet again, this time by two years. Construction work is now expected to start in 2013, and the first gas to flow from Azerbaijan by 2017. Along with the postponement decision, the project's cost estimates have been questioned and seem likely to be revised upward. These twin developments have cast unnecessary doubts on the project's viability.
Such misperceptions can be traced in part to the consortium's lead company, Austrian OMV, unduly raising public expectations about Nabucco's time-frame and costs. It was clear all along, however, that gas from northern Iraq would not be available to supplement Azerbaijani gas in the hoped-for time-frame and volumes. Just as clearly, OMV's cost estimate for Nabucco at 7.9 billion Euros, calculated in 2005, had been overtaken by rising costs of construction inputs. All these discrepancies risked eroding the project's credibility at the public-relations level.
Over-optimism about the construction time-frame and Iraqi gas skirted the reality that Nabucco (and the Southern Corridor to Europe) can only be viable with major volumes of Turkmen gas supplementing Azerbaijani gas. This prospect has recently brightened, thanks to Turkmenistan's policy decisions and the European Commission's active work with Ashgabat.
Thus, Nabucco's new target date for the first gas flow in 2017 looks realistic. This date is correlated with two others: Phase Two of production starting at Azerbaijan's Shah Deniz gas field, and Turkmenistan's East-West pipeline reaching the Caspian shore with major volumes for trans-Caspian shipment. Shah Deniz Phase Two is planned to increase production from 9 billion cubic meters (bcm) to 25 bcm per year. Turkmenistan's East-West pipeline is planned to carry 30 bcm annually, and Ashgabat has repeatedly pledged a further 10 bcm per year from offshore production.
According to Oettinger in Baku, internal gas demand in Iraq (leaving that country's other problems aside) will take precedence over deliveries from northern Iraq to Nabucco. This fact merely confirms the sine-qua-non of Turkmen gas, if Nabucco and the Southern Corridor to Europe are to fulfill their strategic potential. While in Baku, Morningstar made an unprecedentedly strong public statement of US political support for the trans-Caspian pipeline and for the EU Commission's activity toward that goal. As Morningstar also noted, "from a strategic standpoint, there is no question that the Nabucco pipeline would be the optimal one" (www.news.az, Trend Capital, June 7, 8).
Meanwhile, the non-strategic ITGI and TAP pipeline projects (each planned at ca. 10 bcm annually), compete against Nabucco (planned at 31 bcm per year) over priority access to finite volumes of Shah Deniz gas. This zero-sum contest potentially threatens Nabucco in a more immediate sense than Gazprom's unrealistic South Stream project.
According to Italian officials, Italian Edison has just offered to buy up the entire production from Shah-Deniz Phase Two for shipment through ITGI (Turkey-Greece-Italy Interconnector), mostly for the Italian market (www.news.az, June 2). The offer may have been made, but looks implausible, given the limits on free capacities in Turkey's pipeline system. Even short of such a massive diversion, however, dividing up the Shah Deniz production could kill the Nabucco project, and delay a pipeline from Turkmenistan indefinitely.
The ultimate decision will be made by the Shah Deniz production consortium, with BP and Azerbaijan's State Oil Company (SOCAR) in the lead. Azerbaijan, in particular, finds itself in the comfortable position of assessing all offers from competing transportation projects to Europe. A recent statement by SOCAR president, Rovnag Abdullayev (Trend Capital, May 25), has been widely misinterpreted as implying that Baku would prefer ITGI and/or TAP over Nabucco. In fact, Abdullayev was simply stating that Azerbaijan is reviewing all options for reaching European gas markets, and will ultimately choose a route to Europe based on the commercial merits.