NATO MEMBERS STATING THE CASE FOR GEORGIAN AND UKRAINIAN MEMBERSHIP ACTION PLANS
Publication: Eurasia Daily Monitor Volume: 5 Issue: 54
By: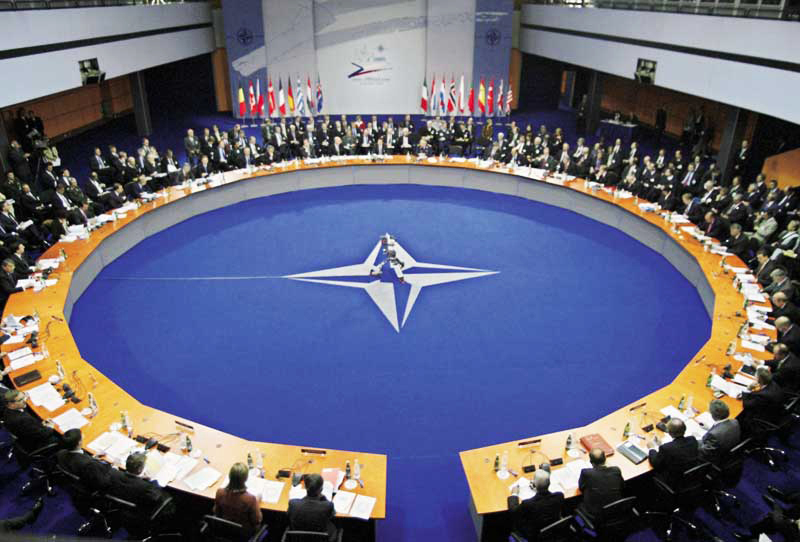 The German government's all-out, public campaign against Georgian and Ukrainian Membership Action Plans (MAPs) risks splitting NATO ahead of the alliance's April 2-4 Bucharest summit. Germany alone has embarked on such a public crusade, in the avowed expectation that other NATO countries would follow Berlin's lead. If so, such countries would in fact be deferring not so much to Germany as to Russia.
Real differences over the Georgian and Ukrainian MAPs could have been resolved in the course of existing NATO consultation processes, without public confrontation among allies. However, the German government and Chancellor Angela Merkel personally short-circuited those consultation processes, which were set to continue after the March 6 Brussels meeting of ministers of foreign affairs of NATO countries. Instead, Merkel held talks two days later with Russian President Vladimir Putin in Moscow to establish a common front against the Georgian and Ukrainian MAPs.
Furthermore, Berlin has become a most diligent compiler of anti-MAP arguments and their spigot in pre-summit conferences among allies, thus singularizing Germany in this regard also. Germany gives the impression of riding far out in front of this campaign. Berlin diplomats are hinting that some other NATO countries would also follow the German lead publicly in due course. Such hints unwittingly reinforce the impression that Germany claims a leading role in opposing the MAPs.
Berlin's anti-MAP arguments (see EDM, March 13, 20) are more sophisticated and open to reasoned debate, compared with Moscow's vituperations and threats. Nevertheless, the political consequence of Berlin's public campaign is to expose and widen a rift in NATO, inevitably prompting the MAP supporters to go public as well.
President George W. Bush and other U.S. leaders reaffirmed their support for Georgia's MAP aspirations during President Mikheil Saakashvili's March 19-20 visit to Washington. "I believe that NATO would benefit from Georgian membership," Bush stated at the joint press conference in the White House with Saakashvili (White House transcript, March 19), clearly implying that Georgia ought to be considered on its merits and in light of NATO interests. The United States seems set to press for a political decision regarding Georgian and Ukrainian MAPs to be adopted at the Bucharest summit.
Also on March 19, ten NATO member countries wrote to the alliance's Secretary-General, Jaap de Hoop Scheffer, urging that Georgia and Ukraine be granted MAPs at the upcoming summit (BNS, March 20). Canada and the countries that joined NATO in the two enlargement rounds — three Baltic states, Poland, the Czech Republic, Slovakia, Romania, Bulgaria, and Slovenia — co-signed the document. The missing signature is Hungary's, whose Socialist government (unlike Socialists in the governments of co-signatory countries) conducts a Hungarian mini-version of Ostpolitik with Russia.
The document argues that it is in NATO's interest and to the benefit of Euro-Atlantic security and stability to integrate Georgia and Ukraine further. It recalls that each round of enlargement has, despite initial doubts, strengthened the Alliance. Furthermore, a negative response to Georgia and Ukraine would generate doubts about NATO's continuation of its Open Door policy, would deprive Ukraine and Georgia of a chance to choose their place in the European security architecture, and would leave the impression that outside factors were able to exert influence on the alliance 's decision making.
Referring to their own experience with MAPs, the signatory countries underscore the value of this tool in promoting internal reforms in the aspirant countries and stimulating them to improve relations with neighboring countries. Furthermore, reforms in Georgia and Ukraine at present compare favorably with the situation in which current MAP countries were at the beginning of their first MAP cycles.
Consequently, the ten countries argue, the MAP debate is testing NATO's adherence to its own principles and procedures. They urge that Georgia and Ukraine should each be granted a MAP based upon their merits and performance, as well as taking their distinct situations into account. Thus, inviting the two countries to participate in MAPs at the Bucharest summit would be essential to advancing the goal of creating a Europe whole and free ("Non-Paper on Granting Membership Action Plans to Georgia and Ukraine at the NATO Summit in Bucharest," March 19).
For its part, Russia seeks to become a part of NATO's internal debate and NATO decisions through wedge-driving among NATO members. Moscow insinuates that the Georgian and Ukrainian MAPs are essentially a U.S. project that would spoil European members countries' relations with Russia. It tries to disparage the pro-MAP countries as mere "newcomers" to the alliance — a tactic designed to foster a sense of grievance in Paris and Berlin over the erosion of their influence. And it depicts the ten countries' appeal as a Washington-directed move to divide Germany and France from other countries in the alliance, according to Russian envoy Dmitry Rogozin's reaction on instructions from Moscow (Interfax, March 20).
The ultimate decision on Georgian and Ukrainian MAPs will almost certainly not be taken before the end of the NATO summit in Bucharest.