NATO MEMBERSHIP ACTION PLAN STILL WITHIN UKRAINE'S REACH IN 2006
Publication: Eurasia Daily Monitor Volume: 3 Issue: 116
By: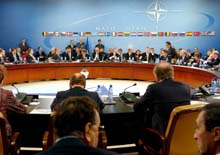 Notwithstanding the compromised military exercises and internal political paralysis, Ukraine can still qualify for obtaining a NATO Membership Action Plan (MAP) at the alliance's summit in Riga in November. Technically, MAP status would only imply a relatively small advance from Ukraine's present status under the Action Plan and the Intensified Dialogue on membership aspirations, which Ukraine obtained in 2002 and 2005, respectively. Politically, however, MAP status is a milestone implying an official recognition of those aspirations by NATO and a readiness to guide the aspiring country toward membership.
On June 8 in Brussels, the North Atlantic Council, meeting in a defense ministers' session, issued a relatively positive signal regarding Ukraine's MAP prospects. Taking into account the current stage of Ukraine's defense and security sector reforms, the ministers' communique states, "Ukraine has demonstrated significant progress under Intensified Dialogue in the past year. We encourage Ukraine to continue to demonstrate concrete and measurable progress and resolve in implementing key reforms and policies, to make it possible to meet its aspiration for participation in the Membership Action Plan."
By leaving the timeline open and making clear that it would depend on performance, the allies give Ukraine a strong incentive to work toward MAP. By the same token, the communique implicitly declares Ukraine eligible for MAP status irrespective of extraneous factors, thus ignoring the objections that Moscow had aired just ahead of the ministers' session.
The concurrent meeting of the NATO-Ukraine Commission at defense ministers' level heard Defense Minister Anatoliy Hrytsenko's progress report on the defense and security sector reforms. According to the chairman's summary, allied ministers expressed a qualified "satisfaction with the ongoing NATO-Ukraine Intensified Dialogue on membership aspirations and relevant reforms, [albeit] without prejudice to any eventual Alliance decision."
Discussions on the progress report highlighted the multiplicity of NATO instruments at Ukraine's disposal to work toward those goals. NATO-devised joint instruments include: the NATO-Ukraine Action Plan, Intensified Dialogue, Military Committee Work Plan, Joint Working Group on Defense Reform, and the latter's Civilian Personnel Professional Development Program, among others. NATO-assisted Ukrainian national instruments include Ukraine's National Security Sector Review (implementation ongoing) and Ukraine's State Program for Development of Armed Forces, 2006-2011 (implementation beginning), among other instruments. Among these programs, the reform of state security agencies seems to be moving the slowest (James Sherr in Den, June 6).
NATO Secretary-General Jaap de Hoop Scheffer remarked on this occasion that Ukraine had already advanced from consumer of international security to an international security provider in partnership with NATO. (This development, running well ahead of Ukraine's defense reforms, dates from the late 1990s and has in the meantime been replicated by aspirant countries Georgia and Azerbaijan in net terms.) Hrytsenko told allied ministers that the planned defense reforms necessitate raising Ukraine's defense budget to the NATO-recommended level of 2% of the annual GDP by 2007. However, he merely "hoped" that the parliament would approve the increase, and de Hoop Scheffer could only remind Ukraine of the importance of forming a government "very soon."
Although the Brussels meeting defined the expansion of the International Security Assistance Force (ISAF) in Afghanistan as NATO's "number one operational priority," Ukraine cannot become a force contributor to ISAF. Hrytsenko cited the live memory of Ukrainian losses as part of Soviet forces in Afghanistan as well as today's "threats to [foreign troops'] lives in that country." Troop deployment to Afghanistan would thus be politically unsustainable in Ukraine, as was in 2004 the large troop commitment to Iraq, which Yushchenko terminated. At present, Ukraine offers to contribute military medics, engineers, and air traffic controllers to ISAF as well as trainers to the NATO Training Mission in Iraq. Irrespective of these issues, Ukraine's defense and security sector reforms will be the centrally relevant criteria for assessing its readiness to receive a MAP.
As part of its performance-based advance toward a MAP, Kyiv needs to make it politically sustainable in the country by informing the public in all parts of Ukraine about NATO. A survey just released by the respected Democratic Initiatives Foundation shows that only 12.4% of respondents approve of Ukraine joining NATO while 64.4% are against. NATO's popularity rating in Ukraine dropped markedly during the year-and-a-half since the Orange revolution. Even in western regions of Ukraine and in Yushchenko's Our Ukraine party, opponents of Ukrainian membership outnumber the supporters. NATO and the Ukrainian government have, each, allocated some resources for a public education campaign; but those resources seem insufficient, underused, or both.
(NATO communiques, Interfax-Ukraine, East Week [Warsaw], June 8)