NATO Summit: Strong on Russia but a Net Disappointment to Eastern Allies and Partners (Part Two)
Publication: Eurasia Daily Monitor Volume: 18 Issue: 97
By: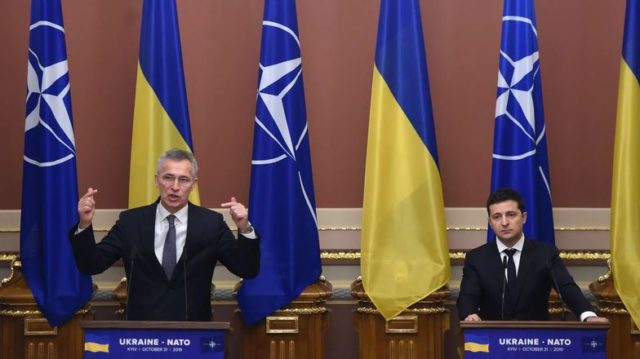 The quasi-annual charade surrounding the North Atlantic Treaty Organization's Membership Action Plans (NATO MAP) for Ukraine and Georgia took a different form at the Alliance's June 14 summit in Brussels. The Joseph Biden administration has retreated from the United States' accustomed support for a NATO-Ukraine MAP. While Ukraine remains highly motivated in this respect, the Georgian government now looks demotivated and stopped seeking a MAP.
The summit routinely reaffirmed the Alliance's Open Door Policy, with the right of all states to seek their own security arrangements, and no third party but only NATO having a say (Nato.int, June 14, Brussels Summit Communiqué, paragraph 66). In practice, a group of Western European countries have, since 2008, blocked not membership but even a fairly long path toward possible membership for Ukraine and Georgia. That path is MAP and it can last up to a decade. The nay-saying countries have blocked it for fear of irritating Russia, thereby in practice giving Russia an indirect, de facto say on a NATO policy matter.
NATO unexpectedly decided in early May to scrap the session of the NATO-Ukraine commission that was to be held on the sidelines of the Brussels Summit. The timing of this decision also coincided with the inflection moment at which the Biden White House decided to hold its summit with Russian President Vladimir Putin.
US Secretary of State Antony Blinken signaled clearly, while in Kyiv on May 6, that the United States would, this time, not support a MAP for Ukraine (see EDM, May 6, 10). So did President Biden by telephone with Ukrainian President Volodymyr Zelenskyy (Whitehouse.gov, Ukrinform, June 4).
Zelenskyy and his close circle apparently did not comprehend those signals. Instead they launched a last-moment, frantic, awkward public relations campaign for approval of a MAP at the summit. Their effort only made things worse for Kyiv (see EDM, May 27, June 1).
The summit duly checked the box for Georgia and Ukraine in one shot, using identical language for both countries in their respective compartments: "We reiterate the decision made at the 2008 Bucharest Summit that [Georgia/Ukraine] will become a member of the Alliance with the MAP as an integral part of the process; we reaffirm all elements of that decision… We stand firm in our support for [Georgia's/Ukraine's] right to decide its own future and foreign policy course free from outside interference" (paras. 68, 69).
Furthermore, the two countries "should make full use" of the Georgia-NATO Commission/Ukraine-NATO Commission, and their respective Annual National Plans, which—in NATO's majority view—contain all tools (instruments) to advance their membership aspirations (paras. 68, 69).
That wording about MAP is carried over ad litteram from previous summits. It reflects the position that a MAP is a prerequisite for a country's future membership to come under NATO's consideration. At the same time, the nay-sayer countries refuse to authorize a MAP. Thus, the aspirant country is required to go through the MAP process, but the MAP process will not be approved for lack of consensus. With this, MAP has been turned into a stumbling block instead of an avenue to membership.
The wording about Ukraine and Georgia having all necessary tools (instruments) implies that they do not need a MAP, or even that they should fall silent about MAP. In practice, however, MAP is a higher-grade instrument than those cited, and it is a proven fact that the road to membership passed through a MAP in every case since the program's initiation in April 1999 (Nato.int, accessed June 17).
At his post-summit press conference, President Biden said that Ukraine's MAP "depends on whether they meet the criteria. The fact is they still have to clean up corruption. The fact is they have to meet other criteria to get into the Action Plan" (Whitehouse.gov, June 14).
Biden's construction seems to insert a new hurdle to MAP. Until now, corruption disqualified Ukraine from membership. Now, corruption apparently disqualifies Ukraine even from MAP, the only real program of preparation for membership. MAP includes civilian dimensions, including anti-corruption actions. And the membership prospect inherent in MAP provides political motivation for the aspirant country to perform. Setting new pre-conditions to MAP would deprive Ukraine of a tool and motivation to tackle corruption seriously.
Georgia's then-president Mikheil Saakashvili had completely cleaned Georgia of corruption by 2008; and his reforms were an inspiration to many countries, including certain NATO member countries. Regardless, Georgia was and remains excluded from MAP.
Georgia seems for the first time to be losing motivation. The government informally but de facto controlled by Bidzina Ivanishvili did not seek a MAP ahead of this summit. President Salome Zourabichvili (a ceremonial figure) visited NATO Headquarters in April, and Prime Minister Irakli Garibashvili gave a speech at the Brussels Forum just before the NATO summit. Neither of them raised the issues of Georgia's NATO membership aspirations, MAP, or military exercises on Georgian soil. Instead, they spoke about other matters (Civil.ge, April 22, June 14). On Georgia's civil society side, usually active and vocal, there was no significant advocacy or publication campaign ahead of NATO's summit this year.
That may not be surprising after 13 years of NATO officially recognizing Georgia's (as well as Ukraine's) membership aspirations but, nevertheless, blocking their MAPs for lack of consensus within the Alliance. The latter needs to re-motivate Georgia and avoid a spread of demotivation to Ukraine.