Never Say Forever: How Russia's Borders Became Imaginary
Publication: Eurasia Daily Monitor Volume: 19 Issue: 176
By: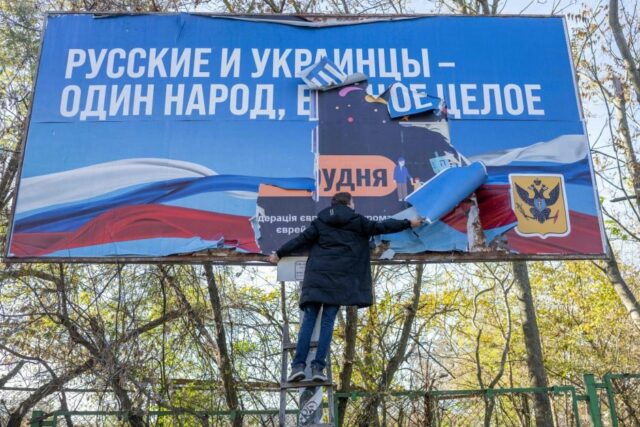 Video footage of how enthusiastically the inhabitants of Kherson, with tears of joy, greeted their liberators from the Ukrainian Armed Forces has spread globally (YouTube, November 13). Against this backdrop, the official published data on the results of the "referendum" held by the occupation administration of Kherson region from September 23 to 27 seem completely absurd. According to these numbers, almost 77 percent of the region's residents took part, and 87 percent of those who voted were in favor of "joining Russia" (Interfax, September 27). But if this is actually the case, it looks especially odd that, today, those same locals are resolutely removing the street banners "Kherson Forever With Russia"—put up by the occupiers.
Of course, it should not be ruled out that some of the Kherson residents, under the conditions of occupation and threat of violence, really voted "for Russia" (Zerkalo.io, September 23; Holod.media, September 27). But in any case, it is absolutely impossible to assert such bombastic numbers. Indeed, the published "results" are a blatant falsification, characteristic of all Russian votes over the past 20 years, in which President Vladimir Putin and his ruling United Russia party invariably win by huge margins. With the sham "referendums," they even tried to transfer the same "technologies" to Ukraine, but the true sentiment of the Ukrainian people ultimately disproved this performance.
Back in May 2022, one of the leaders of this party, Andrey Turchak, visiting occupied Kherson, declared, "Russia is here forever" (RBC, May 6). In July, these words were repeated by the de facto head of Putin's administration, Sergey Kiriyenko (Kherson-news.ru, July 3). But the swift November flight of the invaders to the left bank of the Dnieper River has frustrated these imperial ambitions. A special break with reality was seen in the reaction of Putin's spokesman Dmitry Peskov to the visit of Ukrainian President Volodymyr Zelenskyy to the liberated Kherson region, with Peskov declaring, "You know that this is territory of the Russian Federation" (Gazeta.ru, November 14).
The liberation of Kherson by Ukrainian forces has created an unprecedented situation: the Russian State Duma has already included Kherson and other annexed regions in the text of the Russian constitution, as "subjects of the Russian Federation" (Gazeta.ru, October 6). Even so, the current authorities will not be able to find a way out of this impasse in the sphere of international relations, which would mean admitting the overall failure of the Kremlin's imperialist policy. Now, it seems that the Russian constitution, already warped by the "zeroing" of Putin's terms and other ideological "amendments" in 2020, is finally becoming a purely propaganda document that has no real legitimacy in the legal sphere.
In a previous article on Kherson, regarding whether Russia can repeat the "Crimea scenario" in this region, I noted that Putin's advisers clearly overestimated the "pro-Russian" sentiments of the local population (see EDM, June 24). They considered the population's attitude to be similar to Crimea in 2014. Yet, they did not take into account that, over the past eight years, national and civic consciousness in Ukraine has grown dramatically, and as such, even predominantly Russian-speaking Kherson residents politically associate themselves with Ukraine—not with Russia.
In this regard, the liberation of Kherson, whose residents allegedly "voted for Russia," raises many questions, not only about the complete illegitimacy of electoral procedures in Putin's Russia but also about the impossibility of an adequate perception of any domestic sociological polls. For example, today, the Kremlin claims that its "special military operation" against Ukraine is backed by "an overwhelming majority of Russians" (Stopfake.org, November 23). And for some reason, some Western authors repeat this propaganda, forgetting no real representative sociology can exist in totalitarian regimes.
If respondents in Russia, when asked by a sociologist, directly oppose the war, they risk being sued for their words under the latest law on "discrediting the Russian army" (Meduza, November 14) Therefore, foreign observers are often under the illusion that "all Russians support the war," though, in reality, those Russians opposed to the war simply prefer not to speak out publicly, as during Soviet times. Anti-war rallies and pickets are banned, but the Russian authorities have been unable to organize any mass demonstrations in support of the "special military operation." They have tried to hold such events in various cities, but few participate and only by order of employers who are closely associated with the authorities.
Jamestown Foundation analyst and long-time Eurasia expert Paul Goble precisely notes that the full-scale war against Ukraine and the resulting mobilization have sparked protest in the form of an unprecedented mass exodus of Russian citizens, which, according to conservative estimates, already amounts to several hundred thousand people (see EDM, November 17). Often, these people hold modern professions that are in high demand, who will now help in the development of the economies of neighboring post-Soviet states (Armenia, Georgia, Kazakhstan, etc.), while their homeland, due to Moscow's policies, falls deeper into international isolation (Sibreal.org, November 6).
In fact, with its failed annexation of Kherson, the Kremlin, in reality, has made all Russian borders imaginary and virtual. After all, Kherson was officially declared "Russian territory" and then subsequently retaken by Ukrainian forces. Does this mean that Ukraine now "occupies" the region? No. And such a grotesque interpretation can lead to quite serious consequences.
In many regions of Russia, especially in the national republics, street banners, similar to those in Kherson, have appeared during the Putin years, including "Bashkortostan Forever With Russia," "Dagestan Forever With Russia" and "Buryatia Forever With Russia," among others. Previously monuments erected in Udmurtia, Mordovia and Adygea carry the same name ("Forever With Russia"). These sites were meant to symbolize the "eternity" of the Russian empire. But after the "eternity" in Kherson lasted only a few months, some residents in the other national republics have also begun to re-think their "borders." This question becomes all the more urgent, as throughout the war, Russia has actively turned the inhabitants of these republics into cannon fodder (see EDM, April 20).
But perhaps more importantly, Russia's borders are definitively being deprived of uncontested international recognition. Today, no outside power actively threatens Moscow's territorial integrity, but in the future, if the Kremlin's "power vertical" continues to weaken, then no one will be able to prevent China from potentially annexing parts of Siberia and the Russian Far East (Eurasiantimes.com, June 19). Historically, the Chinese consider these territories to be their own, and Beijing may react to Moscow's discontent in a completely Eastern way: repeating the Kremlin's own methods of unilaterally interpreting international law.