New Armenian Cabinet Formed Amidst High Expectations
Publication: Eurasia Daily Monitor Volume: 15 Issue: 78
By: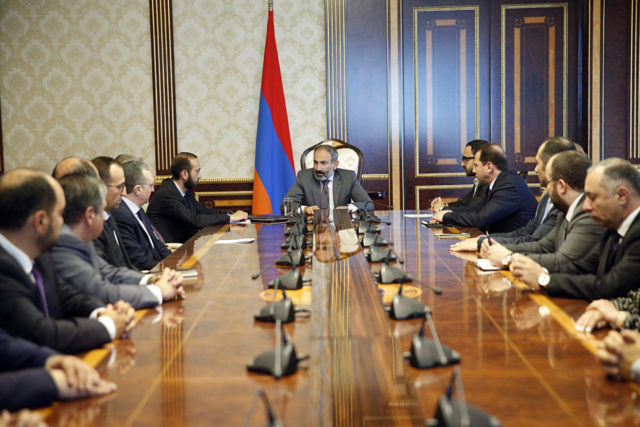 Armenian protest leader Nikol Pashinyan, whose peaceful campaign resulted in the resignation of the country's former president and recently appointed prime minister Serzh Sargsyan (see EDM, April 23, 24, May 3), was elected the new head of government on May 8. Before that, on May 1, the parliamentary majority still belonging to Sargsyan's Republican Party of Armenia (RPA) had voted against Pashinyan. But after a general strike on May 2, with all automobile traffic in Yerevan blocked between 8 a.m. and 5 p.m., the Republican faction agreed that, on May 8, its members would not vote uniformly, so that some could vote for Pashinyan (Aysor.am, May 2). Ultimately, he received 59 votes (a minimum of 53 votes were required) (News.am, May 8).
Pashinyan's minority cabinet includes several technocrats with long-term government experience. Foreign Minister Zohrab Mnatsakanyan is a career diplomat who, as a deputy minister, was the principal negotiator on the Association Agreement with the European Union, which ultimately was not signed as then-president Sargsyan chose membership in the Russia-led Customs Union. In 2014, Mnatsakanyan was appointed Armenia's representative to the United Nations. The new minister of defense, Davit Tonoyan, also used to be a deputy minister, notably during the April 2016 "four-day war" with Azerbaijan (see EDM, April 16, 2016), and later was named minister of emergency situations. At the same time, the new cabinet includes several members of Pashinyan's Civil Agreement Party and its allies in the Way Out bloc, some of them quite young, as well as members of two other parliamentary parties—the Tsarukyan Bloc and RPA's former coalition partner, the Armenian Revolutionary Federation (a.k.a. Dashaktsutyun) (Hetq.am, May 12, 2018).
Concerning relations with Turkey, Pashinyan expressed readiness to establish diplomatic ties, yet mentioned that Turkey was putting forward precondition—a demand to reach progress in negotiations on the Karabakh issue. According to Pashinyan, "that demand is illogical because it is illogical to put forward conditions related to a third country in order to establish [bilateral] relations… We do not change our position and we are ready to establish relations without conditions. At the same time, we remain committed to international recognition of the Armenian genocide." In response, Turkish Prime Minister Binali Yıldırım said, "If Armenia gives up its hostile attitude, which it has shown for years against Turkey, if [it] gives up its wrong attitude against Turkey's territorial integrity and borders, if [it] wants to opens [sic] a new page then we will respond accordingly after looking at the details" (Hürriyet Daily, May 11). Considering the initially expressed post-revolution approach to the Karabakh conflict resolution process (see EDM, May 10), it is difficult to expect quick progress in relations with Turkey, particularly since Azerbaijan would still oppose the possibility of an Armenian-Turkish rapprochement.
Pashinyan and some of the newly appointed cabinet members attended the Eurasian Economic Union (EEU) summit in Sochi, on May 14. In his address to the summit participants, Pashinyan confirmed Yerevan's commitment to the previous agreements within the EEU framework but also referenced a number of obstacles for successful business development and economic cooperation (A1plus.am, May 14). He also had a one-on-one meeting with Russian President Vladimir Putin for over an hour, most of it behind closed doors. The public part of the meeting included thanking Putin for a balanced approach and non-interference during the recent protest campaign inside Armenia, as well as assurances that political and military cooperation with Russia would grow. However, topics discussed without the presence of journalists likely included such strategic issues as Russia's arms sales to Azerbaijan and the price of natural gas for Armenian consumers, as well as obstacles created by Russian customs and sanitary inspection for Armenian agricultural exports (Gazeta.ru, May 14).
Later that same day, United States President Donald Trump congratulated Pashinyan on his election as prime minister, mentioning that progress on fighting corruption and toward a peaceful resolution of the Karabakh conflict would be expected (Aravot.am, May 16). The co-chairs of the Organization for Security and Cooperation in Europe's (OSCE) Minsk Group stated they expect to meet with the new Armenian leadership in June (Osce.org, May 15).
The European Parliament's Committee on Foreign Affairs approved the Comprehensive and Enhanced Partnership Agreement (CEPA), signed last year with Yerevan (see EDM, December 4, 2017), and recommended increasing support for Armenia, as well as ensuring that extraordinary elections, which may take place within a few months, fully legitimize any future government. A Finnish member of the delegation to the EU-Armenia Parliamentary Cooperation Committee, Heidi Hautala, pointedly acknowledged the shortcomings of previous elections in Armenia. She declared that the South Caucasus country would need support in order to prevent vote buying, pressure on voters or other abuses this time around (Azatutyun.am, May 16). Pashinyan has confirmed his cabinet's commitment to hold extraordinary elections, noting that by the end of June at least an amended election code should be presented (Lragir.am, May 21).
Noticeably, some Western observers have openly recognized the situation in Armenia and the difficulties inherent in balancing its policies. Particularly, Washington-based analyst Stephen Blank noted that "if Armenia sought to emulate Ukraine in 2014, eject the entire old regime and repudiate Armenia's membership in Russia's organizations for military-economic control […] Moscow would come down hard on the new regime." Therefore, he considers tangible Western support vital for diversifying Armenia's foreign and economic policies, which may help to reduce Russian domination, help Baku and Yerevan negotiate peace, and sustain Armenian democracy, so "Armenia can gradually and peacefully move back to Europe, which is the only hope for its people" (Washington Times, May 14).
Reforms will be difficult to implement, although officials have expressed readiness to depart from some old policies. Particularly, newly appointed Security Council Secretary Armen Grigoryan (no relation to this author), in a dispute with the former defense minister, Vigen Sargsyan, bitterly criticized the "nation-army" concept (see EDM, October 31, 2016). Grigoryan noted that it and related policies—such as a newly imposed tax, the attempt to remove university students' right to postpone military conscription, and proposed military-patriotic education—were failures (Aravot.am, May 21). A week earlier, the minister of education already ordered the withdrawal of the military-patriotic education concept (Panarmenian.net, May 14). Currently, with expectations for the new government quite high, it is actually unlikely that Pashinyan's cabinet will be able to quickly implement profound reforms: the holdover RPA parliamentary majority continues to retain control over a number of public institutions. Holding new elections as soon as possible could be an important step forward.