New Controversies Swirl Around Russian Military Base in Armenia
Publication: Eurasia Daily Monitor Volume: 14 Issue: 66
By: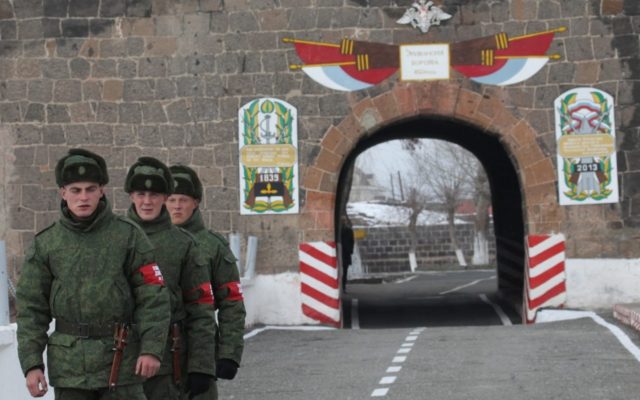 The trial related to the most shocking crime committed in Armenia in recent years—the murder of a family of seven, including two babies, by a Russian soldier stationed at the 102nd military base at Gyumri (see EDM, January 16, 2015; January 30, 2015)—has reached a climax. Russian officials declared that the only defendant in the murder case, Private Valery Permyakov, will be extradited to Russia (RIA Novosti, May 4). Permyakov was sentenced to ten years in prison by a Russian military court for deserting his base with a weapon, and to life in prison by an Armenian court for seven counts of murder. Already after the Armenian court's verdict, on August 23, 2016, Russian sources had speculated that Permyakov would eventually be extradited to Russia (Interfax, August 23, 2016).
Permyakov has remained in custody at the Russian military base since January 12, 2015, when he was arrested several hours after the murder. Contrary to Armenian law and Russo-Armenian treaties, he was not handed over to local law enforcement agencies. Armenian investigators, the judge, state prosecutor and other officials have had to visit the 102nd base during the investigation and trial. In fact, patrols of the city by armed Russian military personnel after Permyakov's desertion and the Russians' refusal to hand him over to Armenian law enforcement were criminal offenses per se; but Armenian officials declined to publicly acknowledge these Russian violations.
Moreover, the investigation and the trial itself were conducted in a manner suggestive of deliberately trying to pervert the course of justice. Before the murder trial even began, Permyakov's commanding officer and other crucial witnesses were decommissioned and sent home to Russia; no substantial effort was made by the Armenian side to ensure that they testify before the court (Hraparak.am, May 13, 2016). The judge rejected a plea by lawyers of the murdered family's heirs to oblige the Russian side to pay compensatory and punitive damages. The lawyers stated that their worst expectations concerning the impartiality of the judge turned out to be true, and by consenting to hear the case on the premises of the military base, the judge had agreed to fulfill Russia's interests (Aravot.am, June 30, 2016). Moreover, the judge denied all objections by the victims' lawyers and excluded all evidence presented by them (1in.am, August 12, 2016); the judge eventually excluded the civil claim altogether (Lragir.am, August 23, 2016).
The verdict and the latest developments concerning the possible extradition of Permyakov have been met with social apathy, despite the fact that in 2015, immediately after the murder, there were mass demonstrations demanding that law enforcement agencies take action and investigate the case under Armenian jurisdiction. Initially, the incident had even sparked clashes with police, which stopped only after mediation by some members of parliament, an archbishop of the Armenian Church, and other public figures (see EDM, January 16, 2015; January 30, 2015). The current public apathy seems to be a logical extension of the general situation: many citizens apparently believe a political struggle is hopeless and essentially useless. Illustratively, the parliamentary elections on April 2, 2017, were not followed by mass demonstrations, unlike all elections in the previous 22 years, despite documented evidence of vote buying and other violations, as well as an outcome practically resulting in an institutionalized one-party state, dominated by the Republican Party of Armenia. This state capture has become exceedingly difficult to reverse by constitutional means (see EDM, April 3).
The Russian 102nd military base has also faced recent turmoil. In recent weeks, local (Armenian) personnel at the base (nearly 100 people) went on strike and demanded a meeting with the base commander as their salaries had not been paid for three months (Azatutyun.am, May 3). Although overdue salaries for two months were paid three days later, it turned out that contracts with almost 200 other employees expired in February and have not been renewed yet (Sputnik Armenia, May 6). The base employees' troubles caused little interest or solidarity among other social groups in Armenia. Indeed, in the past few years, individual protest movements had routinely discouraged others from joining them. Moreover, participants of various protests have specifically tried to keep these demonstrations from becoming "politicized"—i.e. avoid leading to larger protest actions, especially with political demands.
Meanwhile, another issue concerning the 102nd base made the news. Russia's minister of foreign affairs, Sergei Lavrov, told Mir TV that the base, together with other Russian foreign military outposts in Kyrgyzstan and Tajikistan, could be engaged in the fight against the Islamic State (Mir24.tv, May 5). Armenian politicians, in their habitual manner, avoided commenting on the issue so as not to have to refer to a controversial issue involving Russian interests. However, some local observers noted that unlike the Central Asian states, Armenia does not face the threat of Islamist terrorism and borders on states that are largely safe from that point of view. Whereas, they argued, Russia's provocative actions could make Armenia a target for infiltration by Islamist extremists (1in.am, May 6).
While engagement of the 102nd military base against the Islamic State is still just a theoretical possibility, it should not be excluded. Vladimir Putin's regime in Russia is facing a worsening economic situation months before the next presidential elections. And the government in Moscow is increasingly unable to sustain patriotic feelings and maintain internal stability using its propaganda about Ukraine and Syria (see EDM, April 27). As a result, the Putin regime may try to raise the stakes with yet another military operation. The Armenian political elite, however, has little political will to oppose Moscow's plans. Before the April parliamentary elections, most of the campaigning parties and political blocs sought external legitimacy by pleasing Moscow. And the newly formed National Assembly can be expected to be no less loyal to the Kremlin than the previous one.