New Data Points to Worsening Economic Slump in Russia
Publication: Eurasia Daily Monitor Volume: 13 Issue: 120
By: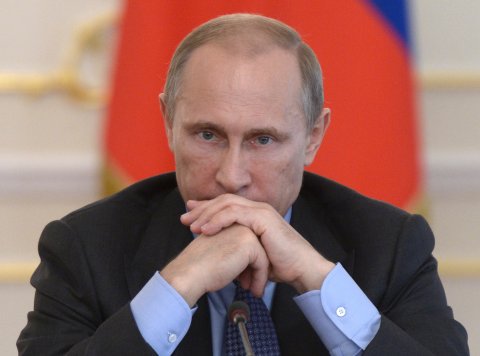 During his appearance at this year's St. Petersburg Eco­nomic Forum (June 16–18), President Vladimir Putin declared that "Russia has managed to resolve the most urgent problems in the economy" (Kremlin.ru, June 17). But just one week later, the Russian Ministry of Economy published new figures, which, as the state-owned VEB Bank's chief economist And­rei Klepach has admitted, appear to be "much worse than the majority of experts were expec­ting" (RBC, June 27). The government data shows that the Russian economy has contracted by at least 1 percent year on year, and total out­put fell in all sec­tors, excluding agriculture. The announcement has worried Russians, particularly since these statistics revealed that the Russian economy has sunk even lower than the level it fell to in May 2015—widely considered to have been the "bottom" of the current crisis.
But arguably, the overall picture is even gloomier than the economics mi­nistry data suggests. A more deta­iled, independent analysis, produced by the Moscow Higher School of Economics (HSE), shows that, in April 2016, the economy contracted by 1.9 percent, while retail sales resumed their decline (-0.3 percent month on month) after a short stabilization in March ("Comments on the State and Business," Moscow: Higher School of Economics, No 114, May 20). In addition, the construction sector plummeted by -5.8 percent in April, an especially important trend to note since Rosstat—the Russian government statistics agency—had, earlier this year, suspended its monthly figures on investment levels in fixed assets. The fall in real disposable income also accelerated in May, to -1.3 percent compared to April, so even slowing inflation has been unable to encourage sales.
The reasons for what is going on are obvious: First of all, Russian exports for January–April 2016 were down by a staggering 31.3 percent year on year (during the first four months of 2015, the comparable downturn stood at 28.8 percent) (Customs.ru, June 16). Second, the state budget is deep in the red, forcing ever more drastic dips into national reserves. The Ministry of Finance spent a record $13 billion from the $50 billion Reserve Fund in just the last three months (Minfin.ru, accessed July 1). The economy is being hard hit by this since around 53 percent of the population is directly or indirectly paid by the state. Third, the investment climate is deteriorating rapidly as demand declines and bank lending decreases. Moreover, the govern­ment, confronted with money shortages, is seriously considering significantly raising the value-added tax (VAT) rate to 25 percent from the current 18 percent (RBC, June 25). These current trends are unlikely to change.
The experts from the HSE are saying now that the economic decline could reach -1.6 percent in 2016 and con­tinue its slump in 2017 (Hse.ru, June 21). This may well come true because expectations are particularly gloomy in the business com­munity. According to recent reports, around 40 percent of Russia's top-level managers are con­sidering seeking jobs abroad (Rusnovosti.ru, June 7). The number of deals being made in the luxury segment of Moscow's real estate market have fallen to 2009 lows; at current rates, it would take no less than four years to sell off all the apartments and cottages currently available for purchase in the Russian capital. Both inflation and capital flight are coming down, as Putin mentio­ned at the St. Petersburg Eco­nomic Forum last month; but this has been due primarily to a lack of demand for goods and a shortage of available liquid capital. Yet, the Russian government looks largely unconcerned with the economic situation.
The Russian leadership's primary mistake is its unrelenting hope that some external event will occur to revitalize the country's ailing economy. Throughout the current crisis, the overwhelming majority of Russian elites and officials have pinned their hopes on oil prices inching up toward $50 per barrel. But even though the oil price has, indeed, been hovering near this benchmark during May and June, there has so far been little or no positive effect on the domestic economy. A general belief also persists that Russia's economic renewal will start after the lifting of Western sanctions. So rather than trying to improve Russia's investment climate, the Kremlin has been putting all its energy into diplomatic efforts to undermine the international sanctions regime. Moscow has apparently achieved some encouraging results on the Turkish "front" (Newsru.com, June 28), but the Europeans might become even more united in their stance on Moscow after the Brexit. All the hopes pinned on Chinese investment have also proved false (Vedomosti, June 28) as the Chinese seem more preoccupied with investing in Central Asian countries, which may become more dependent on Beijing in the future, than to fund projects in Russia. Thus, the Russian leadership is losing time by hoping for a positive outside shock to the economy instead of working on developing successful domestic policies.
Arguably, the economic outcome of 2016—which currently seems far from optimistic—will be extremely important for both Russian and foreign investors. If the country's economy declines over the course of this year, even by as little 1 percent, Russia will have officially experienced a "lost decade," since its GDP will have grown smaller than it was in 2007—regardless of the statistical method used to arrive at these figures. In that case, there will be no more reason to expect Putin's Russia to return to growth. Rather, Russia will have become the "sick man of Europe," as the Ottoman Empire was once famously labeled. And if the popular optimism that helped fuel Russian's economic rise many years ago disappe­ars, the ensuing downward trend could become quite stable and prolonged.