New High-Level Groups Threaten Line Between Party and Government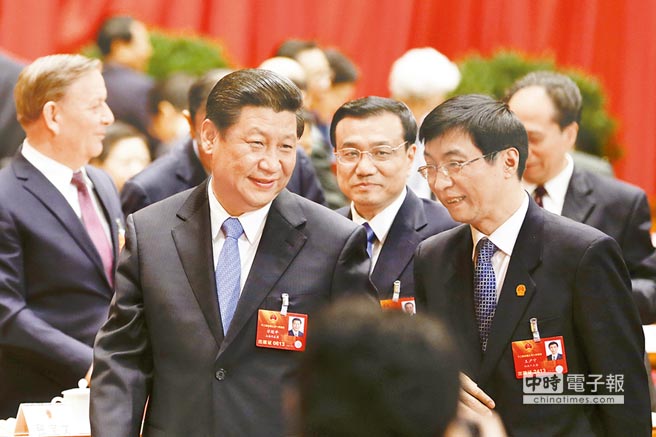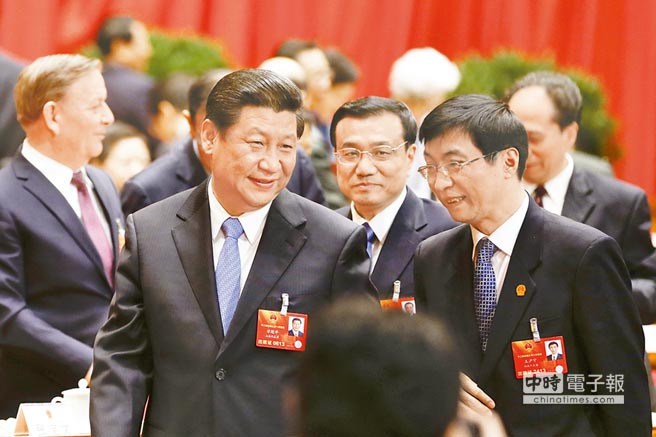 The Xi Jinping leadership is concentrating more powers in secretive leading groups and commissions at the apex of the Chinese Communist Party. These top-level decision-making and coordinating agencies—the Central National Security Commission (CNSC), the Central Leading Group on Comprehensively Deepening Reforms, and the Central Leading Group on Internet Security and Informatization—are run by Xi confidants who report mainly to the supremo. This raises questions about a lack of transparency and checks and balances, despite a pledge made by Premier Li Keqiang at the National People's Congress (NPC) that the State Council would undergo a "self-revolution," meaning that central government departments would be streamlined and their powers curtailed in the interest of giving a bigger role to the market and society (China News Service, March 5; People's Daily, March 5).
First established by the Third Central Committee Plenum last November, the CNSC and the leading group on deepening reform have already swung into action. Yet little information has been released regarding the staff, composition and objectives of the CNSC, which is billed as a platform for coordinating party, government and military units dealing with domestic stability and threats originating from "hostile foreign forces." Only the three top officials have been identified: Chairman Xi Jinping, Vice-Chairmen Li Keqiang and NPC Chairman Zhang Dejiang. All three are members of the all-powerful Politburo Standing Committee (PBSC). Some reports have included lists of organizations that will be represented in the CNSC, but these have not been confirmed. They include units such as the People's Liberation Army, the People's Armed Police, the Ministry of Foreign Affairs, the Ministry of Public Security, the Ministry of State Security as well as the CCP's International Liaison Department and Propaganda department (Wen Wei Po [Hong Kong], March 7; Global Times Forum, January 25).
Both official and Hong Kong media, however, have cited senior NPC members as saying that Politburo member Li Zhanshu, a Xi crony who runs the Central Committee General Office (CCGO), has become Secretary-General and overall troubleshooter of the CNSC. Deemed the nerve center of the entire party apparatus, the CCGO relates instructions of the top party organs including the Politburo Standing Committee to central and regional-level party organs; it also issues documents on major policies that are periodically circulated nationwide. The CCGO will double as the general office and clearing-house for the Commission (China Business News [Shanghai], March 10; Ming Pao [Hong Kong], March 10).
That Li, a former Xian party secretary and core member of the so-called Shaanxi Gang led by Xi, has no foreign affairs experience seems to lend credence to the theory that the CNSC is primarily focused on internal security. Given Li's close ties with his patron Xi, it will not be difficult for the supreme leader to make use of the quasi-police state apparatus under the Commission for tasks ranging from clamping down on dissent to attacking political foes of the fast-growing Xi Jinping Faction (Ta Kung Pao [Hong Kong], March 7; South China Morning Post, March 7). Xi's dominance of this committee may give him extensive, independent control of China's internal security apparatus, threatening the system of collective leadership established by Deng Xiaoping.
The authorities have been more forthcoming about the membership of the even more gargantuan leading group on reform. Its chairman is Xi, and its three vice-chairmen are Premier Li, ideology and propaganda tsar Liu Yunshan and Executive Vice-Premier Zhang Gaoli, all of whom are Standing Committee members. Below them are ten ordinary Politburo members, including the three other premiers—Liu Yandong, Wang Yang and Ma Kai—as well as Heads of Party departments. The latter group comprises CCGO Director Li Zhanshu, Central Policy Research Office Director Wang Huning, Propaganda Department chief Liu Qibao and Organization Department chief Zhao Leji. Also represented are NPC Vice-Chairman Li Jianguo, Central Military Commission Vice-Chairman General Xu Qiliang and Central Political-Legal Commission Secretary Meng Jianzhu (China Youth Daily, March 13; Ming Pao, January 23).
Wang Huning, a former Fudan University professor and political adviser to ex-presidents Jiang Zemin and Hu Jintao, has been appointed secretary general of this central leading group. He is also the director of the Central Policy Research Office (CPRO). An opaque outfit whose activities are seldom reported in the official media, the CPRO is China's highest-level think tank on domestic and foreign policies. It now serves the addition function of being the general office and clearing house of the Group. The leading group also has two deputy secretary-generals, CPRO Vice-Director Pan Shengzhou and Vice-Chairman of the State Council's National Development and Reform Commission (NDRC), Mu Hong. Pan is an agricultural expert, while Mu's NDRC portfolio includes fixed-assets investment and auditing of major projects (Finance.12cn.com, March 10; Hong Kong Economic Times, March 10).
As in the case of the CNSC, the reform leading group has manifested two traits of Xi's style of administration. First, a nebulous party organ is taking over major responsibilities from the State Council apparatus, which until the 18th Party Congress had played a major role in the formulation and execution of policies such as economic reform. Moreover, given that Xi's instructions will be relayed to a dozen-odd party and government departments by the loyal Wang, he will be able to exercise personal power, possibly avoiding even the oversight of his colleagues in the collective leadership. Even more than with the CNSC, the towering structure of the reform group could result in a top-down chain of command that is underpinned by multiple layers of bureaucracy. (See "Xi's Power Grab Towers over Market Reforms," China Brief, November 20, 2013).
Few details have been publicized about the latest superagency formed by Xi, the Central Leading Group on Internet Security and Informatization, which is in charge of enhancing Internet-related security and nurturing the country's IT industry. Its chairman is Xi, and the two vice-chairmen are Premier Li and Liu Yunshan. The Secretary-General of the Leading Group is Lu Wei, who heads the State Internet Information Center (SIIC). Together with the Internet Division of the Ministry of Public Security, the SIIC's main task is to ensure that the Internet is purged of "destabilizing materials." Prior to his SIIC appointment, Lu was a senior executive at the Xinhua News Agency and the State Council Information Office. Party and government units represented in the leading group will likely include the Ministry of Public Security, Ministry of State Security, State Council Information Office, the SIIC, the Ministry of Industry and Information Technology and the party's Propaganda Department (Xinhua News Agency, February 28; Guancha.cn, February 28; Ming Pao, March 28).
The establishment of the three top-level decision-making and coordinating organs have testified to Xi's preoccupation with "top-level design" in the course of rolling out reform measures. Yet this top-down approach to reform carries inherent risks. As Jiang Zhiyong, an expert at the State Information Center pointed out, "the momentum for reform this time is coming from the very top [of the party]." "Initiatives from the top are being implemented layer by layer by central and regional [administrations]," he added. Jiang said that since mid-echelon and grassroots cadres are already very familiar with this top-down approach, new reforms could be adulterated by foot-dragging officials. He cited "going through the motions and putting on shows" as typical strategies adopted by regional cadres to water down orders from on high (People's Daily Forum, March 25; Ta Kung Pao, March 17).
It is significant that the only major party and state institution that Xi has not touched is the anti-graft establishment, which consists of the party's Central Commission for Disciplinary Inspection (CCDI) and the Ministry of Supervision (MOS) of the State Council. The two units, which share the same website, operate under the system of "one office, two name plaques." CCDI Secretary Wang Qishan, one of two PBSC members who are not involved with the CNSC or CLGCDR, has expanded the scale and scope of the CCP's anti-corruption operations since he became top graft-buster in late 2012. For example, the number of Disciplinary and Inspection Offices—each of which is responsible for a specific number of party and government units at the central and regional levels—has been increased from ten to twelve. Wang, a princeling and former vice-premier who is deemed a close ally of Xi's, has added an office that is tasked with supervising the staff of the CCDI and MOS. Equally significant is the fact that Wang has expanded the staff and authority of inspection work groups that are regularly deployed to the regions to root out local-level corruption (Ta Kung Pao, March 18; China Daily, January 15). While Wang's CCDI has nabbed more than 20 cadres with the rank of vice-ministers or above, at least half these "tigers" are related the patronage group of former PBSC member Zhou Yongkang, who is one of Xi's major political foes. While Xi is resorting to the familiar tactic of wielding the "anti-corruption card" against his enemies, an empowered CCDI can also crack the whip on regional cadres who have proved to be inefficient in carrying out orders from the top. (United Daily News [Taipei] February 10; BBC Chinese Service, November 4, 2013).
Apart from challenging Deng's principle of collective leadership, President Xi's ruling philosophy has also run counter to two other precepts laid down by the Great Architect of Reform: the separation of party and government and the "five lakes and four seas" (Xinhua Forum, July 2, 2011; People's Daily, September 3, 2010). Separation of party and government, which was enshrined in the Political Report to the 13th Party Congress of 1987, refers to the fact that party authorities should focus on broad issues such as long-term planning, while day-to-day administration of the country should be left to the government. Moreover, senior cadres should come from the "five lakes and four seas," a reference to the personnel principle of striking a balance among officials of different backgrounds and affiliations. The establishment of the new top-level groups, however, testifies to Xi's preference for a Mao-style centralism that is predicated upon personal networks functioning without oversight or checks on their power. It remains to be seen whether this dramatic centralization of power will speed up or retard the realization of Xi's Chinese Dream.