'A Peaceful, Friendly and Civilized Lion': Xi Explains China's Rise in Europe
Publication: China Brief Volume: 14 Issue: 7
By: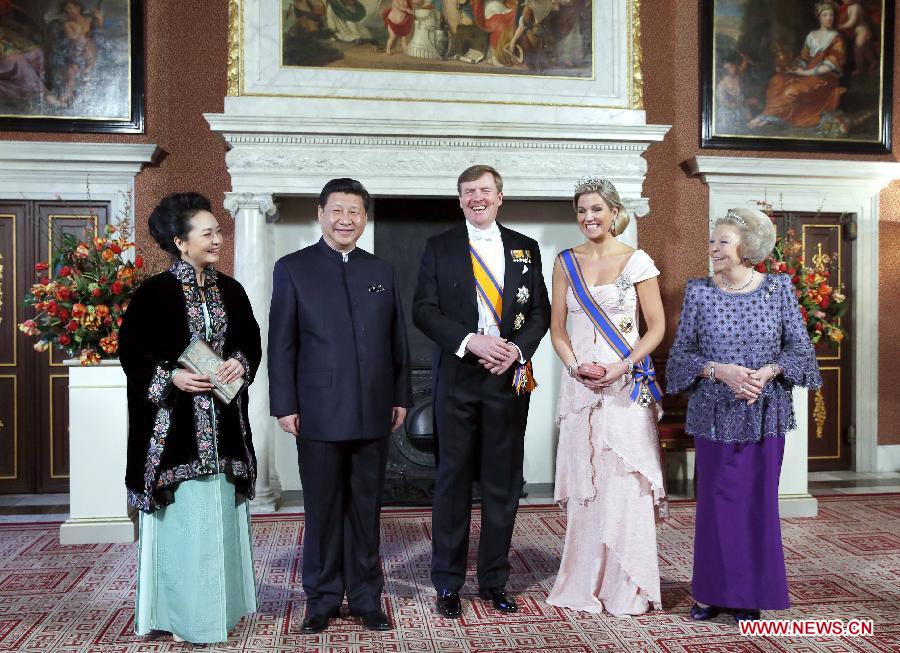 During an 11-day tour of Europe, Chinese President Xi Jinping stuck to familiar themes. In a series of speeches and op-eds published in European newspapers, he delivered a message of peace, cooperation and friendship­—and of minding your own business. The visit was accompanied by the resolution of a long-running trade dispute over solar panels, and followed by the release of a policy paper on EU-China relations that called for speedy negotiations on a bilateral free trade agreement (China.org, April 4).
Xi's statements centered on the idea of a relationship between two great civilizations. He articlualted an argument that China's rise will benefit Europe as long as European governments learn to live with and respect China's system of government. This argument illuminates the content of the idea of "mutual respect," one of the three pillars of Xi's "new type of great power relationships," and reflects Beijing's growing willingness to demand respect for one-party rule from other nations.
The argument began with a speech at the headquarters of the United Nations Educational, Scientific and Cultural Organization (UNESCO) in Paris on March 27 (China.org, April 1). Xi spoke about the diversity of different civilizations, framing the acceptance of differences as a fount of creativity and a prerequisite to peace. With this respect, he said, "Greater exchanges and mutual learning among civilizations can further enrich the colors of various civilizations and the cultural life of people, and open up still greater alternatives in the future." Without it, however, nations will only make enemies, "Taking a condescending attitude toward a civilization can not help anyone to appreciate its essence but may risk antagonizing it." Nor should civilizations seek to copy one another: "Every civilization is unique. Copying other civilizations mechanically or blindly is like cutting one's toes just to fit his shoes, which is not only impossible but also highly detrimental."
Speaking on April 1 at the College of Europe in Bruges, Xi tied the idea of respect for civilization to respect for China's political system, explicitly rejecting liberal democracy as unsuitable for China: After reviewing two of China's key historical ideas—those of 5,000 years of history and a "century of humiliation," he turned to China's revitalization in the 20th century, framing the current system as the successful result of a series of political experiments that began with Sun Yat-sen (China.org, April 4). China, he said, "experimented with constitutional monarchy, imperial restoration, parliamentarism, multi-party system and presidential government, yet nothing really worked. Finally, China took on the path of socialism." Despite some missteps along the way, "The uniqueness of China's cultural tradition, history and circumstances determines that China needs to follow a development path that suits its own reality. In fact, we have found such a path and achieved success along this path" (For more on this reading of modern Chinese history, see "Old Wine in an Ancient Bottle," China Brief, March 20).
According to this narrative, European countries—and the world—will gain from China's rise, as long as they do not try to undermine Party rule (For more on China's concerns about foreign ideology, see "China's Ideological 'Soft War,' " China Brief, February 20). Respect for China's unique qualities is a prerequisite to receiving economic benefits, such as participation in the trans-Eurasian Silk Road Economic Cooperation Belt proposed last year. It is also necessary to avert the danger of war—a connection Xi drew in his UNESCO speech, referring to World War II and praising the organization's role in promoting peace through mutual understanding. But understanding China should also be an end in itself: Chinese civilization and historical experience, he said, make it a uniquely attractive strategic partner, committed to peace and capable of achieving great power status without seeking hegemony. As Xi said at an event commemorating the 50th anniversary of relations between France and the PRC, "Napoleon once said that China was a sleeping lion, and that when it woke it would shake the world. This lion has already woken, but it is a peaceful, friendly and civilized lion." The policy paper on EU-China relations, released as Xi returned from his trip, describes the relationship as a way of building a "multipolar" world order and emphasized China's commitment to strengthening international organizations (China.org, April 2).
To obtain these benefits, however, other countries must demonstrate respect for China by keeping out of contentious issues like Tibet, Taiwan and human rights. China has made it clear that its willingness to tolerate such interference is diminishing: Norway remains locked out of trade talks with China three years after the Nobel Peace Prize was awarded to Chinese dissident Liu Xiaobo (South China Morning Post, October 29, 2013). The policy paper includes numerous such demands: European countries must not sell weapons to Taiwan, nor support its membership as a state in international organizations. They must "properly handle Tibet-related issues," avoiding meetings between European officials and the Dalai Lama and preventing him from visiting Europe to "engage in separatist activities." The EU "should lift its arms embargo on China at an early date." And, on human rights, "The EU side should attach equal importance to all forms of human rights, including civil, political, economic, social and cultural rights and the right to development, view China's human rights situation in an objective and fair manner, stop using individual cases to interfere in China's judicial sovereignty and internal affairs, and to create a good atmosphere for human rights dialogue and cooperation between the two sides."
Xi's visit to Europe, and the accompanying statements, have fleshed out his view of the terms of China's current position in the world. There has been little change in China's "peaceful development" messaging, which disavows military ambitions and participation in "great game"-style geopolitics in favor of "win-win cooperation." But at the same time, Xi believes that China is ready to carve out a space of its own in which it can dictate the terms of its relationships.