New Sanctions Against Russia Weigh on Its Closest Trade Partners
Publication: Eurasia Daily Monitor Volume: 15 Issue: 64
By: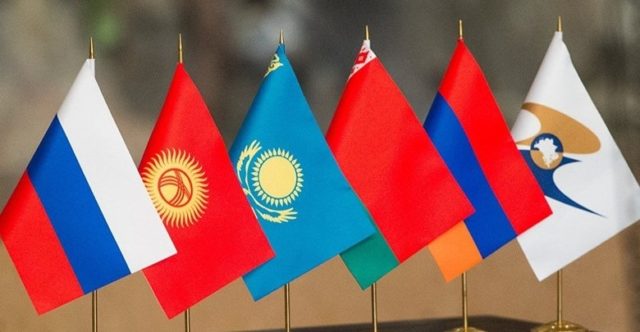 The United States Treasury's Office of Foreign Asset Control (OFAC), whose responsibility is to enforce US sanctions against foreign countries and nationals, rolled out a new package of economic restrictions against Russia, on April 6. Following its illegal annexation of Crimea in 2014, Russia has come under several progressively tougher rounds of sanctions by the US and the European Union, which were promptly joined by Western allies and partners, including Switzerland, Norway, Australia, and Japan as well as Ukraine. The latest sanctions round represents the US government's most forceful response to date, applied in response to a host of hostile or malign actions undertaken by Russian authorities and Kremlin-linked oligarchs. These include continued support of separatism in eastern Ukraine, Moscow's backing of President Bashar al-Assad's regime in Syria, and Russian interference in the 2016 US presidential election (RIA Novosti, RBC, Forbes.ru, April 6).
The biggest casualties of the new sanctions have been two Russian oligarchs (out of the seven punished by the US), billionaires Oleg Deripaska and Viktor Vekselberg. Deripaska's companies Rusal (the world's second-largest aluminum producer), En+ (the main vehicle for owning Rusal), and Basic Element (a diversified industrial group) found themselves in the crosshairs of the Donald Trump administration. They have been rapidly losing market value, with Rusal shedding more than 50 percent of its market cap on the first trading day following the announcement of its de facto expulsion from US financial markets. None of the oligarchs sanctioned has a significant connection to Kazakhstan or, indeed, Russia's other key partners in the former Soviet space, thanks to the predominantly international nature of their operations, focused on North America, Europe and Asia. Nevertheless, Russia's neighbors are worried about potential spillover effects for their economies and domestic stability (Moskovsky Komsomolets, Vedomosti, April 9; Kommersant, April 6).
The Russia-led Eurasian Economic Union (EEU), established in 2014 by Russia, Kazakhstan and Belarus and later joined by Armenia and Kyrgyzstan, will no doubt suffer from the indirect consequences of stronger sanctions against Moscow. As one of Russia's closest trade partners within the EEU, Kazakhstan has been showing the earliest signs of anxiety. The Central Asian country's mutual trade with the other EEU members grew in January–March 2018 by 6.1 percent year-on-year, after being boosted by higher growth forecasts and returning investor confidence. But a new bout of turbulence in Russia could jeopardize the slow recovery, almost four years after a collapse in the price of oil led to an unprecedented downturn across the economic bloc. Russia remains the rainmaker throughout post-Soviet Eurasia and has an especially high significance within the EEU, due to closer trade integration and tighter political ties among these states (Inform.kz, April 18; Regnum, Kursiv, April 17).
The main concern for the Kazakhstani government is the stability of its currency, the tenge. National Economy Minister Timur Suleimenov said, on April 14, that his ministry had modeled three possible scenarios, whereby the ruble would spike to 70, 80 and 90 to the dollar (62.7 today). The ruble's weakening could suddenly make most Kazakhstani exports to Russia too expensive and therefore unprofitable, while Russian imports would become cheap and drive local products off the market. Yet, for that to happen, the Russian economy would first need to demonstrate clear signals of distress. The current sanctions do not warrant such a dire forecast, but the uncertain implications of Rusal's financial difficulties could spell large troubles further down the road. Rusal alone employs around 170,000 people and, in the case of bankruptcy, would be compelled to lay off most of them. Problems might also arise for leading state banks such as Sberbank and VTB, whose CEOs were both sanctioned in early April (Kapital.kz, April 14; Nezavisimaya Gazeta, April 10).
The effects will soon be felt in the Kyrgyz Republic, since hundreds of thousands of its citizens work as labor migrants in Russia. Kyrgyzstan's economy has been held hostage for decades to internal political instability. The now-former president Almazbek Atambayev, who recently became the chairman of the ruling Social Democratic Party, unexpectedly criticized his handpicked successor on March 31. The loss of appetite toward the Kyrgyzstani market from Western investors, driven away by internecine struggles for power, will only be exacerbated by Russia's chronic inability to fill the void with state-sponsored projects and subsidies. The dwindling of remittances from Russia is a major risk for Kyrgyzstan, as much as the likely reduction of Russian government aid to Armenia, itself currently experiencing unpredictable political turmoil (see EDM, April 23, 24; Vesti.ru, Lenta.ru, April 17; Deutsche Welle, April 13; Kloop.kg, March 31).
Belarus is not an exception to the rule: the Minsk government heavily depends on Russian oil and natural gas price concessions to survive. Tensions between the two capitals are not rare and may turn into significant friction in times of crisis. In early April, Russian Agriculture Minister Alexander Tkachev advised Belarusian producers to seek out other export opportunities, reportedly because Moscow wants to replace all imports with local produce. Belarus's share of the Russian market was over 86 percent in 2017. The administration of Alyaksandr Lukashenka is directly sanctioned in the United States (Naviny.by, June 14, 2017) and likely understands the extent of the fallout from Russia's international economic isolation. At a time when an increasing number of Western firms are reducing their exposure to the Russian market, investment opportunities are far from abundant in the EEU, even as economic growth has picked up. Russia's geopolitical games are causing considerable collateral damage to its allies, who increasingly view Moscow as a toxic liability (Sputnik.by, April 5).