Kyiv Develops Ties With Ankara—in Moscow's Shadow?
Publication: Eurasia Daily Monitor Volume: 15 Issue: 64
By: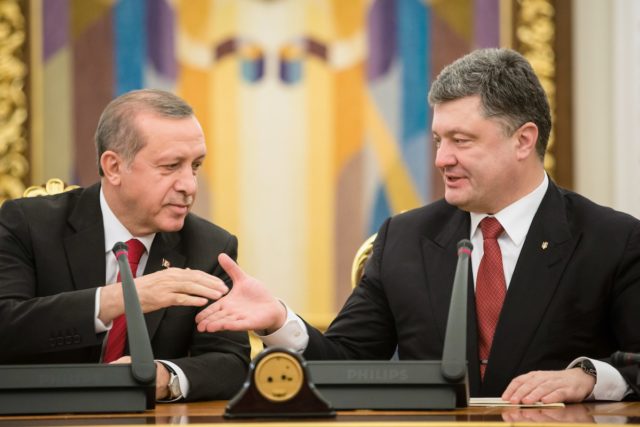 Ukraine has been exerting considerable effort over the last several years to forge closer links across the Black Sea with Turkey, which Kyiv views as a counterbalance to Russia in the region. The two countries' leaders have been meeting regularly of late. Turkish President Recep Tayyip Erdoğan came to Kyiv last October, and his counterpart, Petro Poroshenko, paid a visit to Turkey this month. Kyiv has been trying to turn Ankara into an ally against Moscow, and to change Turkish policies on natural gas transit routes in Ukraine's favor. Kyiv also hopes to successfully complete free trade talks with Ankara this year.
Kyiv tried to use the last major crisis in relations between Moscow and Ankara, which was prompted by the downing of a Russian bomber by a Turkish jet in 2015, to develop closer geopolitical ties, including in the military-technical field (see EDM, March 14, 2016). However, with the rapprochement between Russia and Turkey continuing since 2016, it has become clear that Turkish-Ukrainian relations will not be based on opposition to a common enemy. Along with nearly all other countries, Turkey condemned Russia's annexation of Crimea from Ukraine. But at the same time, Turkey did not join the West's sanctions against Russia for the annexation.
Turkey, which has maintained strong links with the Turkic nation of the Crimean Tatars, helped Ukraine to free from Russian captivity two Crimean Tatar activists, Akhtem Chiygoz and Ilmi Umerov, last fall (see EDM, November 2, 2017). Following Erdoğan's visit to Ukraine and subsequent talks with Vladimir Putin, Russia transported the two men to Turkey, from where they arrived in Kyiv (Ukrinform.ru, October 25, 2017; Interfax, November 30, 2017). At the same time, the Turkish authorities, in spite of objections from Kyiv, have frequently turned a blind eye to Turkish commercial ships calling at Crimean ports, at least until last October (Segodnya.ua, January 17, 2018).
Ukraine's appeals to Turkey to reject the Russian Turk Stream gas pipeline project have fallen on deaf ears. In January, Turkey issued to Russia's Gazprom permission to build the second string of Turk Stream to the Turkish coast (Gazprom.com, January 19). While the first string is intended to bring Russian gas to the Turkish market only, the second is designed to divert gas bound for European consumers from the Ukrainian transmission network starting in 2020, when the current gas transit contract between Ukraine and Russia expires. With the help of Turk Stream and a new joint pipeline with Germany, Nord Stream Two, Moscow threatens to make Ukraine's pipelines useless, undermining its economic security (see EDM, April 11, 24).
At the same time, Turkey continues to hinder Ukraine's efforts to secure liquefied natural gas (LNG) transportation from Qatar, which would diminish its dependence on Russian energy. Poroshenko, on his visit to Qatar last month, received new assurances of Qatari readiness to ship LNG to Ukraine (President.gov.ua, March 20). However, Ankara does not allow tankers bound for Ukraine to pass through the Turkish Straits. Poroshenko's press service, reporting on his meeting with Erdoğan in Istanbul after the trip to Qatar, only mentioned in passing that "trilateral cooperation" involving Qatar was discussed, which must mean that an agreement with Turkey is still far from being reached (President.gov.ua, April 9).
More progress is likely in bilateral trade. Kyiv expects that a free trade agreement will be launched before the end of this year. Importantly, Turkey was Ukraine's third-largest export market after Russia and Poland last year, accounting for 5.8 percent of exports; while Turkey's share in Ukrainian imports was less significant, at 2.5 percent (Ukrstat.gov.ua, accessed April 26). With the help of a free trade deal, Ukraine hopes to return to the levels reached in the pre-crisis year 2008, when bilateral trade turnover amounted to $8 billion. Although last year, trade between the two jumped 16 percent compared to 2016, the sum total was only $4 billion. Free trade talks have continued for more than seven years already, and 90 percent of its provisions had been agreed by 2018, Ambassador to Turkey Andry Sybyha said in an interview early this year (Segodnya.ua, January 17).
The next round of talks is scheduled for May. In a notable achievement for Ukraine, Turkey has agreed that the upcoming free trade deal will cover not only industrial, but also agricultural goods, Ukraine's trade representative Natalya Mykolska noted recently (Interfax, April 11). Ukraine has been increasing agricultural exports over the last several years, thanks to bumper harvests, so easier access to the Turkish market of 80 million people would be an important success story.
Given the irreparably spoilt relations with Vladimir Putin's Russia, tense relations with Belarus, as well as the disputes over history with Poland and over minority language rights with Hungary and Romania (see EDM, April 25), Turkey for the moment appears the least problematic among Ukraine's big neighbors. Ankara's attitude has been cooler and rather independent of its relations with third parties, given the wealth and influence gaps between the two countries. Turkey apparently is not inclined to view Ukraine as an important geostrategic partner, but Kyiv and Ankara can be expected to continue building intensive economic ties, particularly since the two neighbors have rapidly developing economies and relatively large markets.