'New Tajikistan'—New Tensions?
Publication: Eurasia Daily Monitor Volume: 10 Issue: 96
By: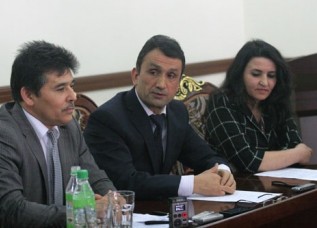 Tension has gripped Tajikistan over the past several weeks in response to the establishment of a new political party. The founding of this party by reputable political, business and academic elites has awakened the public and represents a new phenomenon in the political life of the country, which is not used to witnessing overt expressions of disagreement with the existing political, social and economic situation.
On April 6, a group consisting of several successful businessmen, famous political scientists and former high-level public servants announced the formation of a new political party—"New Tajikistan"—led by Zaid Saidov, a successful businessman, former minister of industry of Tajikistan and, as of May 13, the former Head of the Coordinating Council of Business and Public Associations of Tajikistan (CCBPAT). The main goal of the party will be achieving economic independence, prosperity and well-being for the population of Tajikistan. According to Saidov, "New Tajikistan" will not be putting forward a candidate for the presidential elections in November 2013, but at the same time it is not going to become a "pocket" party—that is, a virtual opposition group created by or linked to the ruling party of President Emomalii Rahmon. "New Tajikistan" plans to participate in the parliamentary elections set for 2015 (Asia Plus, Ozodi, April 6).
The announcement of the creation of "New Tajikistan" was met with broad discussion and debate by political analysts, but it also sparked more extreme responses and pressure from certain quarters. On May 10, the new party announced that its leader, Saidov, received a text message on his mobile phone with a threat on his life.
Political pressure on Saidov quickly became more overt as well. On May 11, while Saidov was in France on official business as Chairman of Tajikistan's National Table Tennis Federation, his house was raided by the police. According to his son, investigators from the Ministry of Interior presented a warrant and searched the Saidovs' house (Asia-Plus, May 11). All members of Saidov's immediate family, including a five-year-old child, were taken to Dushanbe city's prosecutor's office (Avesta, May 12).
The same day, the prosecutor's office initiated a criminal case against Saidov, accusing him of polygamy and living with four wives (Asia Plus, May 12). In addition, a separate, financial criminal case was leveled against Saidov in relation to the construction of "Dushanbe Plaza"—the highest building in Tajikistan, built by "Toj-Sokhtmon Baynalmillal," a construction company affiliated with the "New Tajikistan" leader (Ozodi, May 11).
Speaking with the media outlet Ozodi by Skype from France on May 12, Saidov noted that following the announcement about creating the "New Tajikistan" party, a "head of a state authority" had "suggested" that Saidov give up the idea of forming a new political party at this particular time (referring to the forthcoming presidential election, scheduled for November 2013). "When I said that it is our legal right and the legislation of the country does not impose any timeframe for such initiatives, the 'authorities' were unhappy that we [the founders of 'New Tajikistan'] did not follow their 'suggestions,'" added Saidov. He also noted that he started receiving direct death threats against him and his children through a messenger speaking on behalf of Tajikistan's president; later, he began receiving threats via text message (https://www.youtube.com/watch?feature=player_embedded&v=X23QNvsYghM).
In a further attack on Saidov, on May 13, Tajikistan's business lobby CCBPAT called an extraordinary meeting and voted to liquidate its Coordinating Council, which Saidov headed, "in connection with the improper implementation of the Charter's goals by the Management of CCBPAT." The organization's justification was that Saidov had used the CCBPAT for his own achieve political ambitions (Asia Plus, May 13).
After returning from France on May 19, Saidov was arrested and taken directly from the airplane to the State Financial Control and Anticorruption Agency (Ozodi, May 19). The agency initiated its own criminal case against Saidov, accusing him of a series of economic crimes during his service as minister of industry of Tajikistan (Asia Plus, May 19). Saidov had been nominated chairman of the Committee of Industry of Tajikistan in 1999, serving in a seat allocated to the United Tajik Opposition (UTO) according to the Peace Agreement signed in June 27, 1997, between the UTO and the government. In the early 2000s, when most representatives of the UTO in government were being dismissed for various reasons, experts assumed Saidov would lose his position as well. However, Saidov stayed on longer than any other UTO leader in the government, serving as minister of industry until 2007.
Judging by the online comments to the April 6 Asia Plus article that reported on "New Tajikistan's" formation, the new political party's message has divided public opinion into two groups. While one group assumes the initiative is an attempt to create a "pocket" party on the eve of presidential election in fall 2013, others consider the initiative a timely project due to the lack of visible prospects for the improvement of Tajikistan's democracy, living standards and economic environment.
Unlike the public, the authorities have a singularly negative view of "New Tajikistan" and its leadership based on the potential political threat it poses to the ruling party. The Islamic Renaissance Party of Tajikistan (IRPT) is currently Tajikistan's only non-governing party with real political power, and forms a genuine opposition to President Rahmon's National Democratic Party (NDP). All other existing parties are considered to have been either created, coopted or neutralized by the NDP, or simply lack supporters. However, while the IRPT is represented by a single widely respected leader, the "New Tajikistan" party already has many prominent members well-regarded by Tajikistani society, with more ready to join.
"New Tajikistan," therefore, represents a new development in the country's political life because it is the first new political party to be led by such a wide assortment of independent, well-known and respected politicians, businessmen and academics. These include Mahmud Kosimov, former deputy chairman of the State Customs Committee and former first deputy minister of labor and social protection of Tajikistan; Shavkat Bozorov, the chairman of the National Association of Managers and Marketers; Abdugani Mamadazimov, head of the National Association of Political Scientists; and Bobo Sanginov, a member of the Academy of Agricultural Sciences of Tajikistan. Moreover, the group's leader, Saidov, has a positive reputation among both the business and political elite of the country. This makes Saidov a serious political opponent to the current ruling elites who have already lost their credibility due to widespread corruption and the absence of obvious prospects for the improvement in the political and economic life of the country.
Based on this uniqueness of the "New Tajikistan" party and the concern it inspires in the governing regime, the pressure and threats against Zaid Saidov are unlikely to stop and may spread to his associates. When soft "suggestion" did not dissuade Saidov, Tajikistan's authorities moved on to legal pressure and attempts to discredit him as a businessman and citizen. One can only hope that the threats Saidov received by text message do not foreshadow the government's next steps.