Sources of Moldova's Political Chaos: The Partition of State Institutions
Publication: Eurasia Daily Monitor Volume: 10 Issue: 97
By: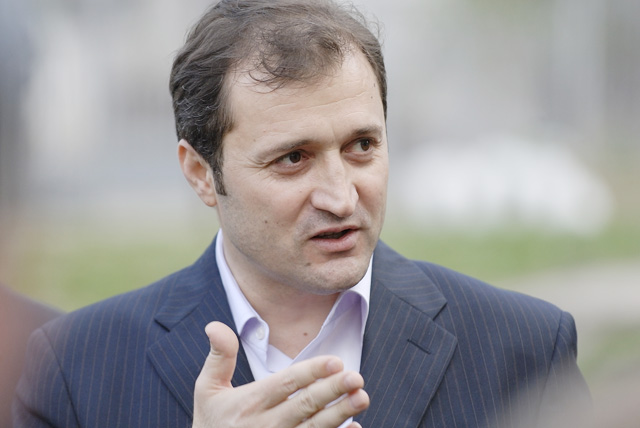 The downfall of Moldova's governing Alliance for European Integration (AEI), and the earlier collapse of Ukraine's Orange coalition, are comparable processes in their origins and their consequences. There is also one major difference. In Moldova, a pro-Europe team fit to govern under prime-minister-designate Iurie Leanca and Liberal-Democrat leader Vlad Filat has survived the chaos, at least for now (see below); whereas no such team had emerged from the early Orange collapse in Ukraine (see EDM, January 31, 2006).
In Moldova as in Ukraine, political experiments with governance by immature parties in coalitions had a devastating impact on the fragile institutions of these states. It resulted in the apportionment of most state institutions among political parties and party-affiliated business interests, for their exploitation. Under the AEI in Moldova as in Orange Ukraine, this became the very basis of government by coalition, arduously negotiated among factions, and embodied in coalition agreements.
Although encouraged from the West, those coalitions could not have provided a stable basis for governance. Instead, they turned into sources of chaos. In Moldova as in Ukraine, the coalition arrangements were subject to constant re-negotiation and re-division of the spoils among intra-coalition rivals. This in turn caused multiple political, government and constitutional crises, the syndrome of permanent elections, and ultimately the coalitions' downfall in both countries, albeit at different speeds. Ukraine's political, justice and law enforcement institutions had foundered, along with the coalition itself, within barely one year after the Orange revolution (see above). For its part, Moldova's AEI fell in slow motion during a three-year period, and its terminal crisis dragged on for four months (January–April 2013), followed by deepening chaos.
The European Union helped to prolong AEI's agony. The EU insisted on the preservation of this coalition for fear of a Communist revanche, to plaster up the image of Moldova's promising democratic experiment, and to qualify Moldova for association and related agreements with the EU this year or next. By trying to prop up the AEI at almost any cost, however, Brussels seemed to overlook this coalition's fatal flaws.
Those flaws went beyond dysfunctionality. Under AEI's cover, the wealthiest Moldovan businessman, Vlad Plahotniuc, was amassing control over state institutions, operating through his Democratic Party and Mihai Ghimpu's Liberal Party against the Liberal-Democrats' Filat-Leanca ministerial team. Formal party labels being meaningless in Moldova, the main practical difference was all along that Filat's ministerial team executed the Moldova-EU Action Plan, while the two intra-coalition rivals demanded more powers for themselves as the price for preserving the AEI. Under duress, Filat made serial concessions to the rival groups. Those concessions are still haunting the political and institutional system.
The AEI-2 coalition agreement, signed in December 2010 (superseding the AEI-1 agreement of 2009) proved to be a fatal turning point of no return. A secret annex to the AEI-2 agreement (leaked much later to the press) divided all state institutions among the three parties. It met Plahotniuc's main goal by allocating some key law enforcement positions to his Democratic Party (officially led Marian Lupu, speaker of parliament until April 2013). The AEI-2 arrangement turned into a shield of Plahotniuc's business and political interests as well as a cudgel against Filat's party. Furthermore, Plahotniuc himself became a member of the National Council for the Reform of Law Enforcement Bodies, potentially gaining a share of official control over institutions already led by those unofficial proteges (Jurnal de Chisinau, May 2).
As with any non-transparent, extra-legal deal, the AEI-2 agreement was continually subjected to re-negotiation of some of its terms. Filat's party finally withdrew from that agreement (not from the AEI coalition government) in February 2013. But it blundered again in April by accepting a vast increase in the Plahotniuc-Lupu party's control of state institutions, far beyond the AEI-2 terms. The April deal would have turned Plahotniuc into Moldova's de facto political hegemon. As in December 2010, but on a larger scale, Filat's party paid the price in April 2013 to preserve the AEI government and its core team under Filat's leadership. Within days, however, Ghimpu's and Plahotniuc's political allies on the Constitutional Court invalidated President Nicolae Timofti's re-nomination of Filat as prime minister. The Court's ruling did not name anyone, but its wording could directly apply to several of Filat's ministers—and potentially to any ministerial official "over whom suspicions of corruption are hovering [sic]," until they themselves "disprove" such suspicions (Unimedia, April 22, 23).
On May 14, Timofti designated Filat's closest teammate, Leanca, to form a new government (Moldpres, May 14, 15). Plahotniuc-affiliated electronic outlets, such as Publika.md (enjoying re-runs in the daily newspaper Timpul), have responded with dark hints at the possibility of removing Timofti from office. For his part, Ghimpu has threatened repeatedly to initiate impeachment proceedings against the head of state. He lacks the strength to try this in the parliament, but he does have allies on the Constitutional Court (see accompanying article).