New Uzbek President Courts Moscow During State Visit
Publication: Eurasia Daily Monitor Volume: 14 Issue: 53
By: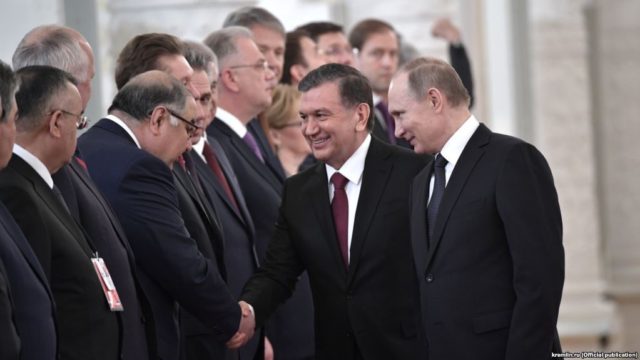 Uzbekistan's new head of state, President Shavkat Mirziyaev made his first official visit to Moscow, on April 4–5. Though the visit was in fact the Uzbekistani leader's third foreign trip as president, after traveling to neighboring Turkmenistan and Kazakhstan, Russian commentators nevertheless called it Mirziyaev's most important foreign visit since his election in early December 2016. Uzbekistani officials reportedly concurred that the visit was a historic one, elevating relations to a qualitatively new level never seen before (Sputniknews-uz.com, April 5).
The results of the visit indicate that Uzbekistan under Mirziyaev will continue to stay out of Russian-led regional economic and military-political blocks, like the Eurasian Economic Union (EEU) and the Collective Security Treaty Organization (CSTO). But Tashkent is apparently prepared to remove all barriers and restrictions to furthering all-round and comprehensive cooperation between the two countries. In a new development, President Mirziyaev will rely on Kremlin-friendly Russian oligarchs of Uzbek origin—like the chairman of UMS Holding, Alisher Usmanov, and the owner of the Ural Mining and Metallurgical Company, Iskander Mahmudov—to make substantial investments into Uzbekistan's economy. Most of the lucrative investment and economic cooperation deals agreed to during the visit (together valued at $16 billion), such as the creation of new mining and metallurgical plants in Uzbekistan, the supply of at least half a million tons of Russian oil to Uzbekistani refineries, and other projects, would be financed using the private capital of these two Russian businessmen, who enjoy close personal relations with both President Mirziyaev and President Vladimir Putin (Ozodlik Radiosi, April 6).
In return for facilitating Uzbekistan's agricultural, textile, automobile and other exports to the Russian market, the government in Tashkent significantly reduced or completely removed excise taxes on Russian-made cars, rolled steel, food items and construction materials (Mk.ru, April 5). Both sides also reached a landmark agreement on the orderly recruitment of migrant laborers from Uzbekistan for temporary employment in Russia. Uzbekistan's officials hailed the agreement as a great success and an important document for ensuring the protection of the legal rights of the Uzbekistani migrant workers in Russia, who are often subjected to police abuse and rights violations by some unscrupulous employers. The usefulness of the said labor agreement will eventually be judged by the real impact it makes on the lives of around two million migrant workers. Importantly, however, it does not exempt Uzbekistani guest workers from any of the existing obligations imposed on migrants from non-EEU countries, such as compulsory residence registration and buying costly work permits (Ut.uz, April 11).
As expected, military-technical cooperation was singled out as another important area for bilateral ties (see EDM, February 15). On the day Mirziyaev landed in Moscow, the State Duma (lower house of the Russian parliament) ratified the military-technical cooperation agreement between the two sides, which was signed in November 2016. According to Vladimir Drojjov, the deputy head of the Russian Federal Service for Military-Technical Cooperation, Uzbekistan placed orders for the purchase of Russian military helicopters, the repair of military airplanes and tanks, and for ammunition supplies. Moreover, both sides are reportedly in talks over opening service centers and joint enterprises in Uzbekistan for the maintenance of Russian-made military equipment and the modernization of Soviet-era armored vehicles and tanks (Pnp.ru, April 5).
It was also underlined that both countries have similar positions regarding various global and regional issues of mutual interest. Uzbekistan's president said that he will support all Russian international initiatives that help to bring peace and stability to Afghanistan. He further promised to send an Uzbekistani delegation to attend an international conference on Afghanistan, which was scheduled to take place in Moscow on April 14. Most likely, these international initiatives toward Afghanistan do not include the Kremlin's suspicious contacts with and support for the Taliban, which were exposed by both US and Afghan officials (see EDM, February 1; VOA, April 11). Previously, one of the reasons cited for Uzbekistan's withdrawal from the CSTO in 2012 was the disagreement with Russia over approaches toward Afghanistan (News-asia.ru, June 29, 2012).
When Mirziyaev became president of Uzbekistan, Russian commentators dubbed him a "pro-Russian politician" due to his supposedly close ties with Kremlin-friendly Russian billionaires of Uzbek origin. Rumors also spread that Putin used his influence to back Mirziyaev during the succession struggle in Uzbekistan, following the sudden death of the late president Islam Karimov in September 2016 (Haqqin.az, September 9, 2016). Given all this, it was quite surprising that during Mirziyaev's visit to Moscow, there were no public pronouncements of support by the Russian leadership toward the Uzbekistani president's domestic reform agenda. And this is despite the fact that the Mirziyaev reforms include economic liberalization plans that would benefit all foreign investors, not least Russian companies working in Uzbekistan.
On the other hand, Uzbekistan's reform program, called "Development Strategies 2017–2021," has already received strong support from international financial institutions like the World Bank, the Asian Development Bank, as well as the European Bank for Reconstruction and Development (News.uzreport.uz, January 19; Uza.uz, March 3; Gazeta.uz, March 16). United States President Donald Trump also reportedly hailed the Uzbekistani leader's reformist agenda in his recent Navruz greetings by highlighting the progress and reforms that President Mirziyaev was undertaking in the country (President.uz, April 1). International support could help President Mirziyaev consolidate his power at home and persevere with his reformist agenda, despite strong resistance from certain powerful domestic rivals (Reuters, March 5).
According to observers well-versed in Russian behavior within the former Soviet space, the potential for Mirziyaev's Uzbekistan to genuinely become a strategic partner of and an ally to Russia will mostly depend on Russia itself. It is not a matter of how generous the Kremlin is with investments; rather, it will hinge on the Russian leadership's political tact and its understanding of the limits of Russian influence in Uzbekistan. Indeed, the latter country usually does not tolerate outside meddling or patronage. Instead, Uzbekistan prefers to keep all great powers at arm's length and to distance itself from military-political unions and blocs. Any acts of jealousy or ill-will on the part of Moscow over Uzbekistan's contacts with other countries and investors, including Western ones that could benefit this Central Asian republic's economy and serve the country's interests, would not be received well in Tashkent. Whether Russia is capable of nurturing the current unprecedented willingness from Uzbekistan for all-round and comprehensive cooperation remains to be seen. Successful bilateral cooperation will largely depend on the Kremlin's ability to understand and accept these realities (Rosbalt.ru, April 12).