Obama's State of the Union "A Mix of Love and Hate" Toward China
Publication: China Brief Volume: 15 Issue: 2
By: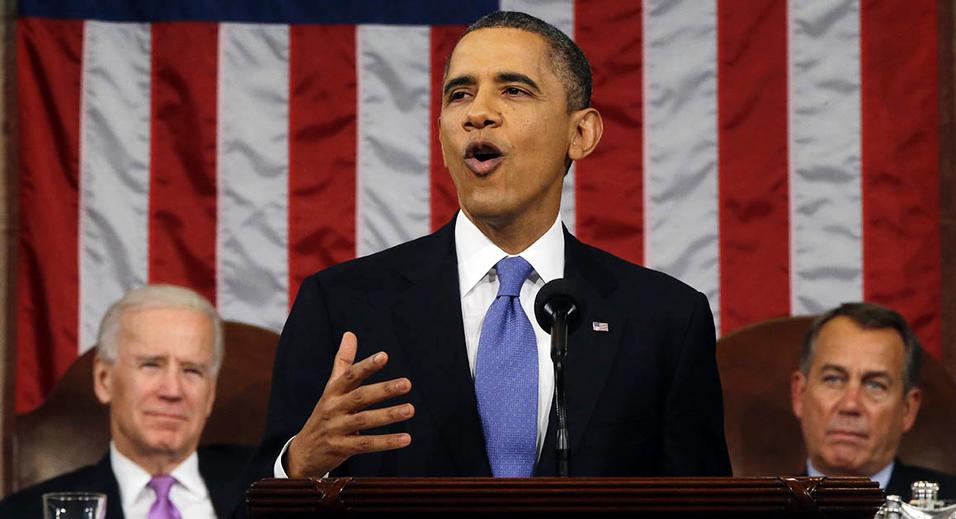 On January 20, U.S. President Barack Obama gave his second to last State of the Union address to the U.S. Congress, striking out a bold vision for his last two years in office. While the speech mainly focused on domestic issues, especially the economy and middle class, President Obama also touched on Asia, though he again failed to make the case for his "rebalance to Asia" to a domestic audience. The Chinese media saw a stronger Obama seeking a "breakthrough" in foreign policy, but did not link this to a tougher stance on China.
President Obama's tone on China was a "mix of love and hate," mentioning China directly three times and indirectly twice (Xinhua, January 21). First, Obama stated that the United States needs to increase exports, especially to Asia, but "China wants to write the rules for the world's fastest-growing region" (White House, January 20). This led Obama to ask "both parties to give me trade promotion authority [TPA] to protect American workers" by negotiating the Trans-Pacific Partnership (TPP) free-trade agreement, which excludes China. Second, Obama hailed the return of manufacturing jobs to the United States from China. Third, Obama touted the "historic" November 2014 environmental agreement with China to limit pollution by 2030. President Obama also discussed U.S. alliances and maritime security in Asia, as well as protecting the United States from cyber attacks—which the Chinese media correctly interpreted as at least in part aimed at China.
Chinese experts on U.S.-China relations sought to explain this framing of a cooperative yet competitive relationship. Fudan University professor Jin Canrong said: "As today's only superpower, the United States is extremely worried about a new power emerging and rewriting global rules, and at the same time wishes to revive its domestic economy by promoting re-industrialization, and this precisely means a competitive relationship with China. On the other hand, for responding to climate change, counter-terrorism and other global problems, the United States cannot solely rely on its own power, and it needs China's cooperation" (Global Times, January 22). Tsinghua University professor Sun Zhe said that President Obama "emphasized the competitive relationship with China" by talking about "requiring China to follow the rules the United States made for international norms" and the global market (People's Daily Online, January 21).
The Chinese media mostly saw a reinvigorated Obama that "wanted to put his all into the fight," though some were skeptical of how much he could get done with a Republican-controlled Congress (China Youth Daily, January 21). Although the Chinese media widely called President Obama a "lame duck president" after the Republican victory in the November 2014 midterm elections, the Global Times said that the U.S. economic recovery has given Obama "new wings" (see China Brief, November 7, 2014; Global Times, January 22). A Xinhua article stated that Obama "desires a foreign policy breakthrough on Cuba and Iran" to give himself a "foreign policy legacy," since "Republican control of Congress and warring political parties [mean] Obama's only free space is foreign policy" (Xinhua, January 21). Yet, Obama ultimately "needs political cooperation to succeed." Calling Obama's last two years "garbage time," Professor Sun said that "Obama needs to focus on making the U.S. economic recovery successful, and after that, he might be able to make some major foreign policy moves" (People's Daily Online, January 21). Sun predicted that these may include "establishing relations with Cuba, talking with North Korea and a possible agreement," as well as "limited military action" and "airstrikes" on the Islamic State organization. Despite President Obama's explicit pledge to veto any new sanctions on Iran, Sun also believed Obama may increase sanctions to "gain popular support." Yet Xinhua said that an Iranian nuclear deal would lead to a "chain reaction" in the Middle East, giving new momentum to the fight against ISIS (Xinhua, January 21).
The Chinese media also cast President Obama's speech in the context of the upcoming 2016 presidential election. One article said Obama played the "economics card" and "hopes to use the economic recovery to sell his policies and pave the road for the Democrats, who lost last year's election" (China News, January 21). Professor Sun was skeptical that Obama's tax plans would win Republican support and foresaw Republican complaints about taxing the rich, immigration and health care policy. One article called the Republican response by Senator Joni Ernst (R-Iowa) "much softer" than previous responses and added that possible third time presidential candidate Mitt Romney later commented that Obama's speech was "more interested in politics than in leadership" (China News, January 21).
President Obama's address did not offer any new policies toward Asia, and the approach to U.S.-China relations coasted from his November 2014 summit with Chinese President Xi Jinping. Most notably, President Obama has set his sights on finalizing TPP before he leaves office, but that is not a foregone conclusion. The question remains if President Obama will be able to muster enough domestic support for the tough negotiations ahead and bring enough Asian countries back into the U.S. fold to make TPP a worthy endeavor. At the same time, Obama must make good on his bolder rhetoric to shed his "lame duck" status and engage with a Chinese leadership that may increasingly be willing to sacrifice U.S.-China relations for more influence in Asia while waiting for the next president in 2017.