Patriotism in a Military Uniform
Publication: Eurasia Daily Monitor Volume: 14 Issue: 88
By: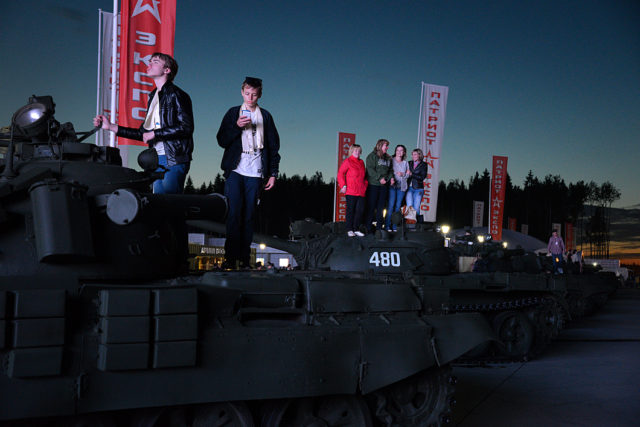 The Russian government is increasingly concerning itself with the views and aspirations of the youth. Until recently, schoolchildren and students seemed quite indifferent to politics. However, young people made up a large proportion of attendants at banned opposition rallies this year—on March 26 and June 12 (see EDM, March 30, June 12). Besides repressions against those who participated in the demonstrations, the state is aggressively returning to the Soviet practice of centralized "patriotic" indoctrination.
The government reportedly spends about half a billion rubles (around $8.4 billion) annually on "organizing events to promote the patriotic education of citizens of the Russian Federation." Added to this, according to researchers from Moscow's Higher School of Economics, 873 million rubles ($14.7 million) is spent each year "on patriotism" by local authorities (Nezavisimaya Gazeta, May 8). The researchers noted the main characteristic of this type of indoctrination "is a tendency of equating patriotic and military education, and sometimes pre-conscription training." Thus, as in Soviet times, the degree of love for country is measured by the speed with which a young man can disassemble and reassemble a Kalashnikov. And the Ministry of Defense has now taken over the main role of patriotic indoctrination in today's Russia.
Last May, tens of thousands of Moscow-region high school graduates and their parents saw their final graduation ball take on a distinctly militaristic character. A month and a half before June 24, the day usually assigned to the graduation prom, school directors announced that the festivities this year would be held at the recently built "Patriot Park," in Kubinka, on land belonging to the Russian defense ministry. The declaration confounded the students as well as their parents, particularly since cafés and restaurants had already been reserved for the celebration by that point. Local officials did not hide the fact that the initiative for this change came directly from Defense Minister Sergei Shoigu. "In fact, it was Shoigu's order. It will be problematic for the region to fulfill it, but it cannot be denied," one of these officials told the media (RBC, May 19). It is also worth pointing out that the governor of the Moscow region, Andrei Vorobyov, is the son of Federation Council (upper house of the Russian parliament) member Yuri Vorobyov, who had worked as Shoigu's deputy in the Ministry for Emergency Situations. As the result of Shoigu's initiative, 22,000 graduates were bussed to Kubinka (for some of them, the trip there and back took eight hours) to hear the governor's speech and songs performed by popular artists. They also had the opportunity to be photographed in front of tanks and helicopters, and eat porridge with meat from pre-deployed military field kitchens (Novaya Gazeta, Argumenty i Fakty, June 25).
Many graduates could not comprehend why they had been brought to Patriot Park. Most likely, the military authorities wanted to prove that this facility, created by the initiative of the defense minister, is needed for the patriotic education of the public. The first phase of construction of the Park cost about 20 billion rubles ($338 million), and these grounds were originally intended to exhibit Russian arms and military equipment, host various military competitions, as well as showcase battle reenactments such as the "storming the Reichstag," which was held this year on May 9 (for this purpose, the authorities built a special mock-up of the 1945-era German parliament building). On Patriot Park's 5,500 hectares, one can already find a conference and exhibition center of the Armed Forces, a "partisan village" display, and an exposition of Russian military equipment. Such patriotic entertainment had failed to draw daily crowds of 20,000 people, as was envisioned by the designers, however. Nothing is known about the actual financial situation of this institution, which receives money from the military budget. Nonetheless, it is possible to suspect that the Park is incredibly unprofitable. Hence, Moscow region graduates were sent to boost occupancy numbers for at least one day, thus justifying the Park's existence (RBC, May 19).
А month earlier, Patriot Park hosted a celebration marking the one-year anniversary of another of Defense Minister Shoigu's patriotic initiatives: the creation of the youth movement "Yunarmia" (Army of the Young). According to officials, this organization is meant to attract all Russian high school students. Shoigu announced that new memberships in Yunarmia have climbed from 5,000 to 15,000 students per month (Krasnaya Zvezda, May 28). And yet, the overall size of the organization remains unclear—the figures provided by various government officials ranged from 70,000 to 108,000 members.
The creation of Yuarmia is not just a new form of Soviet military-patriotic indoctrination. It is an attempt to bring about a deeper militarization of Russian society. Yunamia goes much further than Zarnitsa, its Soviet predecessor. Then, involvement was limited to brief war games that were forgotten immediately afterward. But today, the defense ministry has created an organization designed to instill a deep and long-lasting militaristic mindset on the younger generation. Participants in Yunarmia will conduct fire drills and training; children and teenagers will be taught the basics of military tactics (Gazeta.ru May 20, 2016).
Additionally, Shoigu has ordered the creation of 157 assistants to the heads of the military commissariats for military-patriotic education (Mil.ru, August 17, 2016). Plans even exist to expand the military's youth-oriented media presence. The defense ministry has already registered a weekly newspaper, Yunarmia, with a supposed circulation of 10,000 copies, as well as a monthly magazine, Yunarmeets (The Youth Army Man), with a circulation of 5,000 copies. In comparison, Krasnaya Zvezda (Red Star), the main newspaper of the Ministry of Defense, has a circulation of 27,000.
Yunarmia's organizers boasted that during this year's May 9 Victory Day celebrations, teenagers dressed in special uniforms and carrying weapons marched on Red Square for the first time in Soviet and post-Soviet Russian history. Indeed, children marched alongside professional military personnel in dozens of Russian cities. The idea of sending civilian teenagers to march in the Victory Day parade would arguably have been anathema to Soviet military leaders, who likely would have considered it a profanation of the military profession.
All that said, it is important to note that military-patriotic education can be a rather profitable business. Each Yunarmia uniform, for example, which is sold on the "Russian Army" website (the online store is a sub-holding of the defense ministry's "Voentorg" military paraphernalia supplier), costs about 20,000 rubles ($336) (Begemot.media August 22, 2016). Thus, while state patriotism may be costly to the government and society, it can be quite lucrative for officials.