Perfect Timing: Azerbaijan Calls Snap Presidential Elections
Publication: Eurasia Daily Monitor Volume: 15 Issue: 23
By: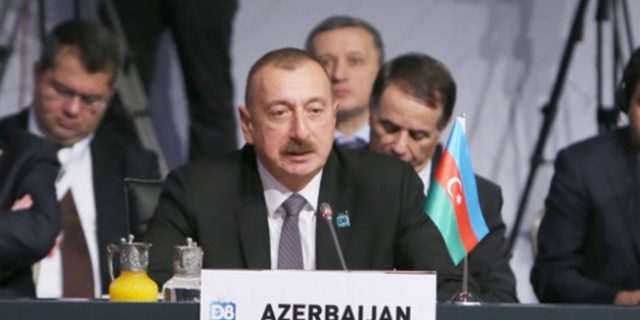 Azerbaijani President Ilham Aliyev has moved up this year's presidential elections to April 11, instead of the originally scheduled date of October 17 (President.az, February 5). The unexpected decision sparked heated debates inside the country, focusing mainly on the possible technical-practical and domestic aspects of President Aliyev's decision (Azertag, EurasiaNet, February 5). But even assuming the Azerbaijani leader's choice to call snap elections was not driven primarily by external factors, foreign policy considerations nonetheless probably had an important impact. "There was a probability that negative processes, which have sharpened in the Southern Caucasus and neighboring regions, might be affecting Azerbaijan. One of the preventive measures to neutralize their negative effects was the calling of snap elections," stated Novruz Mammadov, the presidential aide on foreign policy (Azertag, February 7).
Baku has timed its election to roughly coincide with those in Russia and Armenia so as to prevent these external forces from meddling in its presidential campaign, according to Elhan Shahinoglu, the head of the Atlas Analytical Center. In his view, Baku believes that those countries will be preoccupied with their own votes in March and April, and thus have less focus on Azerbaijani domestic politics (JAMnews, February 6). The Russian presidential election is scheduled for March 18. Whereas, Armenia's elections for the president and a new prime minister—who will now have significantly more constitutional powers due to the country's transition from a presidential to a parliamentary system—will take place on April 9 and 18, respectively. Incumbent President Serzh Sargsyan seeks to become Armenia's new prime minister. Although Armenia alone is not capable of posing an existential threat to Azerbaijan, Yerevan could still provoke new heated clashes on the line of contact in Karabakh in order to exaggerate the issue of increasing the number of observers from the Organization for Security and Cooperation in Europe (OSCE).
Azerbaijani member of parliament Gudrat Hasanguliyev, who praised the rescheduling of the presidential election to coincide with elections in Russia and Armenia, focused on the Karabakh conflict and external factors as drivers behind President Aliyev's decision. He said that external forces were seeking to coerce Azerbaijan into a capitulatory peace. "The proposed increase of OSCE observers on the contact line between the Armenian and Azerbaijani armed forces is a plot against Azerbaijan," he argued (Azpolitika.info, February 5). Baku views calls for an increased number of observers as aimed at cementing the conflict's status quo. Additionally, the government holds that international observers should be patrolling the Armenian-Azerbaijani border, not the line of contact, which is fully inside the internationally recognized territory of Azerbaijan, although under the de facto control of Armenian troops.
Indeed, Russia's foreign ministry spokesperson, Maria Zakharova, stated that Moscow was trying to boost the number of OSCE observers on the contact line (TASS, January 31). The issue was discussed at the June 2016 St. Petersburg meeting of the Russian, Armenian and Azerbaijani presidents, following the April "Four Days War" clashes (see EDM, July 7, 2016). But while it has been pushing to increase the observer mission, Russia strikingly says that it is up to Armenia and Azerbaijan to settle its so-called "frozen conflict" (Vestnik Kavkaza, January 31). Therefore, in essence, the settlement is frozen—not the conflict itself. A greater number of observers would serve to further freeze the settlement, from Azerbaijan's point of view.
For Russia, a larger OSCE observer mission in Karabakh is not an end in itself. Moscow could seek to manipulate Baku's sensitivity on the issue in order to extract Azerbaijani concessions on matters of national interest to Russia. In particular, this could include Azerbaijan's relations with the European Union and Eurasian Economic Union (EEU) or the settlement of the status of the Caspian Sea. Moreover, Baku played a role in blocking a proposed Russia–Armenia transport route via Georgia and its breakaway regions, which would further strengthen Russia's presence in the South Caucasus (see EDM, February 8, 2018; APA, December 27, 2017; Inosmi.ru, November 21, 2017; Baki-xeber.com, November 23, 2017; Jam-news.net, February 28, 2017; Georgia Today, July 17, 2017).
EU-Azerbaijani negotiations on a strategic partnership agreement are ongoing. But Russia would like to involve Azerbaijan in the EEU (see EDM, March 24, 2017). Following Vladimir Putin's looming reelection, on March 18, Moscow is expected to become more assertive toward those post-Soviet countries still refusing to join the Russia-led EEU. One can already see hints of this more imperial mindset in Russian media and films (CACI Analyst, January 4). Indeed, Putin suggested, on January 18, to more closely link the Eurasian Union and the Commonwealth of Independent States (CIS): "some [CIS] member states […] could become observers in the EEU" (Kremlin.ru, January 18). Azerbaijan is a CIS member but has thus far avoided joining the EEU. "We will be glad to see Azerbaijan among the EEU members," Russian Foreign Minister Sergei Lavrov told an audience of the Azerbaijan Diplomatic Academy, on November 20, 2017 (Mid.ru, November 20, 2017). Vladimir Solovyov, a major pro-Kremlin Russian media personality, asserted that Azerbaijan's accession to the EEU was possible, adding that if Armenia and Azerbaijan become members of the same union, the Karabakh conflict would be resolved more easily (Arovat-ru.am, April 13, 2017).
Baku's concerns are exacerbated by current regional and international circumstances. Its important ally Turkey is entangled in the Syrian conflict. While the United States under Donald Trump is less interested in the region, if at all. And despite the serious discord and tension between Russia and the West, Europe largely agrees with the Russian position when it comes to the Karabakh conflict.
Recent history is a useful guide to previous attempts by outside powers to meddle in Azerbaijani elections. Notably, in 2013, while Azerbaijan was preparing to hold presidential elections and simultaneously negotiating an association agreement with the EU, Azerbaijani labor migrants faced pressure and deportations from Russia (see EDM, May 22, 2017; APA, November 22, 2013; Interfax, October 22, 2013). Moreover, that year, the Union of Azerbaijani Organizations of Russia (UAO), dubbed the "club of billionaires" and made up of wealthy Russian businessmen of Azerbaijani origin, was created (EurasiaNet, March 12, 2013). Baku viewed the UAO as an attempt to supplant the then-largest Azerbaijani diaspora organization in Russia—the All-Russia Azerbaijanis Congress (ARAC). A similar pattern of behavior is predictable for the 2018 presidential election. Indeed, Russia's shutdown of the ARAC in 2017 represented a shot across Azerbaijan's bow in that regard (see EDM, May 22, 2017). And Baku appears to have taken note of this. If the snap elections decision was, indeed, driven by external factors, then Azerbaijan prudently outmaneuvered the foreign actors—if not, it unintentionally did so.