PKK STAGES ANOTHER DEADLY ATTACK NEAR IRAQ'S BORDER WITH TURKEY
Publication: Eurasia Daily Monitor Volume: 4 Issue: 195
By: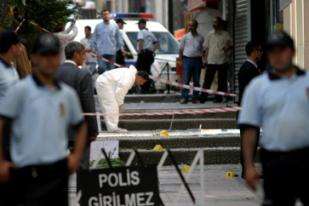 At 12:10 am Sunday, the outlawed Kurdistan Workers Party (PKK) staged its second attack in two weeks against a Turkish battalion stationed four kilometers off the Iraqi border, killing at least 12 soldiers and wounding 16. The incident has brought the Turkish government another step closer to staging an incursion into Northern Iraq to pursue the PKK rebels where they are hiding.
During a late-night televised press conference, Turkish Prime Minister Recep Tayyip Erdogan was cautious about any imminent incursion into Northern Iraq, stating that when reasons for military options arise, Turkey will take action without hesitation. "We are ready to pay the price for a military operation. But the military option has not arisen yet," he said soon after the end of an emergency terror summit chaired by President Abdullah Gul on Sunday night. Top commanders and some cabinet members also attended.
According to a statement released after the two and a half-hour-long meeting, "While respecting Iraq's territorial sovereignty, Turkey is ready to pay any price it can to stop the PKK terror [stemming from Northern Iraq] within the boundaries of the rule of law."
Urging the nation to follow common sense while simultaneously stressing Turkey's resolve in the fight against terror, Prime Minister Erdogan hinted that Turkey would wait few days more before taking any military action. U.S. Secretary of State Condoleezza Rice had advocated this course of action during a recent telephone conversation.
The latest casualties occurred when Kurdish rebels killed 12 Turkish soldiers and wounded 16 when they ambushed an infantry battalion located in the Daglica region of Hakkari province's Yuksekova township, around four kilometers off the Iraqi border. They also blew up the Avasin bridge.
Some 32 rebels have been killed during the clashes, according to a Turkish General Staff statement released on Sunday. Turkish security forces have pursued the insurgents in 63 separate locations with heavy fire supported by armed helicopters.
Turkish security teams have been staging hot-pursuit operations against the PKK rebels inside Northern Iraq in a 10-15 kilometer zone, according to Jamestown sources. Turkish forces have reportedly been using heavy guns, including 155 mortars, to shell PKK positions inside Iraq.
Shortly after Sunday's attack in Hakkari province, a wedding convoy tripped a landmine in Daglica, near the initial attack. The subsequent explosion wounded 12 people and is believed to have been the work of PKK rebels.
More PKK deadly attacks came after October 17, when Turkey's parliament authorized the government to stage cross-border operations into Northern Iraq. The PKK attack also came 15 days after a deadly attack on October 7 that killed 12 Turkish soldiers.
Also on Sunday, a controversial referendum about popular elections for the presidency passed with 69% of the Turkish people voting "yes."
The Turkish government's latest decision not to stage a cross-border operation imminently came despite mounting pressure from both the public and the opposition parties to immediately enter into Northern Iraq.
Thousands of Turks have staged demonstrations in various cities across the country including Izmir, Istanbul, and Ankara, denouncing terror while urging a military incursion.
However, the ruling Justice and Development Party (AKP) has displayed restraint, so far avoiding an all-out attack inside Iraq because it fears that it will not only isolate Turkey, but also put Ankara under international pressure to sit at a negotiating table with the PKK.
In another sign of restraint, Turkish Minister of National Defense Vecdi Gonul told reporters on Sunday, October 21 in Kyiv, where he was attending a meeting of southeastern European countries, that Turkey intends to pursue Kurdish rebels in Iraq, although plans for military operations are not being hastily prepared.
Despite the danger that Turkey is inching closer to a military operation inside Iraq, Ankara seeks collaboration with the United States before taking any such action. Prime Minister Erdogan said that Turkey plans to raise the issue when he meets with President George W. Bush on November 5. "If we do not get a response from Bush, then we will implement our own road map," Erdogan warned (News channel 24, October 20).
The possibility of the full U.S. House voting for the Armenian genocide designation — although more and more legislators are reversing their position following pressure from Turkey and the Bush administration — has further fueled Turkish fury over the PKK.
"If the bill does not pass the full U.S. House it is possible that President Bush may ask Turkish Prime Minister Erdogan not to stage a cross-border operation. But still we [Turkey] expect the U.S. and the Iraqi government to take concrete steps toward ending the PKK existence in Northern Iraq. Those measures include extradition of senior leaders of the terrorist organization [PKK] as well as disarming them," retired general Armagan Kuloglu told Jamestown.
The economic cost of terror, according to Government Spokesperson Cemil Cicek, is set to be around $300 billion (Cumhuriyet, October 16).
In a related development, increased PKK violence has prompted calls for the Turkish Armed Forces (TSK) to change its concept in the fight against terror.
On Sunday Muhsin Yazicioglu, chairman of the Grand Unity Party (BBP), urged the TSK to adopt a strategy similar to that of the PKK rebels in order to fight terror effectively (Anka, October 21).