Plutocratic Opposition Surging in Moldova (Part Two)
Publication: Eurasia Daily Monitor Volume: 17 Issue: 72
By: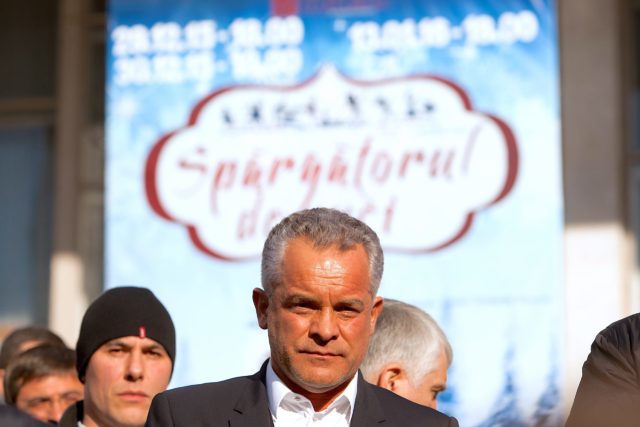 Moldova's fugitive plutocrats, Vladimir Plahotniuc and Ilan Shor, are suddenly fighting back, using their jointly owned "anti-government bloc" in the Moldovan parliament. Plahotniuc and Shor had seemed quiescent since their departure 11 months ago. Now, however, they are destabilizing Chisinau's political scene to unprecedented levels, in what looks like a revanche operation (see Part One in EDM, May 20).
Neither Plahotniuc nor Shor have unveiled a political agenda or their personal objectives behind this operation. Their relationship while in Moldova was unequal: Plahotniuc was the country's ruler, Shor his subordinate and dependent ally. At present, Plahotniuc maintains silence in his Miami abode; Shor sends out merely nostalgic messages on videotape to Moldovan voters from his Israeli haven; and the anti-government bloc's political operator, Andrian Candu (who is Plahotniuc's godson) refrains from commenting about political objectives. Their immediate goal is to piece together an anti-Socialist, anti–President Igor Dodon parliamentary coalition, in which the ill-reputed Plahotniuc-Dodon bloc would become an important stakeholder alongside the respectable ACUM ("NOW") bloc.
The "anti-government bloc's" label openly threatens the Russophile President Dodon and his Socialist-led government; while Candu's alliance-building maneuvers are courting the pro-Western parties in the ACUM bloc. The latter were the principal antagonists of the Plahotniuc system when he was in the country, and they remain irreconcilably adversarial to him (as well as to Shor). Nevertheless, ACUM's two parties (Maia Sandu's slightly more than Andrei Nastase's) keep their respective doors ajar for some kind of highly conditional talks with Candu. This is because presidential elections are due in November, possibly coupled with pre-term parliamentary elections, and Candu seems bent on removing Dodon and the Socialists from power, ruling out a deal with them (Ziarul National, Deschide.md, Cotidianul, May 10–21).
Conversely—or by the same token—a relationship seems to be budding between Candu and Bucharest. This cannot be entirely surprising, given that Bucharest had staked its Moldova policy on Candu's godfather down to his last day in power. Romania's government has changed in the meantime, and the new Cabinet of Ministers is more vocally hostile to Dodon and the Socialists than the previous Romanian government was. Bucharest's signals at the moment suggest that Plahotniuc and Shor have their "utility value" from outside Moldova in the anti-Dodon effort, but their return to Moldova is apparently ruled out. ACUM's two parties would certainly want guarantees to this effect before letting Candu through their ajar doors (Cotidianul, May 11; Deschide.md, May 19).
Absent any reliable clues about the two plutocrats' agendas via Candu, the question arises as to what inspired them to launch this operation, and why now. Most likely and simply, it was because a favorable opportunity has developed in recent months and, especially, in recent weeks for this undertaking. Moldova's internal political fragmentation has deepened, hostility has escalated between political forces and also within them, and the parliamentary republic's system (unsuited to Moldova in the first place—see EDM, March 5, 2015 and November 20, 2015) seems to regress from its chronic dysfunctionality toward the brink of disintegration. Moreover, the presidential election is due in November, and the parliament's inherent instability raises the prospect of pre-term parliamentary elections.
The "anti-government bloc" consists of Plahotniuc-Candu's Pro Moldova party and Shor's eponymous "Shor Party," with Candu as overall manager. The bloc consists of 21 members at last count today (May 21). More are susceptible to being enlisted, but the authors of this operation do not want to reduce the governmental majority to a minority for the time being. Twenty-one is significant in such a deeply splintered parliament as Moldova's (101 seats). Of that number, 9 are from Shor's Party and 12 from Pro Moldova. Many of these 21 are defectors from Plahotniuc's old Democratic Party, whose senior leadership emancipated itself from Plahotniuc after his departure. Candu siphoned off a number Plahotniuc diehards into the anti-government bloc. Most of these defectors, moreover, are repeat defectors. Plahotniuc and Candu had extracted them in 2016, mostly from the Communist Party, into Plahotniuc's Democratic Party in order to expand the parliamentary majority at that time.
The Plahotniuc-Shor-Candu operation is piggybacking on the international context. The European Union has adopted a wait-and-see attitude, heavily tinged with skepticism toward Dodon's government. And Romania clearly intends to throw its weight around ahead of and during Moldova's presidential and parliamentary campaigns.
Russia, meanwhile, displays little interest in Moldova's political crisis: the Russian government has yet to comment officially, and Russian state television channels are not making any serious attempts to influence Moldova's domestic political situation at this time. Moreover, Russia's ambassador in Chisinau, Oleg Vasnetsov, has issued a press release about meeting with Candu. On behalf of his Pro Moldova party, Candu wrote a letter to Russian Prime Minister Mikhail Mishustin, requesting additional information about Russia's €200 million ($219 million) credit offer to Moldova. And he thanked Ambassador Vasnetsov for "Russia's willingness to help Moldova's economy in these hard times" (Noi.md, May 6).