Political Factions Threaten to Derail Moldova's European Course (Part Two)
Publication: Eurasia Daily Monitor Volume: 10 Issue: 37
By: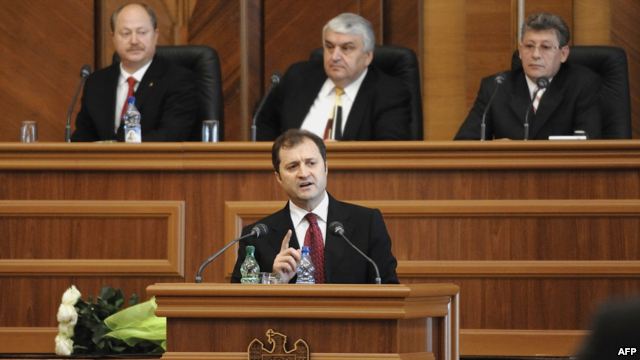 Moldova's Alliance for European Integration (AEI), governing since 2009, has all along been wracked by rivalries, pitting the two smaller parties against the larger one. The lure of Europe, and fear of the strong Communist opposition, have barely kept the AEI together thus far. Meanwhile, Parliament Chairman Marian Lupu's Democratic Party (self-described "left-of-center," would-be social-democrat, Moldovan-ethnicist) and Mihai Ghimpu's Liberal Party (self-described "right-wing," Romanian-ethnicist) have developed an alliance of their own against the Liberal-Democrat Party of Prime Minister Vlad Filat. The two smaller parties share an interest in undercutting Filat's party and the government's effectiveness. The Democratic Party's main sponsor seems to thrive on lack of transparency due to ineffective governance. The Liberals are convinced that the only way to increase their traditional 10 percent electoral score is by encroaching on Filat's party from the right.
The two smaller parties now demand a redistribution of power in their favor through negotiations, under the threat of bringing down the coalition government. The government's fall or paralysis would at least temporarily derail Moldova's European Union integration process. Precisely this consequence enables Lupu's and Ghimpu's groups to use their threat effectively. These leaders display only a limited interest in the success of Moldova's European integration efforts before the 2014 elections. By contrast, Filat's team is driving the Moldova-EU association process, holds the ministerial portfolios directly relevant to it, and has explicitly tied the party's electoral fortunes to an early signing of the Association Agreement with the EU. In this sense, practically, Filat's party has become the only program-committed party in the coalition (see EDM, February 26).
At stake in the current crisis is the apportionment of control over state institutions, particularly over law-enforcement agencies, among AEI's parties. Lupu's Democrats and Ghimpu's Liberals, carrying lesser ministerial responsibilities, can afford to spend less time and effort on governance than in fighting for the spoils of governance. These, in turn, often hinge on control over law enforcement.
The Democratic Party's sponsor (officially number two in the party) is Vlad Plahotniuc, reputedly Moldova's wealthiest businessman, whose non-transparent activities have become the main disruptive factor in the country's politics and an obstacle to its European course. Meanwhile, the work of Filat's team has placed Moldova ahead of the European Union's Eastern Partnership countries aspiring to an association with the EU. As the target date for signing the Moldova-EU Association Agreement draws closer, Filat's team must show tangible results on reforming justice and law enforcement, as well as freeing these from the control of business and partisan interests. The Democratic Party's leaders, however, are hitting back to protect their set of interests.
Filat had moved against Plahotniuc for the first time in the summer of 2011, describing him as a "puppeteer" of mass media and politics and a "mafia-type" entrepreneur. Filat was reacting to a series of "raids" (property takeovers through coercion or fraud) attributed to Plahotniuc at that time. Those suspicions, however, could not be proven in courts of law, and Filat had to step back. He also failed to dislodge the Prosecutor-General, Valeriu Zubco, political appointee of the Lupu-Plahotniuc tandem. Nevertheless, Zubco's attempt to cover up a deadly incident in December 2012 reopened those earlier issues, setting in motion the chain of events that continues to date.
On December 23, 2012, an illegal hunting party on a state reservation resulted in the accidental death of one of the participants. Some 20 senior judges, prosecutors and other state officials, including Zubco, participated in that hunt, but kept silent about the death and the whole illicit escapade. It was not until two weeks later, January 6, that information began leaking out, before Zubco or anyone had ever reported it to the government. This enabled Filat finally to force Zubco's resignation on January 18; but Lupu initiated on February 13 the search for a new Prosecutor-General, presumably again on his party's quota of law-enforcement posts. Filat then pushed through Plahotniuc's removal as first vice-chairman of parliament on February 15; but Democratic Party–nominated prosecutors moved immediately against Filat's ministers. The Lupu-Ghimpu alliance now threatens to topple the coalition government from within (see EDM, February 26).
President Nicolae Timofti hosted a meeting with the three AEI party leaders on February 21, attempting to defuse the atmosphere of crisis but without proposing any solutions. Elected less than one year ago, the president lacks a political base or significant institutional resources (Moldpres, February 21, 22).
On February 25, Lupu escalated, threatening a vote of no confidence in parliament (of which he is the chairman) against the government (of which his party is a component), unless Filat resigns "in short order" as prime minister (which would entail the fall of the government in any case). Lupu announced that his party would either submit its own motion of no-confidence or support another group's motion in parliament (Unimedia, Jurnal.md, February 25, 26).
The proviso "in short order" seems to allow an interval for negotiations with the Communist Party, whose support would be indispensable for a no-confidence motion to pass. The Communists hold 34 seats, "unaffiliated" deputies (mostly leftists who defected from the Communists) 9 seats, and the divided AEI coalition parties a subtotal of 58 seats (including 31 of Filat's party, 15 of Lupu's party,and 12 of Ghimpu's party) in the 101-seat parliament.
One of the roots of conflict is the December 2010 coalition agreement (AEI-2, follow-up to the 2009 AEI-1), which has distributed senior government posts among the three parties. The distribution of posts covers also the law-enforcement and security services and extends to some judiciary posts. All this has created the basis for subordinating government and the law enforcement institutions to political parties, and indirectly to business interests associated with those parties. The coalition agreement specified the details of partitioning the government in an annex document that remained secret until it leaked out in 2011. In practice, ministries often take orders from party leaders, sometimes overriding the prime minister, or trumping the government's jointly-agreed policies, and sometimes colluding with shadowy business.
Moreover, the coalition agreement has instituted the "Alliance Council" as the top decision-making and conflict-arbitrating body for the three parties' leaders. The Alliance Council is a non-constitutional (in fact an inherently anti-constitutional) body above government and parliament. It served to work out joint decisions by the three leaders non-transparently, and hand down those decisions to ministers and parliamentary groups.
Such arrangements could, for reasons of expediency, be excused or even passed over in silence in 2009–2010, when putting together an anti-Communist coalition was the top political priority. But unconstitutional, non-transparent arrangements can no longer be accepted in a Moldova that seeks to qualify for association with the EU soon. In any case, that "Alliance Council" has broken down by now, and it would be a serious error to attempt to resurrect this forum for negotiation or reconciliation among the three parties. Filat's party understands this. Moreover, it wants to overcome the politicization or privatization of law enforcement. The Lupu-Plahotniuc tandem seems to be defending the status-quo, however, and attempting to tip the balance in its favor by using Ghimpu's party.